Buyers and Sellers at the Baseball Trade Deadline
By Jason Fryer

Since the introduction of the 5th Wild Card during the 2012, a number of teams believe they still have a chance to make a second half run and make the playoffs. With all teams just past the half-way point and the baseball trade deadline less than 3 weeks away, its a good time to look at the teams that will be sellers at on July 31st, and examine who they will trade and to what team. The teams that are listed for each player below (in parentheses) rank the most to least likely future location for that specific player.
Minnesota Twins: With a record of 37-50, the Twins are 11 games back in the AL Central (4th place in the division) and don't have nearly enough pitching or offense to get back into the race. So with that said, the players that the Minnesota Twins will make available are:
Justin Morneau: The 2006 American League MVP Winner hasn't come close to returning to his peak due to the number of injuries he's suffered with (notably his concussion problems). However, with Morneau's contract expiring following the 2013 season, I feel Justin would be a terrific player for a team that needs a reliable first baseman to a team that needs above average defense (has produced a .994 fielding percentage or better in each of his MLB seasons) and around 20 Home Runs (Morneau has hit at-least 18 home in all but 1 seasons while playing in a pitchers park).
Teams that will consider Morneau:
NYY, OAK: This seems like a perfect match for the Yankees; a solid defensive first baseman , with a expiring contract (Teixeira is out for the season but has 3 seasons remaining on his contract), and a left handed hitter (have you seen how easy it is for left handed power hitters to pull a home run to the right field porch of Yankee Stadium. Perfect match for the Yankees and impending free agent Justin Morneau.

Josh Willingham: The Twins would have loved to put Willingham on the trade market, but will be unable to make him available until after the July 31st trade deadline (he had knee surgery and will be out for 4-6 weeks). Once Willingham's returns from his injury, sometime midway August, look for a number of teams to to claim/trade for the first base/outfielder as he's in the final season of his current two year deal he signed prior to the start of the 2012 season. Following an incredible 2012 campaign (.250 AVG, 35 HR, 110 RBI, .366 OBP, and .890 OPS), the 34 year old Willingham has put together a down 2013 season that has seen his power and average decrease by a great margin.

With that said, prior to this season Willingham, has has had a .250 average or better in all but one season, 20 plus Home Runs in 3  of his past 4 seasons, and 95 plus RBI's in the previous two seasons. I feel if Willingham is able to get healthy prior to the MLB waiverstrade deadline (August 31st), then the Twins would be able to trade the impending free agent and receive a few young prospects to continue their rebuilding process.

Teams that will consider Willingham: SF, SD, and KC
Long shot Twins Trade:
Joe Mauer: I understand that Mauer is a local Minnesota kid that made it big however, with 5 years and 115 million remaining on his contracts, the Twins should at least listen to trade offers for the star catcher. The 30 year has put together another solid season (.309, 8 HR, 30 RBI, .391 OBP, .852 OPS) but he's had a number of back problems in the past which will only get progressively worse as he get older. If the Twins were to trade Mauer available, they would receive a number of quality of prospects before he reaches the downhill of his career and be able to start over.
If they don't trade him soon, Minnesota won't be able to trade him, and as a mid market ball club, they would be stuck with a large contract for a number of years. Sorry Twins fans, but with the Tigers having a quality rotation that included two of the best starting pitchers in the league and a offense that features two of the best hitters in the league. If that's not enough, both the Royals and Indians feature young roster that have a number of quality players. I don't see the Twins or White Sox (their next) competing for a number of years.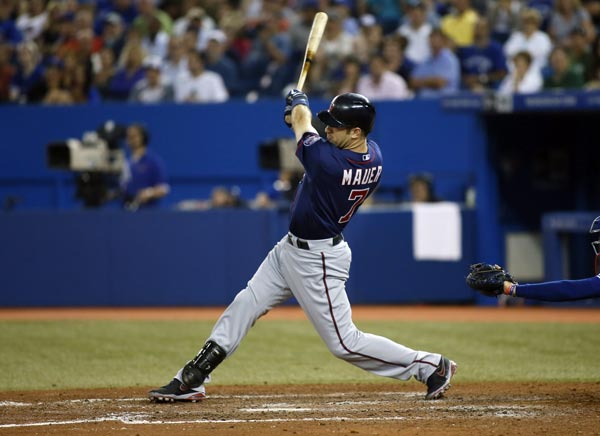 Teams that would consider Mauer:
LAD: The Dodgers can add another 100 million dollar contract to their books (Crawford, Kemp, Gonzalez, Greinke, and eventually Kershaw). How much fun would that be.

Chicago White Sox: The 2012 White Sox were one of baseball's best stories; seeing the birth of a young star pitcher (Chris Sale), comeback pitcher (Jake Peavy), comeback hitters (Adam Dunn won the award but Alex Rios was Chicago's best hitter), and a successful first time manager (Robin Ventura). The prospects for the 2013 White Sox looked bright as they would have just about everyone returning from the previous season in addition to adding Jeff Keppinger to their lineup and a healthy John Danks to their rotation.
Things haven't turned out that way as Chicago's south side team has been one of baseball's most disappointing teams in 2013. In addition to the players listed below, (that I believe will be moved at the trade deadline) I feel Chicago will also take calls for Alexi Ramirez (has 2 years remaining on his contract) and Adam Dunn (has more more year at 15 million left on his deal) but I would be surprised if either was traded before July 31st. So who will the White Sox trade at the trade deadline:
Paul Konerko: The longest tenured and captain of the White Sox has become a icon on the south side. Although he's been a vital part to their organization, I feel a number of teams would love to add him to their rosters. Like a lot of the White Sox that will be made available at the trade deadline, Konerko is a proven winner (won the 2005 World Series), good plate discipline, and makes all the plays in the field. If Konerko can prove he's healthy and agrees to move his no-trade clause, he could become a quality member to a team that's making a run during the dog days of summer.

Teams that will consider Konerko:
Pit, NYY, OAK,  BAL, TB, TEX: A number of American League teams would love to add Konerko to their team as a designated hitter. As for the, National League, only one  team made my  list. If Konerko was moved to the Pirates, Konerko would have to play first everyday, and Pittsburgh could move Garrett Jones to the outfield. Pittsburgh could use another power hitter and veteran who had previous playoff experience to their lineup.

Alex Rios: The 32 year old outfield has become one of the toughest players to judge. Rios got off to a great start to his career (making the All-Star game in 2006 & 2007) but following a subpar start to the 2009 season, the White Sox decided to claim Rios him and his contract. Since then, Alex has been Dr. Jekyll (2010 & 2012) and Mr. Hyde (2009, 2011, & 2013) and although Rios isn't having a horrific 2013 season (.267 AVG, 11 HR, 38 RBI, 17 SB, .322 OBP, and .754 OPS), but he's hasn't returned to the 2012 version.

After watching him the previous two seasons, I believe he can be still be a tremendous help to a team that needs a right fielder (had problems in center field). Alex still has one year and 13 Million remaining on his contract for the 2014 season so whoever is interested in trading for him would also have to be prepared to commit to him for the remainder of this season along with an additional season.

Teams that will consider Rios: SF, SD, COL Pit, NYY, CIN
Jake Peavy: In 2012, the former Cy-Young Award winner had his first injury free season and showed why the White Sox were so persistent in trading for Peavy while he was still injured during the 2009 season. Following a terrific 2012 season, Chicago signed Jake to a 2 year/29 million dollar contract to help create a elite one-two punch behind Chris Sale. Unfortunately for Peavy and the White Sox, Jake was once again bit by the injury bug and with him out , Chicago and their pitching staff suffered. Fortunately for Peavy and the White Sox, Jake's injury doesn't seem to be too serious and he should be able to make a few starts prior to the July 31 trade deadline however, like Rios, teams that are interested in trading for him will have to realize that Peavy is signed for 2014 season at a large number (14.5 million next year).
Teams that will consider Peavy:
TEX, LAA, BOS, COL: If the White Sox would be willing to trade Peavy within the American League, I feel the Rangers or Angels would be best place for a player of his caliber if they want to be a title contender for the 2013 season. Remember, with Texas and Los Angeles resources, they would both be able to afford Peavy's contract for thefollowing season and appreciate not have to worry about the keeping an often injured player in the twilight of his career. This is a great risk but a risk that a number of contenders should be doing anything in their power to take.

Matt Thornton: The White Sox 37 year old left hand relief pitcher has proven to be a durable (pitching in at least 60 games since 2006) and has been a reliable pitcher since he was traded to Chicago. Since joining the White Sox prior to the 2006 season, Thornton has only had one season where he had an ERA above 4.00 (2007) all while pitching in one of the leagues worst pitchers parks. A number (if not all) contenders could use a left handed pitcher that can throw 97 MPH out of their bullpen…Oh by the way, he's in the final year of his deal so if it doesn't work out, the team that acquires him team wouldn't have to worry about future considerations.

Teams that will consider Thornton:
BOS, ARZ, ATL: The Red Sox lost their best left handed reliever out of their bullpen in Andrew Miller and need to find a way to replace him.

Jesse Crain: Its rare that a middle reliever makes the All-Star team and this was one of those rare cases. Prior to being sent to the Disabled List (on June 29th,) Crain was the most dominant setup man in baseball. Don't believe me, just as his colleagues as he received the second most amount of votes from his fellow players, only behind the great Marino Rivera. The only   question with Crain is his health as contenders will want to know if   there getting damaged goods for the stretch run, or the same pitcher   that posted a .74 ERA during his 38 appearances. Lastly, Crain is a free   agent following this season so any team who trades for him will have to   realize that he only might be a rental player.

Teams that will consider Thornton: BAL, LAA, SF
Matt Lindstrom: The 33 year old righty has proven to be a solid middle reliever that can be counted on during the 6th-8th inning of a close ballgame.

Teams that will consider Thornton: COL, LAA, BAL, SF
Long shot White Sox Trade:
Addison Reed: Most feel Chris Sale would be the long shot trade option but as he would bring the White Sox a kings ransom in return. However, with Sale recently signing a team friendly 5 year contract extenuation, I would be shocked of the team traded him. On the other hand, with the White Sox long shots to contend for a number of years to come, I believe they should look to trade their other young pitcher: Addison Reed. Following an inconsistent 2012 season, the 24 year old closer has rebounded to record 22 saves on the season. With Reed in only his second full season, I feel he has all the potential to become an elite closer in the future.

Teams will would consider Reed:
DET, NYY, STL, COL: The Yankees? Yes the Yankees. They need an heir apparent to Marino Rivera when he retires following the 2013 season. The Yankees tried using David Robertson as their closer following Rivera's injury last year, but he showed that he can be one of the best setup men in baseball, but not closers. With Reed andRobertson, the Yankees would have one of the best young setup/closer combinations in baseball.

Seattle Mariners: Unfortunately for the great fans of the pacific northwest, it seems the Mariners will finish towards the bottom of the division and with a below .500 recorder the fifth time in six years. With Seattle over 10 games back of a potential playoff spot, this might be a good time for the Mariners to trade their older veterans and soon to be expiring free agents to their young up and coming core which includes Felix Hernandez, Dustin Ackley, Nick Franklin, Justin Smoak, Kyle Seager, Taijuan Walker, and Danny Hultzen.
 
Raul Ibanez: The 41 year old outfielder has been a terrific power source for a Mariners team (22 HR) that has been desperate to add a power player to their roster. To tell you how significant Ibanez has been to the Seattle offense, prior to this season, the Mariners finished in bottom half in team home runs each of the past three season (twice in the bottom 5), and were craving a legitimate left handed power threat that could hit 20-30 home runs out of Safeco Field (and yes I know they brought in the fences in Seattle, but they didn't change the dimensions in right field, so a left handed pull hitter like Raul Ilbanez wasn't helped at all). A number of teams that need power or a quality designated hitter for a year (yep, he's a free agent after this season and he has a friendly contract) would love to add a veteran playoff performer (remember last years playoffs) like him.

Teams will would consider Ibanez: SF, CLE, SD, TB:
Michael Morse: The Mariners had one mission this past offseason…to add power to their lineup from both sides of the plate. Mission accomplished. I just explained where the left handed power came from, now the right handed power. Following another down season in 2009, the Mariners decided to trade Michael Morse to Washington for another prospect that looked lost in his development, Ryan Langerhans. Following a few more inconstant seasons in Seattle, the Mariners decided to release Langerhans via free agency; Morse on the other hand finally figured out his approach at the plate as he finally received the true playing time that he had been looking for. In 2010, Morse recored his first double digit home run season (15) in only 98 games and 293 At-bats.

The following season, Morse had a broke out season (.303 BA, 31 HR, 95 RBI, .550 SLG, and .791 OPS) and proved he was ready to be a everyday starter. With Morse in the final year ofhis contract and most likely looking for one final big contract at 31 years old, I believe the Mariners either need to sign him now or trade him at the deadline. Its become difficult to find a legitimate power threat that produces an above average BA which Morse has proven he's capable of accomplishing (not including 2013, Morse has finished with a .289 BA or above each of the past 3 seasons). If Seattle really wants Morse back, they can look to trade him at the deadline and then work out a contract during the offseason.

Teams will would consider Morse: SF, SD, TB
Kendrys Morales: Since Morales suffered a broken leg during the 2010 season after hitting a game winning grand slam, Morales has been delegated to designated hitting duties for the most part, playing a combined 54 games at first base over the past two seasons. Though Morales hasn't been able to return to playing first base, he has continued to be a consistently quality hitter (.280 BA, 13 HR, 51 RBI, .340 OBP and .802 OPS). With Kendry Morales a free agent following the season (and a Scott Boras client), I believe the Mariners should make sure they can add a few assets prior to him becoming a free agency following the 2013 season. With his lack of speed and lateral movement, I think its safe to say that only American League teams that need a designated hitter would look to trade for Morales. With the Mariners still wanting to see if Justin Smoak can develop into a quality first baseman, look for either Morales and/or Ibanez to be traded at the deadline.

Teams will would consider Morales: BAL, TB, TEX, CLE
Oliver Pérez: Following a number of problematic seasons in Pittsburgh and New York, I never thought I would write the next sentence, but Oliver Pérez might be the most sought after pitcher prior to the July 31 trade deadline. Oliver has finally found his niche as a quality left-hander out of the bullpen and at 31 years old should have a few good seasons left in him. Pérez is set to be a free agent following the season so the Mariners should look to acquire a number of quality prospects before he becomes a free agent after the season.

Teams that will consider Pérez: BOS, ARZ, ATL
Houston Astros: Fans of Houston, enjoy the signing of Dwight Howard and the Houston Texans for the next few seasons because its going to be a while until the Houston Astros return to being a quality team. With that said, I still love what GM Jeff Luhnow has done with the Astros, cleaning out all the big contacts and instead starting over with a number of veterans who he can look to trade at the deadline and young unproven players. The Astros would love to trade Carlos Pena (on a 1 year deal for 2.9 million) for a prospect but with a number of first basemen who have more value than Pena on the market, I would be surprised to see the Astros trade him at the deadline. Houston would also like to trade Ronny Cedeno to a contender so they could receive a prospect and give some of their young players more playing time.

Erik Bedard: When Bedard is healthy (and unfortunately it hasn't been often), Bedard has been a durable left-handed pitcher that has a tremendous curveball and doesn't walk too many batters in addition to having a great strikeout to walk ratio. I don't know if Bedard would be willing to pitch out of the bullpen, but I believe he could become a quality left- handed long or middle reliever for a team that's in contention.

Teams that will consider Bedard:
TB, BOS, ATL, ARZ: The Red Sox had Bedard for a half of season and he put up solid numbers in 8 starts for the Red Sox. Tampa Bay on the other had wold give the Rays more veteran depth for an unproven Rays bullpen. The Rays two current lefties (Cesar Ramos and Jake McGee) in their bullpen have been inconstant and can't be completely trusted as the make a run in the brutal American League East.

Jose Veras: Following tough runs in the Bronx and Cleveland, Veras moved to the National League and since then has become a quality reliever (having an ERA below 3.80 during that time frame) for the Marlins, Pirates, and Brewers. The Astros decided to take a chance on Veras by bring him back to the American League and he's delivered posting a 3.29 ERA along with 17 saves for an Astros team that's only recorded 32 wins on the season. I don't think any contending team would be interested in bring in Veras as a closer, however I do feel they would trade for him to a middle reliever.

Teams that will consider Veras:
COL, BOS, DET: After looking at the right handed relievers (not including Betancourt) in the Rockies bullpen, it seems they need to add a quality reliever to their bullpen, if they want to stay in contention.
 
Long shot Astros Trade:

Bud Norris: The 28 year old right handed pitcher has been one of the Astros lone bright points this season. The Astros only have 4 pitchers that have a 4.00 ERA and below and with a 3.63 ERA, Norris has the lowest ERA amongst everyone in the Houston rotation. Prior to Norris' last start (5 IP and 7 ER) he had a 3.22 ERA and hadn't allowed more than 4 earned runs or more in his previous 9 starts. Norris is still arbitration eligible for the following two seasons, making him reasonable affordable and under the organizations control for the following two season. As for the Astros, their new management team has proven to be great at selling high on their most valuable players (Michael Bourn and Hunter Pence) while they still have affordable years remaining on their contract and are still in the prime of their baseball career. Houston has been terrific at selling high on players in their peek and buying low on veterans.

Teams that will consider Norris: CLE, SD, TEX, LAA, BOS


What do you think?
We'd love to hear your comments and/or opinions. If you submit them here, other visitors can read them, rate them and comment on them. An e-mail address is not required.