Brett Favre Still is Undecided. Continue on with Life Everyone.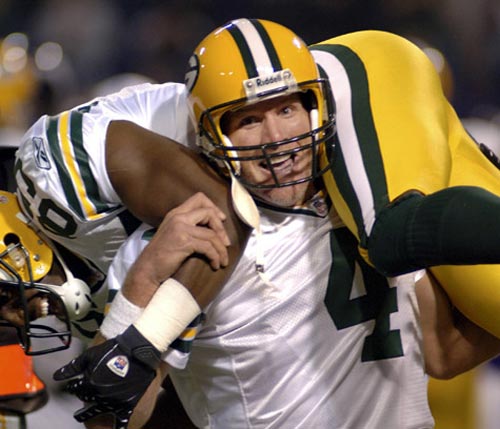 Brett Favre
---
Brett Favre is really bugging me of late. He's been so uncertain about whether or not he wants to play one more season. After last season's 4-12 record, Favre doesn't want to have another repeat. He wants to play only if the Packers will field a competitive roster. Reality check time. I think how the roster is today will be similar to the one on opening day. So if it looks like a 4-12 team with the same quarterback who threw 29 interceptions last season then that's how it'll look.
All off-season he said he's still deciding. The Packers want him to decide so they can plan their future. So yesterday he says he might have a decision this weekend. He even called a press conference for 9:30am this morning at his charity golf tournament. A personal assistant to the family said a "scoop awaited". Here's the scoop.
"No change. I don't know, once again," he said at a brief news conference Saturday from the site of his charity golf tournament. "I don't know why you guys wasted a trip down here. The Packers and I will make a decision at some point soon."
My goodness. He called a press conference to say "I don't know". He could have typed a statement from his bed wearing boxers and bunny slippers. It would have wasted no one's time. Reporters who showed up could have slept in today. I don't know who should feel dumber. Brett for calling a useless press conference or the press for showing up thinking he'd have a decision.
Please just make a decision more for the Packers and your family's sake. They're both growing impatient. Even though you are legendary, the rest of the football world isn't on pins and needles waiting for a decision. By now waiting on a decision has turned into a joke.
---
What do you think?
We'd love to hear your comments and/or opinions. If you submit them here, other visitors can read them, rate them and comment on them. An e-mail address is not required.
---
---
From Brett Favre Still is Undecided, Continue on with Life Everyone to NFL Archives | Sports Blog | College Football Archives | MLB Archives | NBA Archives | NCAA Basketball Archives | Soccer Archives | Olympics Archives | Stupid Athletes Archives | Other Archives |
---
Home Page
About Us | Contact Us | Site Search | Advertise | Terms of Use |
---