Breaking Down the New NCAA Football Playoffs
Finally the college football gods have come to their senses. After years of debate, the BCS Presidential Oversight Committee approved a four-team playoff system within the current bowl structure. This is something we've all been waiting for (at least I have been) for years. I am one of the biggest haters of the BCS System and have wanted college football to turn to a playoff system for many reasons. And even though a playoff system is finally here, some are still unsure if we as fans are truly winners.
Last season Alabama beat LSU in the BCS Championship game, which made the two teams' head-to-head record 1-1 for the year. How can that give us a true champion? Both teams have one loss. No one team stood above the rest as completely dominate. It goes to show that any team can win on any given Saturday. Some may say Alabama shut out LSU in the title game so they are the champ. I disagree. If the Tigers had another loss this would be an open and shut case. Seeing how both LSU and 'Bama had one loss, I don't see a clear-cut champion. As a sports fan I don't enjoy watching the games all season to not see a champion crowned.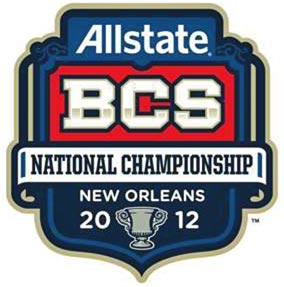 The current BCS system was introduced back in 1998, and almost from the get go many fans were up in arms about it. There are plenty of reasons why people disliked the BCS system, some more major than others. First you get two college teams all hyped about being a conference champion or riding a hot streak. Then they sit around waiting to play for the title for over a month, so any momentum the respective teams had were lost. Granted it was the same for both colleges, but I know the layoff affected players. Just like NFL players, who sometimes enter training camp a bit out of shape after OTAs. That in turn affects the title game. Now with a playoff system, the four teams in the hunt for the championship will have a tune-up game prior to meeting for the title. It's not perfect but it is a start. So now we get players closer to regular-season form.

Another plus with this new playoff system is that there are no automatic bids, meaning, in theory universities from smaller conferences may get a fair shake at reaching the Promised Land. A committee will select the four best – win-loss record, strength of schedule (SOS), head-to-head results and if a team is a conference champ – to see who reaches the playoffs. This should also get some matchups that aren't seen every year. Personally I'd love to see a Boise State go up against Alabama in the semi-finals to see if they have what it takes to be National Champions. And if they get blown out we, as fans, still get (hopefully) an outstanding title contest.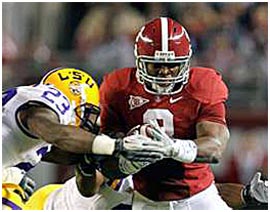 This deal will last for 12 years, starting in 2014, but why did it take so long to get to this point? It's all about the money. The major conferences – Big 12, SEC, ACC, Big Ten, Big East and Pac-12 didn't want to give up any pieces of the big money pie. To me, this never made sense. All the teams that are in the top 10 of the AP rankings at the end of the year could make a case to be in the title game – to some extent. So even if a university like Texas lost to a Boise State or a TCU for the championship, it isn't like they played a Division III school and lost. All of the prestigious universities are in Division I and deserve to play the best in the country at any given time.

Even though there aren't automatic bids, the conference winner has a very good shot to make the playoffs, depending on the strength of the conference, and overall record. Is this new playoff system perfect? Not yet, but hopefully the committee that oversees this realizes there is more money to be made and better games to be had.

My recommendation to the NCAA would be this. Take all four of the BCS games – Rose, Fiesta, Orange and Sugar – and make an eight-team playoff format with those current contests. Then the winners face off in the semi-finals and then we get a true National Champion. I know these are college athletes and it's asking a lot of them to play three games in let's say a three to four week span so we can get a champ. But this will also get those players heading to the NFL more prepared to the length of a full 16-game season. Let's face it, if your college in in a BCS bowl game, there is a good shot that some of those players will be playing on Sunday someday. The format I propose also gives the NCAA more games to sellout – which there is no doubt they would – and create more money to reward to the conference of the winners. I think this would make everyone happy and we'd all get a true National Champion. There would be no debate either. To make the playoffs a team would have to be on-top of their game all season and then stay hot for three more games to be crowned.

I know a lot of fans like the NCAA basketball tournament because a Cinderella team can make a run in the tourney and upset some teams. But in college football, if an undefeated Alabama team loses to a one-loss Oklahoma team, no one will say the Crimson Tide got robbed. The Sooners would have proved to be the better team and advanced to the next round or win in the title game. This would also ensure that if there are multiple undefeated teams at the end of the season that they'd have to either move on to face each other in the title game or be sent home early, making it very hard to say we should have joint National Champions, which is the most ridiculous thing in all of sports.


What do you think?
We'd love to hear your comments and/or opinions. If you submit them here, other visitors can read them, rate them and comment on them. An e-mail address is not required.