Breaking Down the College Football Coaching Carousel
By Matt Green

There are a ton of interesting coaching jobs in BCS conferences that have become available in recent days. From the highest profile jobs like Auburn and Tennessee, to fix-'er-ups like Purdue and Cal, there are a lot of great jobs out there right now for those up-and-coming coaches. Mark Stoops has already landed his first head coaching job, as he will be taking over at Kentucky, so let's investigate and rank those coaches who may be in the running for one of those big time jobs.
1. Charlie Strong, Louisville

You will hear this name mentioned so much over the next month or so, that it will get almost as annoying as ESPN's constant training camp coverage of the New York Jets. Truth is, though, this guy is the hottest commodity in coaching. He has led Louisville to a BCS game in just his 3rd season. He's a defensive-minded head coach, which, as we all know is perfect for the SEC, so look for not only Auburn (who has reportedly already contacted him), but also places like Arkansas and Tennessee to pursue this guy.

2. Kirby Smart, Alabama

Smart has been the Defensive Coordinator at Alabama for all of these successful Nick Saban defenses, and it's only a matter of time before he lands one of the big time head coaching jobs. His name popped up for the A&M job last offseason, and his name will no doubt circulate among those 3 SEC schools: Tennessee, Auburn, and Arkansas. And if he wants to move outside the SEC, that option will certainly be there at a place like NC State.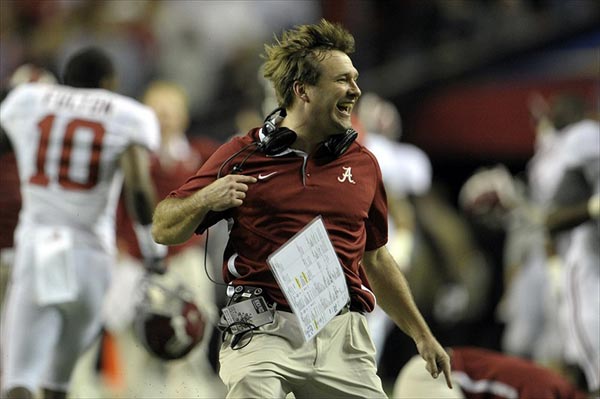 3. Butch Jones, Cincinnati

Jones has been the head man for the Bearcats since Brian Kelly left for the Notre Dame job. Kelly has given Jones a head start as well, as he has led the Irish to their first title game since 1993. Jones will be a hot commodity, as both previous UC head coaches, Kelly and Mike Dantonio, have succeeded after taking higher-profile jobs. The Purdue job seems likely for him, but, with Purdue's lack of recent success, Cincy may be just as good an option. The only difference between the two, really, is the conference stability that the Boilers possess in the Big Ten.

4. Darrell Hazell, Kent State

Hazell has led the Golden Flashes to their 1st bowl game since 1972 (not a typo) in just his second season as the head coach at Kent State. Obviously, it takes more than two seasons to prove yourself, but for a program that has been as bad as Kent State, to be able to go 11-1 and potentially reach the BCS, Hazell needs and deserves to be on a list of top coaches available for those big jobs, and the Purdue job once again seems most likely, as he came from Ohio State before Kent, so he knows the Big Ten landscape.

5. Mike MacIntyre, San Jose State

MacIntyre has resurrected a historically terrible program, creating a 9-win turnaround in just two seasons, from 1-12 in 2010 to 10-2 in 2012. It has been an incredible turnaround, and for the previous Duke Defensive Coordinator, could easily lead to a bigger job. Obviously, Cal would be the immediate choice, being just down the coast from his current job, but he is from the southeast himself, so could desire a return to the SEC area if he gets the right offer. Needless to say, his name will come up for multiple jobs.

6. Sonny Dykes, Louisiana Tech

Sonny has proven the apple doesn't fall far from the tree, running a similar system at Louisiana Tech that his father did at Texas Tech. It seems to be working, as the Bulldogs battled to a 9-3 record on the season, with close losses to Utah State, San Jose State, and a 2-point defeat at the hands of BCS #9 Texas A&M, in which his offense amassed 57 points in the losing effort. Arkansas has been rumbling about him, but at this point everything is speculation.

7. Willie Taggart, Western Kentucky

2 years ago, the Hilltoppers were one of the laughingstocks of college football, but after a 7-5 record in 2011 followed by an encore 7-5 season in 2012, Taggart has this program in stable condition, and has clearly shown he can make a program into a winner. Is he right for a big time job yet? I'm not so sure, but that Southern Miss job just came open, as did the Boston College job, which could both be very nice fits for the young coach.

8. Kliff Kingsbury, Texas A&M

He's still young and inexperienced and doesn't project to get one of those top jobs, but the guy is an absolute offensive genius, and with new hirings getting younger and younger every year, this guy seems poised to land a job sooner rather than later. He has coached Johnny Manziel from redshirt and backup to Heisman Trophy finalist in 9 months. Nuff said.

9. Pete Lembo, Ball State

He wouldn't be the sexiest hire, that's for sure, as he has not really had gaudy numbers either in his 10 years at the FCS level or his 2 at the FBS level, but he did lead Ball State to a 9-3 record in 2012, a year where the MAC was historically good, and just three years after Ball State won a mere 2 games. Again, probably not going to get one of those SEC jobs, and maybe won't even be offered a job he likes this offseason, but watch out for him in the years to come.

10. Luke Fickell, Ohio State

We know Fickell best from his job as the interim Head Coach after Jim Tressel stepped down prior to the 2011 season. Fickell did as well as could be expected that season, considering the fact that he had a freshman quarterback and a swarm of controversy around the entire program. He went 6-7, and came back this year as a Co-Defensive Coordinator under Urban Meyer and was great in that role as well. For a young guy with clear talent for the position and some solid experience under his belt for one of America's elite programs, he seems like a no-brainer for a head coaching job sooner rather than later.


What do you think?
We'd love to hear your comments and/or opinions. If you submit them here, other visitors can read them, rate them and comment on them. An e-mail address is not required.