Breaking Down the Coaching Changes Around the NFL
Some things never change. A team doesn't live up to expectations and the coach gets kicked to the curb. Rightfully so in many cases, and the end of this season was no different. As soon as the regular season was over and the playoffs started up a handful of teams got rid of the head coach. The Browns, Eagles, Chiefs, Bears, Bills, Chargers, Cardinals and Jaguars were all in the hunt for a new leader and some made the move very quick. All eight coaching vacancies had been filled, but only one coach that got canned managed to find a new job.
Andy Reid was with Philadelphia for 14 years, and was sought after by Arizona and Kansas City as soon as he became available. Reid is known for being an offensive genius, although he's never gotten the job done and led his team to a Super Bowl victory. Before the Cards were able to interview Reid, the Chiefs made him an offer and he jumped on it. I think Arizona would have been a good fit for Reid though. He would have been reunited with Kevin Kolb, who was the backup to Michael Vick in Philly. Kolb hasn't panned out for the Cards, but Reid could have gotten him on the right path, especially with Larry Fitzgerald on the wing to throw to.
With Arizona missing out, they are the only team that hasn't filled its coaching vacancy. Reid takes over a Kansas City, a team that has the first pick in the NFL draft and is in desperate need of a quarterback. Is Geno Smith the right fit here or should they build from the trenches. Reid is a quarterbacks' best friend, so there is a chance he can turn Matt Cassel or Brady Quinn into a quality passer. Only time will tell how things unfold in K.C., but Reid has a lot of work on his plate with this team.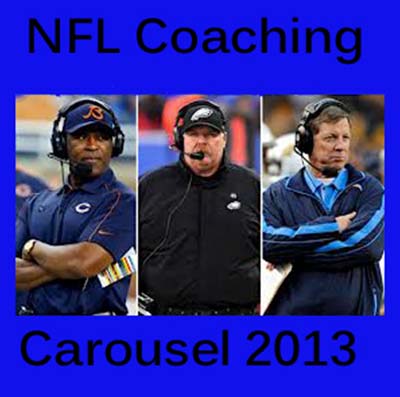 Other coaches haven't been that lucky. Ken Whisenhunt, formerly with Arizona, was rumored to be a favorite for the Bills. Unfortunately Whisenhunt didn't land in Buffalo as they went north of the border to get a new coach. He did, however, find a new job as he was hired by Cleveland as the team's offensive coordinator. Like Whisenhunt, Norv Turner found a job as an offensive coordinator.

Only Kansas City went with a proven coach, so where did the other new coaches come from? Let's go through each hiring and figure out which coach inherits the best team and which franchise will probably be looking for a new coach in the near future...again.

The Browns went with a homegrown coach – Rob Chudzinski. Chudzinski admittedly is a Cleveland fan and was a coach for the Browns earlier in his career. During his most recent coaching gig, Chudzinski was the offensive coordinator for the Panthers. He helped guide Cam Newton to record-breaking numbers as a rookie. Carolina wasn't the most proficient offense, but they did score more points than Cleveland last season. The Brown have some weapons on offense, so there is a silver-lining for Chudzinski. He has his work cut out form himself that is for sure. It has been a long time since the Browns were a formidable team in the AFC. With Trent Richardson and Brandon Weeden to build around, Chudzinski has a nice core – that is if they don't go a different route at quarterback. It will be interesting to see how this pans out as the Browns could really through a monkey wrench into April's draft if they select a quarterback in the first round.

Philadelphia and Buffalo searched the college ranks for their new leader. The Eagles roped in former Oregon coach Chip Kelly, while the Bills grabbed local coach Doug Marrone, who led Syracuse to an 8-5 record last season. Back on Jan. 3 Kelly was the favorite for the job in Philly, but said he was focusing on the Fiesta Bowl and staying with the Ducks. Then seemingly out of nowhere, the Eagles name Kelly the new head coach. He inherits a very talented team, so his moxie will be put to the test this fall.
He has a lot of questions on his plate: do we keep Michael Vick or go with Nick Foles? Do we draft a new quarterback? What adjustments do we have to do to my offense? Kelly didn't lose many games in his four years in Oregon and displayed one of the most prolific offenses in college. With LeSean McCoy, Jeremy Maclin and DeSean Jackson, the Eagles have the speed and talent to fit Kelly's system. If he can get them all on the same page the Eagles could turn things around quickly and be a threat in the NFC East again.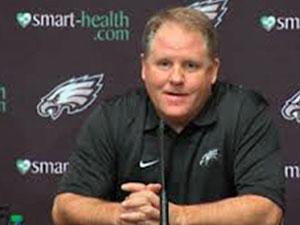 As for Marrone and Buffalo, the future isn't as bright. The Bills tried to make a splash in free agency last year by signing Mario Williams and he didn't live up to that $100 million contract. Marrone did lead Syracuse to eight wins last year, but the Big East is falling apart and isn't among the better conferences in college football. The Bills need some work on both sides of the ball, which translates into a rough road for Marrone.

Marc Trestman takes over in Chicago after the Bears gave Lovie Smith the boot. Trestman won two Grey Cups in five seasons for the Montreal Alouettes, but the NFL is not the CFL. The Bears started the season 7-1 and for the second straight year missed the playoffs after a second half disaster. Smith may not have deserved to get dumped but the blame has to fall on someone. If Trestman can't get this team focused his stay in the Windy City probably won't be long.

The Chargers made a smart decision by bringing in Mike McCoy. McCoy had it easy this past season with Peyton Manning at the helm of his offense and now has the task of turning Philip Rivers' career around and get him back on track. San Diego brought in another offensive guy to replace Norv Turner. Over the past few years Turner has found himself on the hot seat and this year was the last straw. While McCoy has some pieces in place, it won't be easy. Rivers has the potential to be one of the best in the business and if McCoy can build his offensive scheme around his signal caller the Bolts may be able to make some noise next year. Chances are McCoy and San Diego take a few years to rebuild, but they aren't too far off.

One of the best decisions in this coaching carousel was by Arizona. The Cardinals were the last team to find a coach and he had a pretty impressive 9-3 record as interim coach for the Colts in 2012 after Chuck Pagano was diagnosed with leukemia. Bruce Arians takes over a team that has a good defense and a few pieces on offense. Arians managed to get rookie quarterback Andrew Luck up to speed and will have to try to repeat his luck with the stable of quarterbacks in Arizona. Arians like the other new head coaches are offensive minded. No one expected the Colts to make the playoffs this year, so Arians is full of surprises. Don't be shocked if he turns things around in the desert quick.

The only coaching vacancy filled with a defensive coach was in Jacksonville. The Jaguars lured Gus Bradley away from Seattle where he built one of the best defenses in the league. The Seahawks stockpiled picks last year and spent heavily on defense. It panned out for them, so look for the Jaguars to do much of the same in April's draft. There is a general manager in Jacksonville and Bradley is the guy the franchise feels can lead them in the right direction. It won't be easy though as the Jaguars have a lot of question marks on both sides of the ball. If they draft wisely, Jacksonville may see a drastic change on the defensive side of the ball in 2013.


What do you think?
We'd love to hear your comments and/or opinions. If you submit them here, other visitors can read them, rate them and comment on them. An e-mail address is not required.