Breaking Down College Football's New Conference Alignment
The past few years there has been a ton of movement in college football in terms of conference hopping. I, for one am sick of it, so hopefully all that nonsense is over. What are the perks of jumping from conference to conference? For one, it is a way for smaller universities to solidify its image of a high-power squad if they play in a tougher conference. This is also a way for conferences to earn more money. The Pac-12 added two teams, which enabled them to split the conference in two divisions and hold a title game at the end of the season. That makes one more game to sell tickets to and state their case to be in the BCS Championship game.
Once we get to a much anticipated playoff system the strength of the conference won't play as big a part. We should get the best teams facing off against each other and perhaps see a college from a smaller conference make some noise. That is my hope anyway. I, for one, love to see two powerhouses from different conferences battle in bowl games. It's the only time I lean towards other teams in my favorite universities conference – go big or go home; cheer for conference dominance. Every year we hear what the experts think is the dominant conference or most underrated. We hear how some conferences get special treatment and how others never get any respect. It is a fine line because many universities don't like taking on strong opponents from smaller conferences in fear of losing. Remember when Michigan lost to Appalachian State? The Wolverines will never add a 'cupcake' like this again in fear of being upset.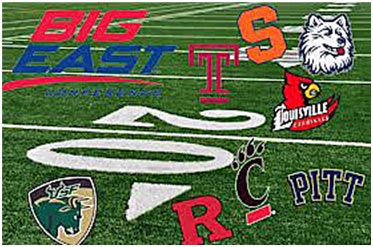 ---
Back to the conference movement. The Big East lost some schools to the ACC, so what did they do? Add more teams. Makes sense for them because they need more universities because not every school in the Big East have a football program. So to remain strong the Big East added some more colleges, but had no limits on which school they reached out to. Conferences are supposed to contain teams that are relatively close together, forging rivalries. The Big East wanted to add Air Force and BYU, which are not on the east coast. Currently there are eight universities in the Big East, two are undefeated. With the lack of talent in the conference though it's a tough sell that one of these teams are among the best in the country. I could be wrong, but the Big East is heading in the wrong direction in terms of football. The SEC was also busy adding Missouri and Texas A & M, bringing the conference to 14 teams. They still have conference title game and with the Tigers and Aggies brought on some talented football programs.
How have the two teams adjusted to life in the SEC? Not too well. The Tigers have yet to win a conference game, going 0-4. They have won three non-conference games, but that doesn't count for much when it comes to trying to make a name for in your new home. The Aggies have a .500 record, going 2-2 so far this season in conference play. Coming from the Big 12, both Missouri and Texas A & M, were used to tough competition? So is the SEC that much better? The Tigers and Aggies have combined for a 2-6 record thus far in SEC play. That won't get them far when it comes time for a bowl berth. Could it be first year jitters in a new conference, sure. Or it could be superior competition. Either way the Tigers don't have much to look forward to except next season.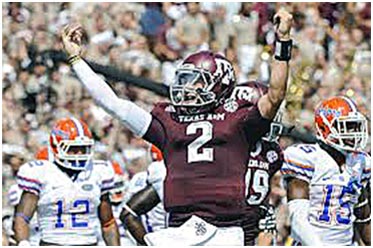 ---
Texas A & M on the other hand has a lot to look forward to. Rookie quarterback Johnny Manziel has passed for just under 2,000 yards and has 14 touchdowns this season. Both of the Aggies' losses have been against some of the best teams in the SEC and nation – Florida and LSU. The Aggies played extremely well in both games and should win some more games in the SEC the remainder of the year. The one place the Aggies have to improve is the offensive line. In the game versus the Gators, Manziel was sacked and pressured a lot, making it extremely difficult for him to make a difference. Manziel was a three-star recruit coming out of high school and according to Scout.com was ranked the 22nd quarterback in his class. In some areas they though he needed to improve entering college were accuracy/consistency and decision making. I think he's improved in both of those categories and will make plenty of noise in the SEC and the nation in the coming years. Don't be surprised if he's in the Heisman talk as a sophomore and junior as I believe he is that good.
Right now both Missouri and Texas A & M are going through some growing pains but I think at least one of these universities will do just fine in the SEC. For now all we can do is sit back and enjoy the festivities on Saturday. And hopefully all the colleges stay put and this realignment craziness is over.
---
What do you think?
We'd love to hear your comments and/or opinions. If you submit them here, other visitors can read them, rate them and comment on them. An e-mail address is not required.
---
From Breaking Down College Football's New Conference Alignment to NCAA Football Blog | Sports Blog | NFL Football Blog | NFL Football Archives | College Football Archives | MLB Baseball Blog | College Baseball Blog | MLB Baseball Archives | NBA Basketball Blog | NCAA Basketball Blog | NBA Basketball Archives | NCAA Basketball Archives | Fantasy Football | Fantasy Basketball | Fantasy Baseball | Soccer Archives | Olympics Archives | Stupid Athletes Archives | Other Archives | Football Forum | Basketball Forum | Baseball Forum | NFL Football Store | NBA Basketball Store | MLB Baseball Store | NCAA Football Store | NCAA Basketball Store | NCAA Baseball Store | Fatheads | NFL Football Tickets | NBA Basketball Tickets | MLB Baseball Tickets | NCAA Football Tickets | NCAA Basketball Tickets | NCAA Baseball Tickets |
---
Home Page
About Us | Contact Us | Site Search | Advertise | Terms of Use |
---