Breakdown of 2012 Chicago Cubs and White Sox
Both Chicago baseball teams are just over one month into this season and I feel it's a good time to analyze both the White Sox and Cubs roster's and see how they've been doing so far. I wanted to analyze each team's infield, outfield, starting pitching, and relief pitching, along with an overall grade so far at the end.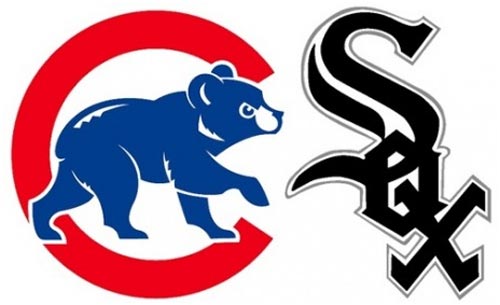 ---
Chicago Cubs:
Infield: The Cubs have had a mixture of both ups and downs from the different infield positions so far. The good so far has been from both 1st Baseman Bryan LaHair (.390 Average, 7 Home Runs, and 16 RBI) and Shortstop Starlin Castro (.345 Average, 1 Home Run, and 18 RBI) as they've helped carry the Cubs offense during the early parts of the season. As for who needs to improve: Geovany Soto (.147 Average, 2 Home Runs, and 3 RBI), Darwin Barney (.245 Average, 1 Home Runs, and 7 RBI), and Ian Stewart (.204 Average, 2 Home Runs, and 10 RBI) haven't had the starts that they were looking for. Fortunately for the Cubs, the season is young, and the Cubs have only seen a limited number of warm weather games in 2012 so yes, I do feel Barney, Soto, and Stewart have time along with a number of opportunities to improve their stats throughout the season.
Grade: B-
Why this grade: This was a tough grade for me because half of their infield has been tremendous throughout the early parts of the 2012 season however, the other half has gotten off to a slow start to the season. As the season goes on, I believe the B- grade will improve when Wrigley becomes a better stadium to hit at all summer long.
Outfield: It seemed that the Cubs would feature an outfield of David DeJesus, Marlon Byrd, and Alfonso Soriano in 2012, however, this changed as the Cubs decided to trade Center Fielder Marlon Byrd to the Boston Red Sox and now feature a number of different Center Fielders. Included in the group of Center Fielders are Tony Campana, Joe Mather, and Reed Johnson as each brings a different dimension to the roster. Campana's, in his second big league season, has brought a spark to this Cubs offense since Byrd was traded a few weeks ago, hitting .341 to go along with 7 stolen bases during this time.
In addition to Campana, newly signed Joe Mather has also put together a solid start to his 2012 season having a .286 Average, 2 Home Runs, and 6 RBI on the season. As for the other two outfield spots, David DeJesus (.242 Average, 0 Home Runs, and 4 RBI) and Alfonso Soriano (.250 Average, 0 Home Runs, and 13 RBI) have both had slow starts but with the weather warming up and the wind blowing out, I feel both players will start to bounce back and be more productive during the Summer months.
Grade: C-
Why this grade: The Cubs Center Fielders have been great so far, however, the others in the outfield have struggled in 2012 but with that said, I know this grade will go up as the season continues on.
Starting Pitching: One of the brightest points on the Cubs roster has come from the teams rotation they've been great during the early parts of the 2012 season. Opening Day Starting Pitcher Ryan Dempster (0-1 with a .95 ERA) has only made four starts on the season but has been tremendous in throughout each of the 4 starts (two of the starts he didn't even allow an earned run), yet he doesn't have a win to show for it. As for the teams other pitchers, like Dempster, Matt Garza has put together a terrific start to the season having a 2-1 record along with a 2.67 ERA and has been consistent for the Cubs all season long.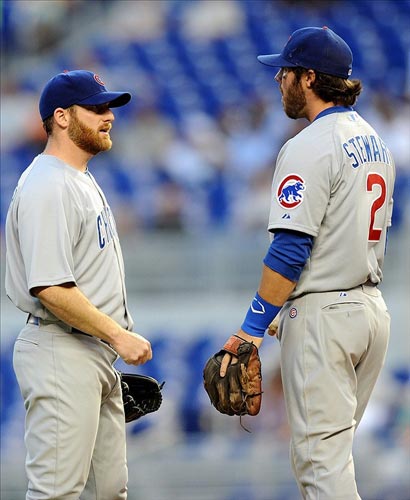 Chicago Cubs starting pitcher Ryan Dempster (left) talks with third baseman Ian Stewart (right) during the first inning against he Miami Marlins at Marlins Park. Photo Courtesy By: Steve Mitchell-US PRESSWIRE.
---
The biggest question surrounding the 2012 Cubs rotation was with pitcher Jeff Samardzija who went back and forth between Triple A and the Majors (while being both a starter and reliever) throughout the past few season. During the Cubs 2012 Spring Training, Samardzija showed that he was ready to become a trusted starting pitcher and so far has more than delivered with a 4-1 record to go along with a 3.03 ERA. As for the Cubs fourth starter, (Paul Maholm), he's got off to a bad start (12 Earned Runs in his first 2 starts) but since then has been as good as anyone in baseball (3 Earned Runs given up in his last 3 starts).
Grade: A-
Why this grade: Because four of the Cubs 5 starting pitchers have been outstanding, and Dempster and Garza have looked like Ace's since Opening Day. As for why it's not a A, because 5th starter (Chris Volstad) has gotten off to a slow start, however, I feel as he starts to adjust to pitching at Wrigley, he'll turn into a much better pitcher.
Relief Pitching: Like the Cubs infield, the Cubs bullpen has had its ups and downs throughout the early parts of this season. The good so far has come from a lot of the Cubs younger relievers in James Russell (.79 ERA), Michael Bowden (2.45 ERA), and Rafael Dolis (2.95 ERA to go along with 3 Holds, 2 Saves, and 2 wins on the season. That is a great positive for the Cubs as they've found out they have a lot of younger, reliable relievers to turn to in the future. The down part of the bullpen has come from the veterans as both Carlos Marmol and Kerry Wood have both gotten off to slow starts however, the season is young and I do believe both pitchers will be much better as the season goes on.
Grade: C+
Why this grade: There've been a lot of nice stories out of the Cubs Bullpen, but when your top two relievers have ERA's of over 5 along with 3 combined Blown Saves, then its tough to give them a grade above a C+. With that said, I do believe by the start of June, Wood and Marmol will both have much better ERA's, and the grade will be above a C+.
Final Grade: B-
Why this grade: The Cubs started the season with a 1-5 record (all of the games coming at home) and could have gotten discouraged by the teams start, however to the Cubs credit, they decided to play harder since then and have won 8 of 13 games. The Cubs seem like they're prepared to start a long winning streak and will be a tough team to beat in the near future.
Chicago White Sox:
Infield/DH: Just like the Cubs, the White Sox infield has been hit or miss all season long with some players putting up great stats while others have gotten off to slow starts. First the positives, as once again First Baseman Paul Konerko is off to another great start to this season (.345 Average, 6 Home Runs, and 18 RBI) and even with the great First Basemen in the American League, I'd be surprised to not see him in Kansas City for the All-Star Game. In addition to Konerko, Catcher AJ Pierzynski has gotten off to a fast 2012 season, especially in the Home Run and RBI categories with 5 Homers and 20 RBI along in addition to handling the White Sox rotation.
As everyone already knows, in 2011, DH Adam Dunn had a difficult season (.159 Average, 11 Home Runs, and 42 RBI) but a few months later said he would win the 2012 Comeback Player of the Year Award. As for this season, Dunn has gotten off to a good start hitting a Home Run on Opening Day into the Upper Deck of Rangers Stadium, and on May 8th already has as many home runs (9) as he did all of last year (11). Those three players have been great all season long, however, three other White Sox infielders have gotten off to slow starts and have struggled in 2012.
Second Baseman Gordon Beckham has become one of the best defenders in all of baseball, but has still had his struggles at the plate (.220 Average, 2 Home Runs, and 7 RBI). As for the left side of the infield, both Shortstop Alexi Ramirez (.192 Average, 1 Home Run, and 13 RBI) and 3rd Baseman Brent Morel (.172 and 4 RBI) have also gotten off to slow starts at the plate this season. I do believe the three infielders will play better in the near future, as Alexi Ramirez has gotten off to slow starts in the past and has still found a way to hit .269 or higher in everyone of his seasons.
Grade: C-
Why this grade: I gave the White Sox a C- because two of the teams infielders are hitting below .200 and another is hitting .220 on the season. This grade would have been even lower if not for the great starts form Konerko, Pierzynski, and Dunn. I feel the White Sox will have a much better grade in June when the weather warms up which also usually means Alexi Ramirez will start playing better.
Outfield: The 2011 Opening Day outfield (Pierre, Rios, and Quentin from left to right) looks completely different from the 2012 Opening Day outfield (Viciedo, De Aza, and Rios). Towards the end of last season, the White Sox decided to bring up Alejandro De Aza and see how he would respond to being in the Majors. Fortunately for the organization, De Aza had a great end to the 2011 season (.329, 4 Home Runs, and 23 RBI) and showed that he could be counted on as the team's starting outfielder, as he's has had a nice start to the 2012 season (.277 Average, 3 Home Runs, and 9 RBI).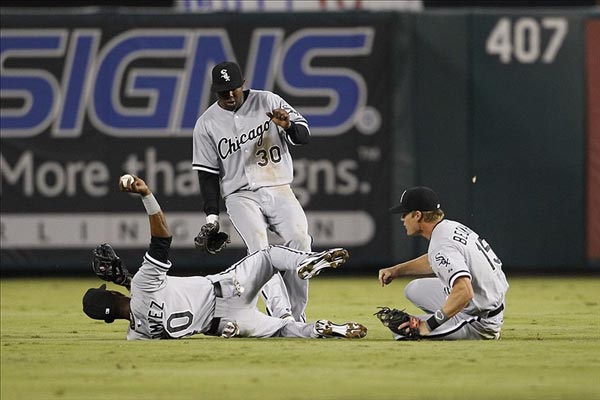 Chicago White Sox shortstop Alexei Ramirez (10) holds up the ball after a near collision with Chicago White Sox right fielder Alejandro De Aza (30) and Chicago White Sox second baseman Gordon Beckham (15) on a fly out by Texas Rangers first baseman Mitch Moreland (not pictured) in the ninth inning at Rangers Ballpark in Arlington. Photo Courtesy By: Jim Cowsert-US PRESSWIRE.
---
As for Rios, he had a difficult 2011 season (.227 Average, 13 Home Runs, and 44 RBI) and never seemed to be comfortable at the plate, however in 2012, it seems like Rios has bounced back (batting .294 on the season) and looks much more comfortable at the plate. As for Left Field, the Chicago felt it was time to give 23-year-old Dayan Viciedo a chance to be a full-time starter in 2012 and its been an up and down year for the first year starter. The up was when Viciedo hit 2 Home Runs in his first 7 games, however, since then, Viciedo's stats have gone down (.213 Average, 3 Home Runs, 5 RBI) and he's started to struggle at the plate.
Grade: B-
Why This Grade: Two of the three Chicago outfielders have had solid starts to the season and the third only had 206 At-bats before the start of the 2012 season. The White Sox were hoping to get a solid bounce back year from Rios and so far he has delivered.
Starting Pitching: In Spring Training, the question surrounding the White Sox roatation was who would step up and fill in for former team ace Mark Buehrle. The White Sox thought it would be newly signed John Danks that would step up and become the Ace of the rotation, but in-fact so far its been a former CY Young Award Winner (Jake Peavy), whose stepped up and become the Ace of the Sox staff as he's 3-1 with a 1.99 ERA on the season. The Sox were unsure how Gavin Floyd would start the season as he usually gets off to slow starts and then starts pitching better as the season progresses on. However, this season has been different as Floyd has a 3.03 ERA and looks like he's ready to become a true number 2 or 3 MLB starter.
The main problem with the Sox rotation has come from the team's 3-5 starters as they've either been injured or inconsistent all season long. First the injured, as starter Chris Sale got off to a tremendous start (3-1 with a 2.73 ERA) and looked like he would be able to make the transition from reliever to starter. Unfortunately, Sale has had a few Arm problems and was moved back to the bullpen, leaving a key hole in their rotation that the White Sox need to fill if they want to be a contender in the American League Central. As for the other two starters (Philip Humber and John Danks), they've had a few ups (Humber's perfect game), but have also had a number of down moments (Danks 5.28 ERA and Humber 6.83 ERA) this season.
Grade: B
Why This Grade: This is tough because Peavy, Floyd, (and before he moved to the bullpen) Sale have all had great starts to the season and deserve a tremendous amount of credit for what they've done so far, however, with two pitchers having an ERA above 5, the highest grade I could give the pitching staff was a B. With that said, I feel even without Sale, the rotation will only improve in the future months.
Relief Pitching: The White Sox decided to build a bullpen that includes both older and younger players out of the bullpen and so far its been a pretty good success. The Sox young relievers have been great all season long with Addison Reed (0.00 ERA), Nate Jones (1.64 ERA), Zach Stewart (2.25 ERA), and now Chris Sale. As for the veterans, most have gotten off to a solid start: Crain (2.57 ERA), Thornton (4.15 ERA) and look like they will create an effective bullpen.
Grade: B+
Why this Grade: Because most of the pitchers in the Bullpen have been very productive, I believe this should be the White Sox highest grade and the bullpen (for the most part) has been great all season long.
Final Grade: B
No one knew what to expect from the White Sox this season with a new manager (Robin Ventura) along with almost an entirely new coaching staff and to their credit seem like they'll be a team that will be in the American League Central Division race all season.
---
What do you think?
We'd love to hear your comments and/or opinions. If you submit them here, other visitors can read them, rate them and comment on them. An e-mail address is not required.
---
From Breakdown of 2012 Chicago Cubs and White Sox to MLB Baseball Blog | Sports Blog | NFL Football Blog | NCAA Football Blog | NFL Football Archives | College Football Archives | College Baseball Blog | MLB Baseball Archives | NBA Basketball Blog | NCAA Basketball Blog | NBA Basketball Archives | NCAA Basketball Archives | Fantasy Football | Fantasy Basketball | Fantasy Baseball | Soccer Archives | Olympics Archives | Stupid Athletes Archives | Other Archives | Football Forum | Basketball Forum | Baseball Forum | NFL Football Store | NBA Basketball Store | MLB Baseball Store | NCAA Football Store | NCAA Basketball Store | NCAA Baseball Store | Fatheads | NFL Football Tickets | NBA Basketball Tickets | MLB Baseball Tickets | NCAA Football Tickets | NCAA Basketball Tickets | NCAA Baseball Tickets |
---
Home Page
About Us | Contact Us | Site Search | Advertise | Terms of Use |
---