Boxing's Five Greatest Southpaws
By Aaron Reynolds

Every sport has a few different approaches, or styles if you will, to achieving greatness. When it comes to boxing, fighters are often divided into two different categories: orthodox and southpaw. While southpaw boxers are in the minority, they are considered the more difficult to face of the two fighting stances and the stance has become increasingly common in the past 20 years.
As a result, TheBestSportsBlog.com wanted to break down 5 Great Boxing Southpaws for your personal enjoyment. Do you agree or disagree with our list?

5. Ronald "Winky" Wright
As unconventional as his nickname, Ronald "Winky" Wright frustrated opponents with a combination of stingy guard and southpaw stance. Wright won both WBO and WBC middleweight titles, including an impressive technical bout against Puerto Rican star Felix Trinidad. He would be higher up the list if not for being fairly inactive since 2006.

4. Pernell "Sweet Pea" Whitaker
The defensive, technical Whitaker wasn't the most stylish boxer ever to grace the ring yet "Sweet Pea" had a method to his madness. The southpaw featured a notoriously tricky jab, and was infamously robbed of a 12 round decision against Julio Cesar Chavez in 1993.

3. Joe Calzaghe
Joe Calzaghe finished his boxing career 46-0, one of the few to go out undefeated. His 21-fight win streak as a champion is one of the most impressive ever. Rocky Marciano is the only fighter to go longer undefeated, yet he is rarely (if ever) recognized in the same sentence as the all-time greats.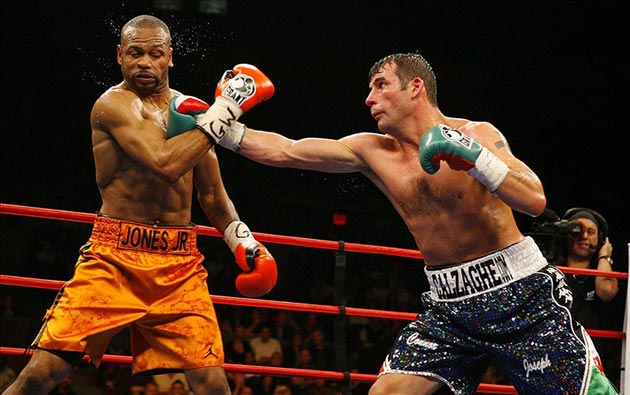 2. Marvin Hagler
"Marvelous Marvin" switched from the orthodox to southpaw style early in his career and the rest… is… history. The move enabled Hagler to get his right hand, the power hand, closer to his opponents' chin and it worked beautifully. He is considered today to be one of the all-time greats.

1. Manny Pacquiao
Pacquaio arguably graces the top of the list, though that is open to debate. Pacquaio has won 10 world titles in eight different weight divisions, which clearly makes him one of the most versatile boxers at the very least. Pacquaio is also a famous southpaw that has worked with one of the top trainers in the game (Freddie Roach), which has changed the sport considering that trainers in the past wanted nothing to do with southpaw boxers.


What do you think?
We'd love to hear your comments and/or opinions. If you submit them here, other visitors can read them, rate them and comment on them. An e-mail address is not required.
From Boxing's Five Greatest Southpaws to Boxing Blog