Boise State vs Arizona State Las Vegas Bowl Preview
Of all the bowl games in the 2011 season, perhaps none has a greater contrast in expectation and result for each team than the Las Vegas Bowl.

On one end, there are the 11-1 Boise State Broncos who despite being ranked 5th in the Bowl Championship Series standings and having a great resume for a major bowl game, instead play in one of the first games of the bowl season. Recently, their head coach Chris Petersen finally acknowledged what many have believed all along: that the BCS is an inherently flawed system in need of an overhaul.
Be that as it may, it does not change the result for this year and this game. For Kellen Moore, this is a chance to end a historic college career with his NCAA FBS record 50th win. It can serve as a statement by Boise State heading possibly into the Big East conference as early as next year.

In contrast, the Arizona State Sun Devils failed to meet expectations this year, resulting in the firing of Dennis Erickson. For them, this is a game to end their season on a high note, with a great opportunity to knock off a top 8 team. However, with a four game losing streak, including a frustrating pair of losses to rival Arizona and then to California on Senior Night, the fear could be whether or not the Sun Devils show up ready to play. Much of the buzz surrounding the program is the recruitment of Houston head coach Kevin Sumlin, fresh off an historic season at that university.
They are led by Brock Osweiler and Cameron Marshall offensively and can score. The problem has been their defense, which has allowed 36 points per game during its losing streak. The key to this game will be how Arizona State starts. Unlike the last game against Cal, if they fall behind Boise, there is a possibility things could snowball and result and a blowout loss.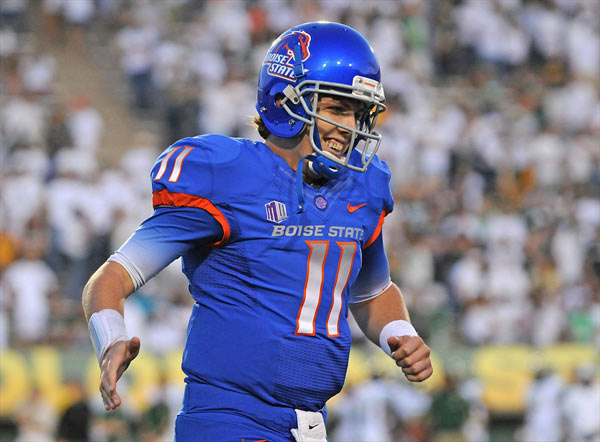 I get the feeling Boise State is going to be motivated to make an example of ASU, so their ability to sustain drives and keep Boise's offense off the field will dictate their success in the game. That said, I expect Doug Martin to have a very good game running the ball, which in turn will set up Moore's play action passing. While Brock Osweiler has the physical tools to be an elite QB, his decision making is often lacking and I predict that will be the ultimate undoing of the Sun Devils in this game.

The inability to stop the run and turnovers will doom the Sun Devils.
Final score: Boise State 41, Arizona State 24.


What do you think?
We'd love to hear your comments and/or opinions. If you submit them here, other visitors can read them, rate them and comment on them. An e-mail address is not required.