Bob Knight Does Not Like 'One & Dones'; Should Blame NBA, not Calipari
By Dennis Berry

Former college basketball coach Bobby Knight has never been shy about voicing his opinion. Whether it be to a player or reporter, he will not hold back. It is probably one reason why ESPN hired him as an analyst for college basketball.

Knight has let his thoughts be known about the current state of college basketball ever since he left coaching in 2008. He sees a real problem with players leaving schools early, mainly the 'one and dones.' That is as fair a point of view as many people see this as being a major problem.
Although there seems to be one coach that Knight really seems to point at each time. That coach is John Calipari, head coach of the University of Kentucky. Calipari has not shyed away from recruiting players that have the potential to play in the NBA. It is part of Calipari's success, but can also be used against him by critics.

On April 16, 2011 Bobby Knight spoke to a group in Wabash, Indiana. It was an event where people could listen to Knight speak and ask questions. One question was if Knight, "thought John Calipari was good for college basketball?"

"Well, I am sure if I was a Kentucky fan I would." said a straight face Knight, with laughs coming from the audience. A follow up came with, "you don't believe that."

Knight responded, "Well I am not a Kentucky fan."

If that was the only thing to come out of that evening, it probably would not be that big of a deal. Knight was not done yet. In a later segment, Knight begins to talk about players graduating and how he is proud that so many of his players did, which is something to be proud of. It was the statement that came after that.

"Kentucky, the year before last, started five players in the NCAA Tournament that did not go to class that semester," said Knight.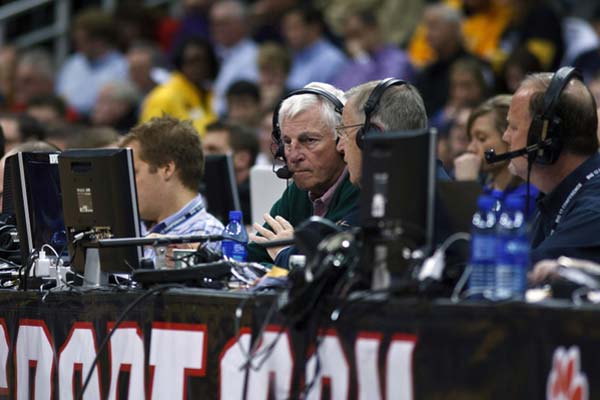 The video first started making the rounds on the Kentucky message boards Monday afternoon. By Monday night, it had made its way to Kentucky and Athletics Director Mitch Barnhart issued a statement:
"The University of Kentucky, our student-athletes and their families take great offense to the blatantly erroneous comments made by Bob Knight that "Kentucky, year before last, started five players in the NCAA Tournament games that had not been to class that semester,' "UK Athletics Director Mitch Barnhart said. "Academic performance has always been a priority at UK and it's unfortunate that, although every starter from the 2010 season finished the spring semester in good academic standing, these myths exist. Our men's basketball team's APR score reflects our attention to academic progress and our student-athletes take great pride in representing the University of Kentucky on and off the floor."

Then Tuesday morning it got really interesting. The story began to spread and by Tuesday afternoon it was a national story. Many in the sports media disagreed with Knight's statement. Many thought he should apologize for the statement, but believed he would not do so. There was even a poll on USA Today's blog "Game On" asking whether you believed Knight or the Kentucky players.

Then early Tuesday evening, Knight issued an apology through ESPN:

"My overall point is that 'one and dones' are not healthy for college basketball," Knight said. "I should not have made it personal to Kentucky and its players and I apologize."

So Knight's real problem is with 'one and dones' and not Calipari or Kentucky. There is no doubt that Knight is a basketball enthusiast and loves the game. He should point the blame for 'one and dones' where it really belongs. At the NBA.
It is the NBA that deserves the blame. It is the one that has an age limit on who can play in the NBA. It was 18 years of age. Then in 2006, the NBA raised the age limit of United States players to 19, by the end of the calendar year, and they must be one year removed from high school.

They did this because there were so many high school players bypassing college and going straight to the NBA. For every Kevin Garnett, Kobe Bryant, and LeBron James who really did not need the college experience, there is a Kwame Brown, Ricky Sanchez, and Leon Smith. These high school players were drafted, but either never made it in the NBA, or in the case of Brown, just have not have the success they were expected.

So it is the NBA that set the age limit at 19, which has lead to so many 'one and done' players. Those players tend to be the highest rated players coming into college. John Calipari recruits those players. Those players want to play for him because he has a proven record of getting players drafted into the NBA. This is the coach who got Kentucky reserve Daniel Orton, who averaged 3.4 points and 3.3 rebounds in one season, drafted in the first round.

What many fail to realize is that college basketball has changed. Highly regarded players do not stay for 3-4 years anymore. With the rise of AAU ball, players are more polished and prepared for college and the NBA than they were in the 70's, 80's and 90's. Many want to get there as fast as they can. With the NBA age limit, they are forced to play one year of college basketball.

So really it is the NBA that is the cause, but it may change in the future. With a pending lockout after the NBA's collective bargaining agreement set to run out this summer, the age limit may rise from 19 to 20 years of age. This will eliminate the 'one and done' option and make players spend at least two years in college, which would help improve both college and NBA basketball. The more time young players spend in college working on weaknesses and maturing, the NBA would get better prepared players. Thus, making for a better game.

Although there is one idea that Knight has that would be the best solution. Knight says it should be like baseball, either sign to play professional basketball right out of high school or commit to play college ball for at least three years. Then after the three years, you can forgo your senior year and move on to college.

This would allow those rare players who are ready for the NBA to go straight to the league. Those that were not can go improve their game in college. That seems like the best solution for both college and the NBA.

One can see Knight's concern with players leaving early. If one looks closely, you can see the problem comes from the rules and not from a school or coach.


What do you think?
We'd love to hear your comments and/or opinions. If you submit them here, other visitors can read them, rate them and comment on them. An e-mail address is not required.