A Blue Power Ranger, Poet, Physicist, and Miss Virgina All Have Something in Common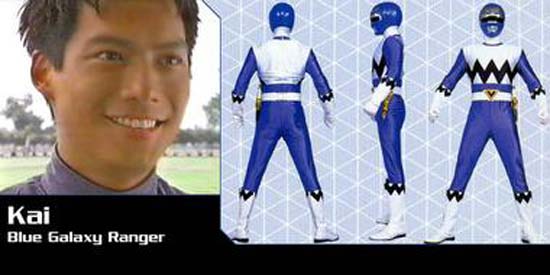 Blue Ranger.
---
Typically when a college team excels in the postseason, you get a plethora of famous alumni cheering them on or attending their games. Seriously most of them could care less who wins. They just want to be associated with what's cool and hip. So which famous George Mason alumni is going to be leading the overcrowded bandwagon this week?
George Mason might have some serious game on the court but they need work on their alumni list. It's a list of "who??" and more "huh??". Be prepared to be wowed.
Anna E. Cabral, Treasurer of the United States. Part of the law school class of 2007.
Hala Gorani, News Anchor, CNN International.
Brian van de Graaff, Meteorologist, ABC 7 News.
Archie Kao, Actor.
Mike Kohn, Olympic Athlete.
Karl Rove, White House Senior Domestic Policy Advisor (attended from 1973-1975).
Susan Rook, Former News Anchor, CNN & CNN Talkback Live.
John Wilburn, Managing Editor, Houston Chronicle.
Debora J. Wilson, President, The Weather Channel.
Chris Widger, Baseball Player, Chicago White Sox.
William Winfree, Ph.D., Physicist.
Rebecca Wee, Poet.
Muna Abu-Sulayman, United Nations Goodwill Ambassador.
Kristi Lauren Glakas, Miss Virginia Teen USA 1999, Miss Virginia USA 2004, Miss Virginia 2005, 3rd-runner-up to Miss America.
Rob Muzzio, 2-Time NCAA Division I Decathlon Champion (GMU's 1st NCAA Div. 1 Champion 1984)& 5th, 1992 Olympic Games.
I know no one could match names with faces if there was a police lineup. The biggest name on the list is Karl Rove and I would say most people have no idea who he is. Actor Archie Kao was the Blue Power Ranger and now is on CSI: Las Vegas. It's a weak lineup. Most of those names just seem like fillers to make it seem like they have a lot of famous alumni. Meteorologist? Managing editor of the Houston Chronicle? Where's the guy who manages a local Starbucks?
Can you imagine these alums calling up George Mason hitting them up for tickets to the Final 4? I think they'd get hung up on if Snoop Dog called up looking for tickets.
---
What do you think?
We'd love to hear your comments and/or opinions. If you submit them here, other visitors can read them, rate them and comment on them. An e-mail address is not required.
---
From A Blue Power Ranger, Poet, Physicist, and Miss Virgina to NCAA Basketball Archives | Sports Blog | NFL Football Blog | NCAA Football Blog | NFL Football Archives | College Football Archives | MLB Baseball Blog | College Baseball Blog | MLB Baseball Archives | NBA Basketball Blog | NCAA Basketball Blog | NBA Basketball Archives | Fantasy Football | Fantasy Basketball | Fantasy Baseball | Soccer Archives | Olympics Archives | Stupid Athletes Archives | Other Archives | Football Forum | Basketball Forum | Baseball Forum | NFL Football Store | NBA Basketball Store | MLB Baseball Store | NCAA Football Store | NCAA Basketball Store | NCAA Baseball Store | Fatheads | NFL Football Tickets | NBA Basketball Tickets | MLB Baseball Tickets | NCAA Football Tickets | NCAA Basketball Tickets | NCAA Baseball Tickets |
---
Home Page
About Us | Contact Us | Site Search | Advertise | Terms of Use |
---