Biggest Waste of Paper To Hit the Book Stores
In the biggest waste of trees to hit the bookshelves recently, Terrell Owens found enough words to fill 256 pages of his life. I'm just more surprised it's not 400 pages because his mouth doesn't have a stop button.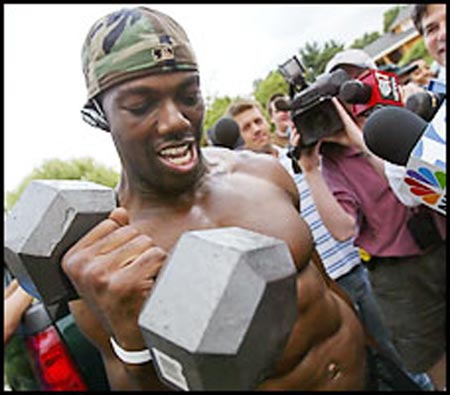 Terrell Owens
---
Proof that this book is already a waste of time, Terrell has said that he was misquoted in his own autobiography. Misquoted, huh? How is that possible when, on the second page of the book, Owens wrote, "These are my words, straight from me to you." Actually his agent's brother wrote the book. Now Terrell could have been misquoted. But with his track record are we going to believe him? More likely is that he said it and now he's just deny what he said.
If you haven't heard the line he's talking about is his comeback from a broken ankle to play in the Super Bowl.
"Forgive me for saying so, [the comeback was] nothing short of heroic."
Heroes go to war for us. They put out fires. They don't bad talk his organization, team, and quarterback. A hero doesn't whine for more money after the first year of his contract. Pieces of you know what do those things.
Now he's trying to play the victim. He wants us to feel sorry for all the criticism he had endured.
"The only thing I can really think of is maybe it was the way I grew up, you know. I got picked on so much, and it's like I feel like I'm still constantly being picked on."
Being picked on now?? Come on if he would keep those big lips closed there would be no picking. If he was a good teammate and had a soul, he wouldn't be considered the worst teammate in professional sports. I don't think the media has taken out of context any of his actions. It's like a big bully beating up on the little kids and trying to justify his actions by saying he got no love when he was younger. So he acts out and feels like pushing people around gains him the attention he craves. He's just human and has feelings too. That sort of excuse is a load of steaming crap.
I just hope no one is curious enough to want to read his life story. It's not even worth a library rental. Right now on Amazon it's ranked #633. Buy this book when it hits the $1 bargain bin and use the paper to start those fireplaces in the cold upcoming winter months. Right about now the whole country is wishing for that cold front. Not wishing to learn more about the most selfish man in sports.
---
What do you think?
We'd love to hear your comments and/or opinions. If you submit them here, other visitors can read them, rate them and comment on them. An e-mail address is not required.
---
---
From Biggest Waste of Paper To Hit the Book Stores to NFL Archives | Sports Blog | College Football Archives | MLB Archives | NBA Archives | NCAA Basketball Archives | Soccer Archives | Olympics Archives | Stupid Athletes Archives | Other Archives |
---
Home Page
About Us | Contact Us | Site Search | Advertise | Terms of Use |
---