Big Opportunity for Indiana
By Dennis Berry

For fans of the Indiana Hoosiers, it's been a long time. A long time since a big time college basketball game has been played in Bloomington. A long time since the college basketball world will focus its attention on Assembly Hall.

This weekend the Hoosiers will get their chance to show college basketball they are back. They get their chance to show the country that they have recovered from the hard times. That one of college basketball blue-bloods is back and ready to be taken seriously once again.
This weekend the number team in the country, the Kentucky Wildcats, will be facing the rowdiest Indiana crowd in quite a while. Hoosier fans have had this game circled on their calendar since it was announced. A chance to take down their rival on ESPN has been a long time coming.

This would be the signature win that Indiana Head Coach Tom Crean has been looking for. Crean came to Indiana to clean up the mess left behind from Kelvin Sampson. He is in his fourth season at Indiana with a career record of 36-66. His first year the Hoosiers won six games, then 10, and 12 last season.

This year Indiana is 8-0. They are lead by freshman forward Cody Zeller, who may be the most important player Crean has signed yet at Indiana. The Indiana product was a five star recruit coming out of high school. Zeller, who averages 15.5 points and 7.5 rebounds a game, is the first post presence since D.J. White.

Zeller is one of five players to average double figures in points. As a team they are averaging 85 points a game, while giving up 61 points a game. For the first time since Crean arrived at Indiana he has the talent to be able to not only compete, but win.

For Indiana fans, they have been patiently waiting for this. Indiana is one of the great programs of all time. They have won five NCAA Championships. The last came in 1987. In fact the last couple of decades have not been kind to Indiana basketball.

The last time the Hoosiers were in the NCAA Tournament was 2008. They lost in the first round that year to the Arkansas Razorbacks. For Hoosiers fans that has been the norm since 1993. In 1993, Bob Knight guided the Hoosiers to the Sweet 16. After that the Hoosiers did not get past the first weekend until the 2002. That year Mike Davis and Indiana made it all the way to the NCAA Finals, losing to Maryland. That run in 2002 was the last time Indiana made any noise in the NCAA Tournament.

It has been even harder times for Indiana in the Big Ten. Their last Big Ten title came in 2002. That year they shared the title with Ohio State that season. Their last outright Big Ten title came in 1993 under Bob Knight.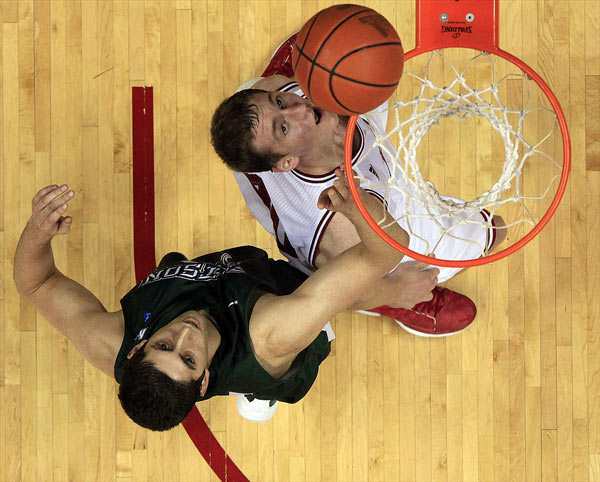 So you can understand Hoosier fans frustration. They are used to seeing their team win. Under Knight the Hoosiers won. Knight won 661 games and three NCAA titles. When you thought Indiana basketball, Knight came to mind. Mike Davis took over for Knight in 2000, but other than the NCAA Finals run in 2002, he never captured the Hoosier faithful. Indiana fans would rather not talk about Sampson.

Now Crean has Indiana fans sensing a return a great things. What better way to do it then with a win against Kentucky. Indiana and Kentucky have a long storied rivalry. This game used to part of the Big Four Classic. It was one of the biggest games in college basketball.

Since the 1990's it has lost its luster. Indiana has struggled against Kentucky since 1991. In the last 20 games, Kentucky owns a 16-4 edge. Something Crean would like to change starting this Saturday.

Crean took to twitter to ask Indiana fans to keep the Blue out of Assembly Hall. Of course Kentucky coach John Calipari knows how to use Twitter too. He gave Kentucky fans tips on how to get tickets to the game. He even gave fans tips on what to wear to the game.

It will be a tough assignment for the Hoosiers on Saturday. Indiana has not played a team like Kentucky yet. The Wildcats are long and athletic. They have a mix of young freshmen like Anthony Davis, Michael Kidd-Gilchrist, Marquis Teague and experienced players in Doron Lamb, Terrence Jones, and Darius Miller. Talent wise it is not even close, Kentucky has the edge.

The Hoosiers will have to feed off what surely will be a pumped up crowd. The young Hoosiers will have to hit their shots and Zeller will have to stay out of foul trouble. They will have to control the tempo and not let the Wildcats run.

If they do that they will have a shot to win. It would be great for college basketball if Indiana could return to their old winning ways. To make that statement against Kentucky would be a huge boost to Indiana basketball.


What do you think?
We'd love to hear your comments and/or opinions. If you submit them here, other visitors can read them, rate them and comment on them. An e-mail address is not required.