Big East Morphs into Old Conference USA
By Dennis Berry

In the world today mergers are common place. Whether it be banks (JP Morgan Chase & Bank One), oil (Exxon & Mobil), or media (AOL & Time Warner) it is not surprising. It's how companies survive today.

The past year college sports have been taken over by conference realignment. The Pac-10 became the Pac-12 by for Colorado and Mountain West for Utah. Big Ten added Nebraska to become a 12 team conference. The Southeastern Conference added Texas A&M and Missouri. ACC added Syracuse and Pittsburgh. The Big 12 added Texas Christian University and West Virginia.
It's quite maddening and it's not over. The Big East had to do something with the loss of three schools to other conferences. It had to remake itself before it lost other schools and disappeared.

Luckily the Big East had an old plan that they were able to use.

Wednesday Memphis announced that it would accept the Big East's invitation to join the conference in all sports beginning in 2013. It was the invite that Memphis had been wanting for a long time. Memphis makes sense in the conference as it is a strong basketball school and that is the Big East's calling card.

If it this was baseball, it would be like calling up a team from the minor leagues. The Big East simply went to Conference USA to replace their departing teams. It's not the first time that the Big East took the best that Conference USA had to offer.

Conference USA was formed in 1995. The strength of the conference was basketball. With schools like Louisville, Cincinnati, Marquette, Memphis, and DePaul there was a core of schools with strong basketball history.

Louisville, Cincinnati, and Marquette had the most success early. From 1996-2005 they won 7 of 10 C-USA basketball titles. Cincinnati won four (1996, 1998, 2002, 2004, Louisville two (2003, 2005), and Marquette one (1997).

When it came time for NCAA Tournament, it took time for a team to breakthrough. Marquette was the first Conference USA team to make the NCAA Final Four in 2003. Two years later in 2005 Louisville made the Final Four.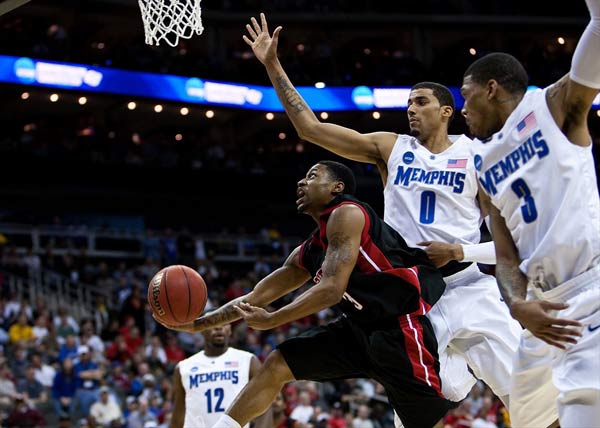 Then the Big East came calling. After losing Miami and Virginia Tech in 2004 and Boston College in 2005 to the ACC they needed to replace them. They had 11 teams that were basketball members and decided to become a "Super" basketball conference.

They added Cincinnati, DePaul, Louisville, Marquette, and South Florida to become a 16 team basketball conference. With these teams on board the Big East became the top basketball conference. From top to bottom it was loaded.

Memphis though was left in Conference USA. All it did when those teams left was dominated the league. From 2006-2011 it won five of six Conference USA Tournaments. It had a 64 conference game winning streak under John Calipari and Josh Pastner. They even made it all the way to the NCAA Title game in 2008, which was later vacated by the NCAA.

Fast forward to the summer of 2011 and the college landscape is changing. All conferences are looking to add teams to either replace departing teams or become stronger. The Big East took a big hit when it lost Syracuse and Pittsburgh to the ACC. Then West Virginia heads to the Big 12.

Things were looking bad for the Big East, but they went back to their minor league and beyond. Invites were sent out to Conference USA teams Houston, SMU and Central Florida for full membership. In December they official joined the Big East, along with Boise State and San Diego State in football only.

Then on Wednesday Memphis finally got the call. A move to the Big East not only gives them more exposure, but a chance to renew old rivalries. They will get to go against Louisville and Cincinnati in conference play.

Now there are nine former Conference USA teams in the Big East. The question is what does this do for the Big East. Have they gained anything since adding all these Conference USA teams?

Only one former Conference USA team has won the Big East Tournament, that was Louisville in 2009. Since 2006 there have been five Big East teams make a Final Four. None of them have been former Conference USA teams.

Of the teams that joined the Big East from Conference USA in 2005 DePaul and South Florida have done the least in the Big East. Since the 2005-06 season South Florida has won only 23 games and their best conference record is 9-9. They have a shot at finishing above .500 this year as they are 7-4.

DePaul has won only 22 games during that time. From 2009-2011 they only won 2 Big East regular season games. Right now they are 2-9 in conference play.

It is hard to imagine teams like Houston, SMU, and Central Florida coming in and being able to compete right away. Memphis is the only team that will have a chance to win in the Big East right away with no rebuilding being done.

All these teams will do is bring down Big East basketball to a level that is more like old Conference USA. It is something that Big East fans will have to deal with as the new teams build their programs. If you use South Florida and DePaul as examples, it will take some time.


What do you think?
We'd love to hear your comments and/or opinions. If you submit them here, other visitors can read them, rate them and comment on them. An e-mail address is not required.