Betting on Teams That Will Make the NCAA Tournament Final Four
- by Zach Gilliand

It's been a crazy NCAA tournament thus far, and it will likely get even more exciting. Four teams that have a good shot at being the last ones standing are Louisville, Virginia, Wisconsin, and Florida.
Louisville
The defending national champions were a favorite in a ton of brackets this tournament, despite being a 4-seed. Led by Russ Smith, the Cardinals have knocked off Manhattan and Saint Louis this week.
 
They will take on their rival Kentucky in the Sweet Sixteen and the winner of Tennessee/Michigan, if they were to advance to the Elite Eight.

Kentucky is a tough matchup, but the team has had their struggles this season. Louisville is playing hot right now, and I think they are a good bet to make it to the Final Four.

Wisconsin
Many may not think Wisconsin has a good shot at making it, but the Badgers have played well lately. They beat Oregon 85-77 in the 3rd round of the tournament, and will take on Baylor next. If they were to win there, they will likely draw No.1 seed Arizona (unless AZ loses to San Diego State).

Arizona has an exciting freshman in Aaron Gordon, who averages 12.3 points per game, but Wisconsin has executed well defensively this tournament. They held American University to 35 points in the 2nd round game. Earlier in the year, they also held Florida to 53 points. I think the Badgers pull off the victory here.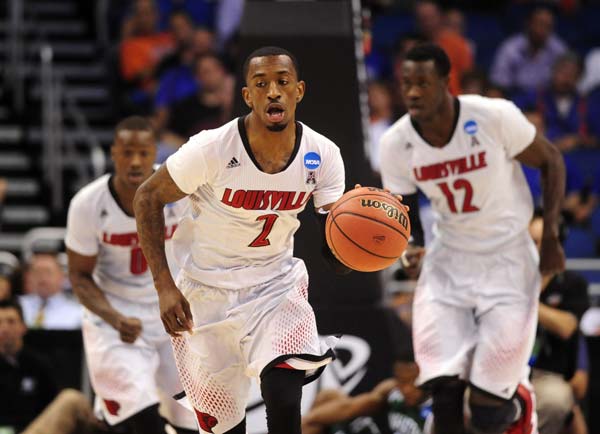 Virginia
Virginia and Michigan State will be a much anticipated game, and will likely come down to the final few possessions. Both teams are well-coached and execute well on both ends of the court.

I think the winner of this game cruises to the Final Four, because the winner of this game will take on the winner of the Iowa State/UConn game. Now I'm not saying Iowa State or Connecticut will be an easy win, but Virginia and Michigan State are two of the best teams in this tournament.

Virginia will pull away from Michigan State because of how well they have played recently. They wrapped up the ACC regular season title with a win over Syracuse, and also claimed the ACC Tournament Championship with their victory over Coach K's Duke squad. Virginia plays well defensively and moves the ball well on offense.

Michigan State moves the ball effectively on offense; they are 6th in the nation in assists per game. Virginia does such a good job of getting to their spots on defense though, that I think they will be able to win that aspect of the game. It will be a very good matchup in the Sweet Sixteen, but the Cavs get the win over Michigan State, who is 28-8 on the year.

Florida
Florida beat Pittsburgh this weekend 61-45 in a game that some thought the Panthers could pull off.  The Gators are very good defensively, and are led on offense by senior Scottie Wilbekin.

Florida will have the easiest road left to the Final Four. They play UCLA, a 4-seed, next and then if they move on they will get the winner of Dayton/Stanford.

We have seen that Dayton and Stanford are capable of pulling off upsets, but you have to think a 34-2 Florida team will be focused enough to get the job done. UCLA has looked good in the tournament, but if the Gators can beat them they should be able to advance to the Final Four.


What do you think?
We'd love to hear your comments and/or opinions. If you submit them here, other visitors can read them, rate them and comment on them. An e-mail address is not required.
Betting on Teams That Will Make the NCAA Tournament Final Four to NCAA Basketball Blog