Best Managers in Major League Baseball
Sometimes, as we focus on player acquisition, we lose sight of arguably the most important person on any baseball team: the manager. The manager is in charge of holding players accountable, setting the tone of the clubhouse, installing a winning atmosphere. Moreover, a teams' manager must be able to incorporate new talent while keeping veterans motivated and put the best roster on the field without destroying clubhouse chemistry. All of this is extremely difficult and many managers fail to do it successfully, which tends to doom their teams to failure.
Show me a team that has won the World Series with a bad manager? Joe Girardi, Charlie Manuel, Terry Francona, Tony LaRussa…its very hard to find a good example. Ozzie Guillen, 2005's World Series winning manager, is highly controversial but no one can deny the productivity of his 2005 lineups or his ability to motivate players. By contrast, take a look at the worst teams in baseball every year and one commonality is usually terrible management. The manager is, therefore, critically important to the success of any team. Knowing that, let's take a look at the best skippers currently managing in baseball….
1. Terry Francona; Boston Red Sox (2004-Present); Philadelphia Phillies (1997-2000)
Since taking over the Boston Red Sox in 2004, Francona has turned the heartbreaker franchise into a perennial winner. The unheralded Francona inherited one of the best rosters in baseball but the Sox were coming off a difficult 4-3 ALCS loss to the Yankees that seemed to personify eighty five years of futile struggle. However, Francona quickly began changing the culture in Boston and coached more production out of his ace, Pedro Martinez, and the feared 1-2 punch hitting due of Manny Ramirez and David Ortiz. The result was a second consecutive ALCS berth but, after three games, the Sox were in a 3-0 hole against the Yankees and looked finished. However, Francona showed his true greatness as a manager and motivated his team to fight back, which led to a shocking 4-3 victory over the Yankees in the ALCS and, two weeks later, the Red Sox's first World Series win in almost a century.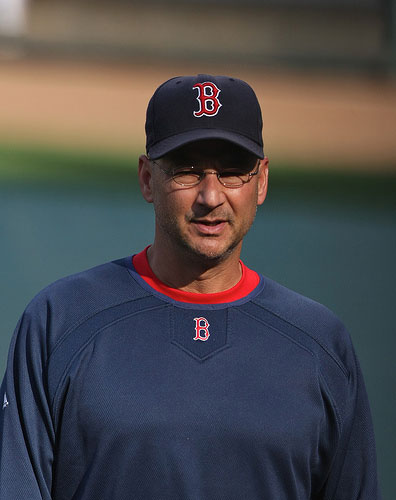 Boston Red Sox Manager Terry Francona.
Thanks to Keith Allison at flickr.com for this photo.
---
While this victory alone would have assured Francona a place on this list, his performance since that first championship has remained exceptional. Francona kept the Sox focused and, after more lineup tweaks including the incorporation of pitchers Josh Beckett and Curt Schilling and position players Dustin Pedroia and Jacoby Ellisbury, led the Sox to a second title in four years in 2007. Since that point, the Red Sox have been unable to win a title but that has largely been due to the extensive retooling of an ageing roster, the continuous incorporation of young and dynamic players into the roster, and a rash of injuries in both 2009 and 2010. Indeed, Francona's ability to weather these storms and keep the Sox in contention is a testament to his ability and, looking forward, the Red Sox are poised to win more titles in the years to come.
2. Joe Torre; Los Angeles Dodgers (2008-2010); New York Yankees (1995-2007)
Ten years ago, Joe Torre would definitely have topped any list of top baseball managers. However, the great skipper has not won a title since 2000 and was unceremoniously dumped in 2007 by a Yankees franchise that won a title less than two years later. Still, despite these recent setbacks, Torre has four rings on his fingers and also did an excellent job in his first two years with the Dodgers; dragging a fringe playoff team to the NLCS two years in a row.
Joe Torre's twelve years with the Yankees were historic and represent the most successful managerial tenure in MLB history. In twelve seasons, Torre went to the playoffs each year, won six AL pennants (1996,1998,1999,2000,2001,2003),and four World Series rings (1996,1998,1999,2000). Torre kept the Yankees at the top of the AL throughout his tenure with the Yankees but, after the teams 2004 ALCS collapse to the Red Sox, Torre was unable to recapture his magic and lead an ageing team to another title. As a result, Torre was ousted in 2007 and left to manage the Dodgers as his successor, Joe Girardi, led the Yankees to the 2009 title. Of course, Girardi was aided by a five hundred million dollar free agency splurge that saw the acquisition of a frontline ace and two All Stars, so who knows what Torre might have done with that incredible talent infusion?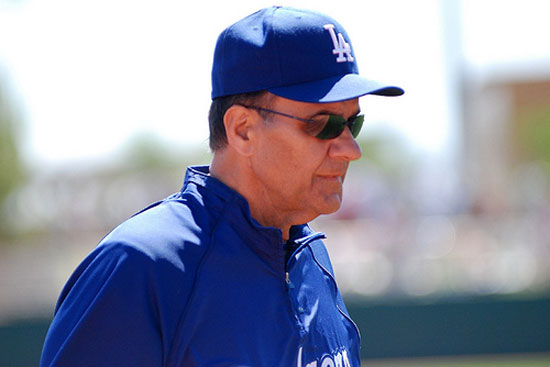 Los Angeles Dodgers Manager Joe Torre.
Thanks to Malingering at flickr.com for this photo.
---
Moreover, though he never led the Dodgers to a title, Torre was dealing with a fringe playoff team at best that he pushed to its limits. Indeed, Torre's ability to take his 2008 and 2009 Dodgers teams to the NLCS was perhaps the best testament to his true ability; not only was he able to win with ultra-talented Yankee teams, he was able to coax production out of a far less talented roster. Looking forward, Torre recently retired from the Dodgers but, unlike recently retired Braves legend Bobby Cox, most expect him to be managing somewhere else next season.
3. Tony LaRussa; St. Louis Cardinals (1996-Present); Oakland Athletics (1986-1995)
The eternal Tony LaRussa has enjoyed great managerial success at several different stops over the last three decades. LaRussa began his career managing the White Sox from 1976-1985 but he did not enjoy great success there and moved on to a very talented Oakland Athletics team featuring sluggers Mark MaGuire and Joe Canseco in 1986. LaRussa coaxed the most out of his Athletics teams and was a two time AL Manager of the Year in 1988 and 1992 while leading Oakland to a World Series win in 1989.
In 1995, LaRussa left an ageing Oakland team to manage the St Louis Cardinals. The Cardinals enjoyed limited success in LaRussa's first half decade but became an NL powerhouse when Albert Pujols rose to stardom in 2001. LaRussa built a team with competent hitting and excellent pitching around Pujols and the Cardinals won the World Series in 2006 and finished as runner-ups in 2007. Looking forward, the Cardinals have a young and talented team that should contend for years to come.
The biggest knock on LaRussa is that his clubhouses were notorious hotbeds of steroid use. His stars Jose Canseco and Mark MaGuire are the poster boys of the steroid era of baseball and several of his pitchers also confessed to steroid use. LaRussa has consistently denied knowledge of substance use in his clubhouses, but such denials are not very credible and they put an asterisk next to his great managerial achievements.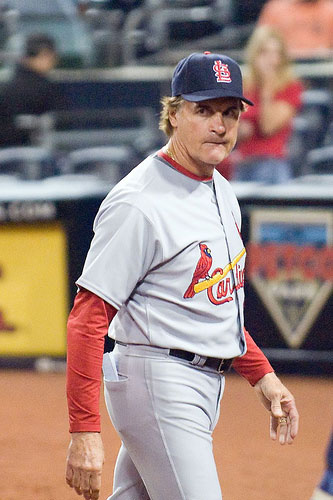 St. Louis Cardinals Manager Tony LaRussa.
Thanks to SD Dirk at flickr.com for this photo.
---
---
What do you think?
We'd love to hear your comments and/or opinions. If you submit them here, other visitors can read them, rate them and comment on them. An e-mail address is not required.
---
From Best Managers in Major League Baseball to MLB Baseball Blog | Sports Blog | NFL Football Blog | NCAA Football Blog | NFL Football Archives | College Football Archives | College Baseball Blog | MLB Baseball Archives | NBA Basketball Blog | NCAA Basketball Blog | NBA Basketball Archives | NCAA Basketball Archives | Fantasy Football | Fantasy Basketball | Fantasy Baseball | Soccer Archives | Olympics Archives | Stupid Athletes Archives | Other Archives | Football Forum | Basketball Forum | Baseball Forum | NFL Football Store | NBA Basketball Store | MLB Baseball Store | NCAA Football Store | NCAA Basketball Store | NCAA Baseball Store | Fatheads | NFL Football Tickets | NBA Basketball Tickets | MLB Baseball Tickets | NCAA Football Tickets | NCAA Basketball Tickets | NCAA Baseball Tickets |
---
Home Page
About Us | Contact Us | Site Search | Advertise | Terms of Use |
---