Best Japanese Baseball Talent
Yu Darvish
Twenty-four year old Yu Darvish is the best starting pitcher in Japan. Darvish plays for the Hokkaido Nippon Ham Fighters based in Sapphoro, Japan. He debuted in 2005 and has since taken the Japanese Baseball League by storm.
Darvish is a right handed pitcher. He throws in a somewhat unorthodox style because he uses a drop and drive motion but throws from a three quarters arm slot. His lanky frame allows this type of delivery and, though he is capable of throwing heat, Darvish is not solely reliant on fast pitches for effectiveness. Instead, he throws a four seam fastball that sits between 92 and 95 mph on average but can hit 97-98 in certain situations. He also has a second plus, plus pitch in his hard slider, which breaks viciously just before reaching the hitter. Moreover, unlike many of the MLB's best, Darvish also has a number of highly developed secondary pitches including a two seam fastball, curveball, splitter, cutter, and changeup. This allows him to keep hitters guessing better than almost any other pitcher in Japan or anywhere else.
Darvish is very young and still under club control, which is why he has not pushed to join Major League Baseball just yet. However, he is a great candidate for the auction block starting next season. He will be extremely expensive, however, so he will most likely be a big market target but this should not hurt his value since he will be a top ten pitcher in the league upon arrival.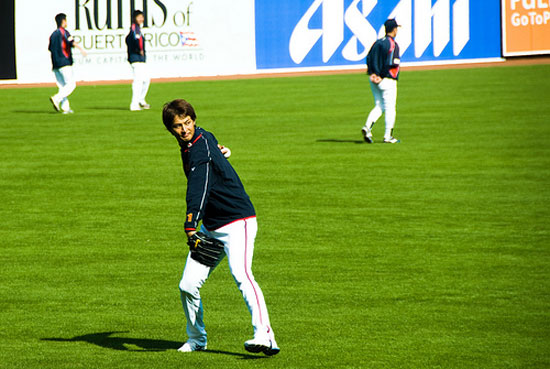 Yu Darvish.
Thanks leadenhall at flickr.com for this photo.
---
Kenta Maeda
The drop-off in Japanese talent is steep after Darvish but Kenta Maeda is also an impact young talent. Maeda is a starting pitcher for the Hiroshima Toyo Carp. At twenty-two, he is the youngest star pitcher in Japanese baseball right now and his 2010 Sawamura Award (for best pitcher in his league) and Gold Glove make him one of the hottest commodities on the market.
Last season, his third as a professional, Maeda went 15-10 with a 2.21 ERA and 174 strikeouts. Even adjusted for league difficulty, those still project as impressive numbers in MLB. However, Maeda is young enough to be under club control for several more years but he will make an impact when he does cross the Pacific.
Norichika Aoki
Aoki is a twenty-eight year old All Star outfielder for the Tokyo Yakult Swallows. As a two way center fielder, he is one of the most complete position players in Japan and is only one of four players to have over two hundred hits in a season in Japanese Baseball history.
On top of his excellent fielding defense, Aoki is a proficient hitter who bats in the middle of a talented lineup. His career hitting statistics are a .331 average, 905 hits, 66 home runs, 278 RBIs, and 137 stolen bases in six seasons and he has barely entered his prime years. Even allowing for some numeric declines due to the higher level of difficulty in MLB, Aoki still projects as a defensively-proficient center fielder capable of hitting .300-15-60-15. That kind of production can help a number of American teams so he should be in a MLB uniform within the next few years.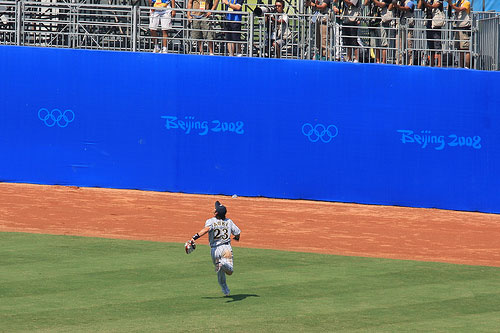 Norichika Aoki.
Thanks roger.badsoul at flickr.com for this photo.
---
Hishashi Iwakuma
Iwakuma is a top Japanese starting pitcher for the Tohoku Rakuten Golden Eagles. He has been the team's staff ace for several seasons and won the Sawamura Award in 2008. Iwakuma was famous in his early years for his unorthodox pitching motion but, in the wake of ageing and rule changes, has adopted a more orthodox approach on the mound.
The Japanese star is currently one year away from free agency and tried to enter the MLB this offseason. However, he failed to reach a deal with the Oakland Athletics after they placed the winning bid so he will likely remain in Japan one more season. Despite his talents, many teams see him as a relief option rather than an elite starter so it will be interesting to see what his perceived value is next winter.
Tsuyoshi Nishioka
Nishioka was the best shortstop in Japanese baseball last season. The twenty-six year old is a career .284 hitter with 613 hits,34 home runs, 210 RBIs, and 136 stolen bases in his career. He is also a great two way player with several Gold Gloves to his credit. However, Nishioka has been limited by injuries throughout his career and they remain an ongoing concern that has limited his value.
Technically, Nishioka no-longer belongs on this list since he signed with the Twins this offseason. Since Iwakuma failed to reach an agreement with an MLB team, he will be this season's marquee import. While opinions vary, he projects as a top defensive second baseman in MLB with plus speed and limited pop. That will make him a great leadoff hitter for the Twins if he can stay healthy.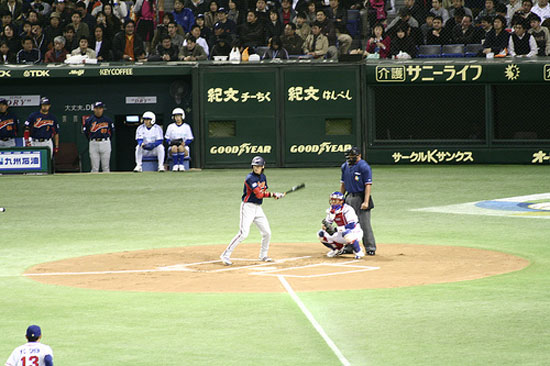 Tsuyoshi Nishioka.
Thanks Mori Chan at flickr.com for this photo.
---
What do you think?
We'd love to hear your comments and/or opinions. If you submit them here, other visitors can read them, rate them and comment on them. An e-mail address is not required.
---
From Best Japanese Baseball Talent to MLB Baseball Blog | Sports Blog | NFL Football Blog | NCAA Football Blog | NFL Football Archives | College Football Archives | College Baseball Blog | MLB Baseball Archives | NBA Basketball Blog | NCAA Basketball Blog | NBA Basketball Archives | NCAA Basketball Archives | Fantasy Football | Fantasy Basketball | Fantasy Baseball | Soccer Archives | Olympics Archives | Stupid Athletes Archives | Other Archives | Football Forum | Basketball Forum | Baseball Forum | NFL Football Store | NBA Basketball Store | MLB Baseball Store | NCAA Football Store | NCAA Basketball Store | NCAA Baseball Store | Fatheads | NFL Football Tickets | NBA Basketball Tickets | MLB Baseball Tickets | NCAA Football Tickets | NCAA Basketball Tickets | NCAA Baseball Tickets |
---
Home Page
About Us | Contact Us | Site Search | Advertise | Terms of Use |
---