Best and Worst Run Organizations in Baseball
While fans see their sports teams in a certain light, franchises are really companies. And, like any other company, a franchises' performance depends largely on whether it is, and historically has been, well run. From the draft, to signing and developing talent, to free agency and the season itself, teams need to be willing and able to adapt to changing needs. Some franchises do this extremely well and others….well you know. So, without further ado, the best run organization in baseball is…
The Boston Red Sox
Choosing the best run organization in baseball was a very difficult choice. Teams all have different markets, fan bases, needs, and, most importantly, vastly different resources. As one of the richest teams in baseball, the Red Sox have deep pockets and, in some ways, it is very unfair to say that they are run better than say the Tampa Bay Rays who built a winner on half the Red Sox budget. However, the Red Sox have won two titles in the past decade and contended almost every year; under the leadership of young GM Theo Epstein they have become the class of baseball.
The Sox dominance begins at the prospect level. Though some of their top prospects have yet to pan out, the franchise has been adept recently at developing top notch in house talent and retaining it. Dustin Pedroia, Jacoby Ellisbury, Jon Lester, Jonathan Papelbon, Clay Buckholtz, and Daniel Bard (amongst others) have all been developed into stars by the Red Sox and a deep farm system sits ready to infuse the franchise with fresh youth. Within the next few years, five tool prospect outfielder Ryan Westmoreland, starting pitching prospect Casey Kelly, and 1B Lars Anderson are all five star prospects who have a great chance to be future stars at their positions and the Sox should benefit from these additions.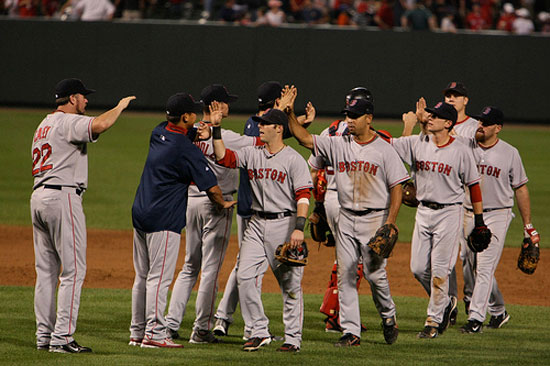 Boston Red Sox Celebrating a Win.
Thanks to Keith Allison at flickr.com for this photo.
---
Moreover, unlike other teams (like the Rays, Marlins, and Padres) who put a premium on talent development, the Red Sox are also more than willing to make forays in free agency and at the deadline to fill their needs. This distinguishes them from the rival Yankees who are more than willing to spend money but have not developed impact homegrown talent since the mid 1990s. The Sox traded for Josh Beckett several years ago and, though it cost them Hanley Ramirez, the Sox rode Beckett to a title in 2007. The Sox also signed John Lackey (who is likely to improve with better health in 2011) and 3B Adrian Beltre (who had an MVP caliber season) and also stand ready to trade for stud first baseman Adrian Gonzalez to anchor their lineup. Ultimately, the Sox are a few 2010 winter moves away from absolutely dominating the next decade, which makes them the best run franchise in the sport.
And now, on the flip side, the worst run organization in baseball is….
The Chicago Cubs
When the Cubs won over ninety games in 2008 and led the majors in runs, baseball writers were hailing Jim Hendry as a miracle worker. However, baseball minds familiar with building solid organizations knew better: the Cubs had major holes (which got them bounced 3-0 in the NLDS), had little impact talent in the farm system, and were burdened down by awful contracts that would haunt them for years.
Fast forward to 2010-2011 and the Cubs are an absolute mess. Alfonso Soriano (19 million), Carlos Zambrano (19 million), and Kosuke Fukodome (14 million) will account for 52 million dollars in dead money in 2011 and the Cubs will not be free of most of this dead money until 2013. Moreover, with future shortstop star Starlin Castro now in the majors, the Cubs also have little true impact talent high in their farm system.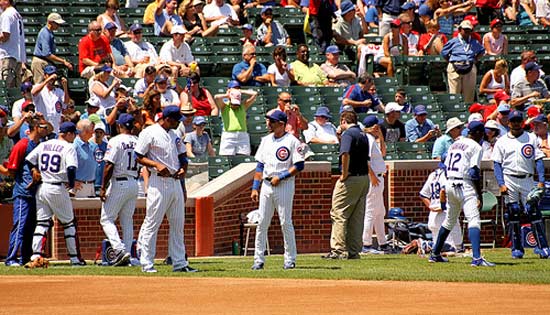 Some of the Cubs before the start of the game Cubs vs. Phillies at 2010.
Thanks to philroeder at flickr.com for this photo.
---
However, all is not lost and, though they will be anywhere from mediocre to awful over the next two seasons, the Cubs have the potential for a strong rebirth beginning in 2013. The Cubs have a ton of impact talent in double and single A ball-outfielder Brett Jackson, starting pitcher Jay Jackson, shortstop Hak Ju Lee, and 2B Logan Mankins to name a few-and should have a ton of homegrown talent to build a foundation on within two or three years. The Cubs would be best served by staying away from massive, big splash signings and going back to the lower key moves (like stealing Derrek Lee and Aramis Ramirez earlier this decade, signing Marlon Byrd for five million per year, and inserting contributors like Tyler Colvin into the lineup) that GM Jim Hendry used to initially rebuilt the franchise in 2003-2006. Some moves the Cubs might look at would be signing 1B Adam Dunn (who wants to play in Chicago) to a two year deal to man first base and add power to the lineup, look for some resurrection-candidate pitchers, and quietly introduce their farm talent while allowing their disastrous contracts to fall off the books.
Ultimately, the Cubs have not performed awfully the last few years and should be ready by 2013 to begin a rise to contention again. So what makes them worse than the miserable Pirates and Royals? The Cubs are worse because they have failed to use the country's best fan base and a one hundred and fifty million dollar player budget to garner anything more than two divisional playoff sweeps and over sixty million in dead money contracts. That is pathetic.
Here is our Best All-Time Sports Fans
---
What do you think?
We'd love to hear your comments and/or opinions. If you submit them here, other visitors can read them, rate them and comment on them. An e-mail address is not required.
---
From Best and Worst Run Organizations in Baseball to MLB Baseball Blog | Sports Blog | NFL Football Blog | NCAA Football Blog | NFL Football Archives | College Football Archives | College Baseball Blog | MLB Baseball Archives | NBA Basketball Blog | NCAA Basketball Blog | NBA Basketball Archives | NCAA Basketball Archives | Fantasy Football | Fantasy Basketball | Fantasy Baseball | Soccer Archives | Olympics Archives | Stupid Athletes Archives | Other Archives | Football Forum | Basketball Forum | Baseball Forum | NFL Football Store | NBA Basketball Store | MLB Baseball Store | NCAA Football Store | NCAA Basketball Store | NCAA Baseball Store | Fatheads | NFL Football Tickets | NBA Basketball Tickets | MLB Baseball Tickets | NCAA Football Tickets | NCAA Basketball Tickets | NCAA Baseball Tickets |
---
Home Page
About Us | Contact Us | Site Search | Advertise | Terms of Use |
---