Baseball Offseason Strategies: Evaluating the Dodgers, Blue Jays, Red Sox, and Cubs
Going into the Major League Baseball offseason, one team is happy.
29 teams are thinking about one thing: next year.
Each franchise employs a different strategy to return to contention. Of those 29, four stood out as exemplars of radically different approaches: the Los Angeles Dodgers, Toronto Blue Jays, Boston Red Sox, and Chicago Cubs.
The Dodgers' strategy was two pronged: win now – by spending. The Dodgers' finances seem like the Pacific Ocean; they never dry up. Los Angeles added over $200 million in future salary from in-season trades for Adrian Gonzalez, Carl Crawford, Hanley Ramirez, and Josh Beckett – then went out and broke the bank for No. 2 starter Zach Grienke, Korean star pitcher Hyun-Jin Ryu, and resigned homegrown star Andre Ethier.
The Dodgers' strategy adds up to winning…but inefficiently. Los Angeles added numerous big names and, with a rotation headlined by Clayton Kershaw and Zach Grienke and a lineup featuring Matt Kemp, Ramirez, and Gonzalez, they will contend for the World Series in 2013. But, by assuming a payroll over $200 million that is filled with long contracts to players on the wrong side of 30, the Dodgers have limited their flexibility to make moves in future years to improve the roster. Los Angeles will need to compliment this spending by aggressive investments in player development and acquisition in Latin America, Japan, and Korea to contend in years to come.
The Blue Jays' strategy was win now – but through opportunistic trades. Considering the weakness of the Yankees and Red Sox in the American League East, which should last through 2013 and 2014 as both clubs recover from poor contracts and depleted farm systems, Toronto's aggressiveness makes good sense. More important, they did not surrender any surefire impact minor league talent to make their acquisitions. Justin Nicolino and Jake Marisnick, the two prospects sent to the Marlins for all-stars shortstop Jose Reyes and pitchers Josh Johnson and Mark Buerhle, were popular B-level prospects who projected as average big leaguers. Travis D'Arnaud, the star catching prospect who went to the New York Mets for R.A. Dickey, has all-star potential but comes with a long injury history. When you already have a young, top 20 catcher in J.P. Arenciba, that is a price you pay for the reigning National League CY Young.
Now, Toronto looks built to win for 2013, 2014, and 2015. The Jay's lineup of Brett Lawrie, Jose Bautista, Edwin Encarcion, and Melky Cabrera is extremely dangerous and their rotation went from dead last in the Al to Top-5 in the league. With this roster, the Jays can win 95 games and the division.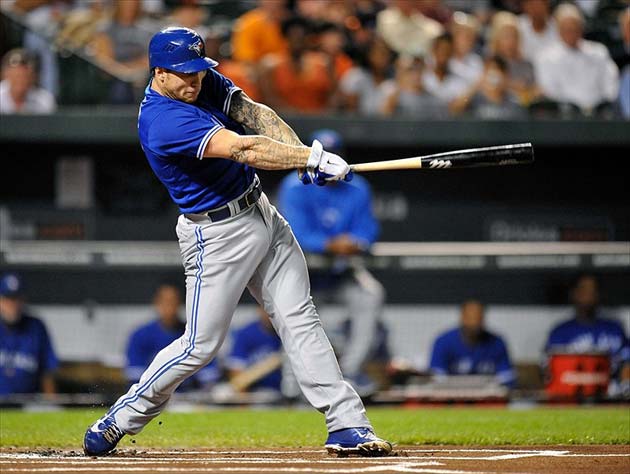 ---
Boston, Toronto's AL East rival, decided to acquire the pieces to field a respectable, contending team while buying time to rebuild for the future. It is a prudent strategy for Beantown. David Ortiz, Dustin Pedroia, Will Middlebrooks, and Jacoby Ellisbury can power a contending lineup and newcomers Ryan Lavarnway, Mike Napoli, and Shane Victorino will stabilize the back of the lineup and a fractious clubhouse. The rotation doesn't look quite as strong but, if John Lester returns to form, newcomer Ryan Dempster can be a No. 4 starter, and John Lackey provides anything at all in his return from injury, then the Red Sox could win 90 games.
Even better, the moves leave Boston free to build for the future. With no long contracts beyond four years, the Sox can bring up young talent and use prospects as trade bait in trades when they are on the cusp of World Series contention in 2014 or 2015.
So, what about the Chicago Cubs, whose roster is no one's impression of a contender? Chicago decided to spend prudently to acquire talent – while keeping flexibility for when the clubs' top prospects are ready in 2014 and 2015. Newcomers Nate Schierholtz and Dioner Navarro will stabilize two need positions, while former prospects Brett Jackson and Josh Vitters are given the chance to turn into the star young players many expect them to become. Most important, a ghastly rotation was upgraded with the additions of No. 3 starter Edwin Jackson and strong bounce-back candidates Scott Baker and Scott Feldman – enhancing Chicago's ability to trade No. 1 starter Matt Garza for several top prospects if he returns to health before the trade deadline.
So, if you were the GM, which strategy would you use?
---
What do you think?
We'd love to hear your comments and/or opinions. If you submit them here, other visitors can read them, rate them and comment on them. An e-mail address is not required.
---
From Baseball Offseason Strategies: Evaluating the Dodgers, Blue Jays, Red Sox, and Cubs to MLB Baseball Blog | Sports Blog | NFL Football Blog | NCAA Football Blog | NFL Football Archives | College Football Archives | College Baseball Blog | MLB Baseball Archives | NBA Basketball Blog | NCAA Basketball Blog | NBA Basketball Archives | NCAA Basketball Archives | Fantasy Football | Fantasy Basketball | Fantasy Baseball | Soccer Archives | Olympics Archives | Stupid Athletes Archives | Other Archives | Football Forum | Basketball Forum | Baseball Forum | Sports Trivia Questions | NFL Football Store | NBA Basketball Store | MLB Baseball Store | NCAA Football Store | NCAA Basketball Store | NCAA Baseball Store | Fatheads | NFL Football Tickets | NBA Basketball Tickets | MLB Baseball Tickets | NCAA Football Tickets | NCAA Basketball Tickets | NCAA Baseball Tickets |
---
Home Page
About Us | Contact Us | Site Search | Advertise | Terms of Use |
---