Automatic Qualifiers Looking to Bust Your Bracket
Every year, right around March, like clockwork, we all tune into Selection Sunday and fill out those NCAA Tournament brackets (here's what last year's brackets looked like).  And every year, there are always those 13-15 ranked teams we've never heard of that takes out our champion or one of our final four picks in the first (or as the NCAA attempts to make us call it, "second") round.
In 2013, it was FGCU (15, for the record I picked FGCU in my bracket) and La Salle (13). In 2012, Lehigh (15), Norfolk State (15), and Ohio (13) were the culprits. In the three years before that, three 13 seeds; Morehead State (2011), Murray State (2010), and Cleveland State (2009) all downed their 4th seeded foes. Clearly, cinderellas of the 13-15 ranked variety aren't quite a rarity anymore, and the ability to predict these upsets can quickly establish you as a power in your bracket pool. So who are this year's Cinderella's? Of course you an always get ideas by checking out college basketball lines.  Otherwise, I have my own five early candidates you may want to check out…
UC Irvine Anteaters-Big West
Typically, the underdog in the tournament is considered the "David" facing the "Goliath" like in the story from the Holy Bible with "David" being the small man facing "Goliath", the huge giant. However, it will be very difficult not to call Russell Turner's Anteaters squad the "Goliath". A team of overwhelming size, UC Irvine boasts a roster of three seven footers including ESPN Top 100 recruit 7'6" MamadouNdiaye. A team of size like UC Irvine is a very scary matchup for a team come tournament time.

With balanced scoring (five players score over eight points per game) and a top scorer in Luke Nelson who scores only 12.1 per game, it is always someone different scoring every night making them tough to prepare for. Averaging a stellar 39 rebounds per game, the Anteaters should be able to contend with just about anyone when playing their best basketball.

Green Bay Phoenix-Horizon
Green Bay has already shown this season that they are a team capable of an upset. Brian Wardle's squad took down Virginia (currently 9-1 in ACC play), and lost by a mere three points to Wisconsin (ranked within the top 5 in the nation earlier this year). Riding the phenomenal play of junior guard Keifer Sykes (20.6 ppg), the Phoenix have compiled an impressive 9-1 in conference record. That record is in a Horizon league that contains the likes of Detroit, Valparaiso, and Cleveland State; all teams that are quite familiar with the tournament themselves. The Phoenix will be looking to get their first tourney berth since the mid 90s, and if they get it keep a close eye on who they are matched up against, because they could be on upset alert.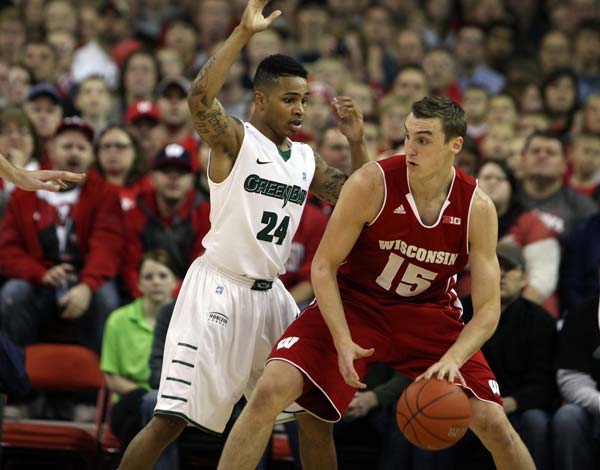 American University Eagles-Patriot
In his first year as head coach of the Eagles Mike Brennan was blessed with a roster that he has consistently been able to play about ten players when needed and get decent production out of all of them. The benefit to this balanced production is the difficulty teams have preparing for AU. With so many guys who can do so many different things, the Eagles are one of the more unpredictable offensive teams in the nation. On defense, however, they always do the same thing, limit their opponents scoring. Everybody tries to do it, but they are one of the few successful teams to do it (60.2 opponent ppg, 12th in NCAA).

So far this season, AU has held all of their opponents, except Army, below 70 points. That statistic includes games they played earlier against Ohio State and Bucknell! Brennan has ties to Georgetown basketball, a tournament regular, and if his cast of players could get him back there, he should be able to make the necessary moves to contend with any first round matchup.

Stephen F. Austin Lumberjacks-Southland
Stephen F. Austin, like American, is another stellar defensive team. They force a turnover on 21.8% of plays (2nd in NCAA), an incredible statistic representing just how ferocious their defense is. The ability to turn an opponent over is extremely important in the NCAA Tournament, and is something teams struggle to prepare for in such little amounts of time in between games (just ask VCU). All it takes is the Lumberjacks to get an inexperienced opponent (say Kentucky), and their ability to force turnovers will likely ring loud and clear. The team is also extremely hot right now having won their past 17 games! Rest assured, with the right matchup, Brad Underwood's crew will catch inexperienced teams off guard and bust a few brackets.

Georgia State Panthers-Sun Belt
One of college basketball's more experienced teams, Georgia State has been tearing through their Sun Belt foe in their first year in the conference. The Panthers have only ever been to the big dance twice (last time in 2001). Ron Hunter's squad appears to be well on their way with an unblemished conference record. Under the leadership of R.J. Hunter (20.2 ppg) and Kentucky transfer Ryan Harrow (18.1 ppg), the Panthers will hope to earn the school's third trip to the tourney. Hopefully with their senior leadership, the name "Georgia State" will show up on your brackets come March and if you pick them in an upset, help you win your pool!

Although it goes without saying, none of these teams are shoe-ins to make the post-season, hence the reason I picked five of them (in hopes of at least a few making it). For these five schools, the road to the tournament runs through their respective conference tournaments. Teams like these could have a flawless regular season, drop their conference tournament, and for that reason alone be kept from the field of 68. Nonetheless, if any of these teams do end up on your bracket, consider this information and let their cinderella potential help you, not hurt you!


What do you think?
We'd love to hear your comments and/or opinions. If you submit them here, other visitors can read them, rate them and comment on them. An e-mail address is not required.
Automatic Qualifiers Looking to Bust Your Bracket to NCAA Basketball Blog