Australia's Road to The World Cup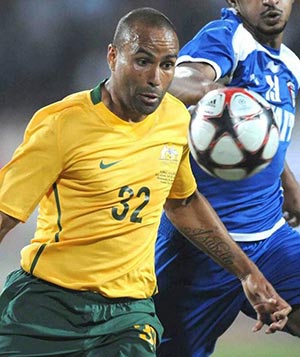 The
2018 World Cup
will take place in Russia from 14 June to 15 July 2018. What will be the 2018 World Cup Results? It may be in three years but every game counts even now.
Currently The Australian National Soccer Team nicknamed the
Socceroos
is in 63rd place and since 1993 they have averaged 47th place. However they have only been in the Asian Football Conference (AFC) since 2006.
As soon as the 2014 World Cup ended experts were putting in their predictions on the 2018 World Cup Results. They named Germany, Argentina, Brazil, Spain, and France as the top contenders at the
next World Cup
.
No where does anyone mention The Socceroos. What about The Australian national Soccer Team? Since the 2014 World Cup The Socceroos have had five wins, one loss, and two draws. Could this be their time to go all the way? Some people would feel free betting on such a chance.
It has been very difficult for the AFC to be a strong competitor. Their are so many sports for young people to play that they do not always choose Football, no football culture, people do not have the means to play even if they are interested and the list goes on.
Could Australia change all this, many people believe so. They could potentially bring a new competitive edge to the Conference. If they do that could mean more fans and potentially more players and more football culture.
Round two will be starting soon for Australia, 16 June 2015 to be exact against Kyrgyzstan. The following two games will be 3 September and 8 September 2015 against Bangladesh and Tajikistan. They will then play on 8 October and 17 November in hopes to defeat Jordan and once again Bangladesh. Currently most free betting sites offer Australia a competitive edge.
The last two games of the 2nd round will be played on 24 march against Tajikistan and 29 March against Jordan. Will The Socceroos make through the Asia Qualifier on top? Only time will tell.
The team that Australians, international fans, and of course team manager Ange Postecoglou are hoping will make the long wait worth it all, are head coach P. Postecoglou and assisted by A. Villar
and A. Milicic. The goalkeepers are E Galekovic, A. Federici, M. Langerak, and M. Ryan.
The Socceroos defenders are I. Franjic, M. Spiranovic, A. Behich, C. Herold, T. Sainsbury, L. Devere, T. Elrich, J. Davisson, and A. Wilkinson. The Midfielders are M. Mckay, M. Milligan, M. Jedinak, T. Oar, T. Troisi, T. Antonis, A. Mooy, C. Ikonomidis, O. Bozanic, and M. Luongo.
Lastly but not least the Forwards are T. Cahill, N. Burns, T. Juric, R. Kruse, and M. Leckie.
The season for the Federation Internationale de Football Association (FIFA) is very different from other sports. Most sports seasons are less than a year long however the season for FIFA is four years long.
The scoring is similarly different since most sports get a point for winning and nothing for losing however a single team can earn a max of 2,400 points for playing a single game. The following equation is used for point system and how they get The World Cup Results.
Points=M*I*T*C*100.
M: points for victory (3), Draw (1), defeat (0)
I: Importance of Match, friendly = 1
World Cup qualifier and Continental qualifier = 2.5
Continental final and FIFA Confederation Cup = 3.0
World Cup final competition = 4.0
T: Strength of opposition = (200-ranking) divide by 100
(teams ranking 150th and below = minimum value of .5)
C: Strength of Confederation
Union of European Football Association (UEFA) = 1.00
South America Football Confederation (CONMEBOL) = .98
North Central and Caribbean Association of Football (CONCACAF) = .85
Asian Football confederation (AFC) = .85
Confederation of African Football (CAF) = .85
Oceania Football Conference (OFC) = .85
(Intercontinental matches = mean value)
How does all this information help The Socceroos. In short they need to make every game count. Especially the important matches not just the friendly ones, the ones against strong opponents, and strong confederations.
It is a long road to the 2018 World Cup but fans are patient and with a little background you can be one of those fans. I hope this helps you understand where this team stands and what they have to do to get to the finish line and of course they can not do it without your support. Let's Go Socceroos and show those experts who is boss.