Austin Rivers MSG Debut
By Dennis Berry

Rivers' Tough Night in MSG
It was a night for Duke fans to remember in New York. The Blue Devils beat Michigan State 74-69 in the State Farm Champions Classic. It was the 903rd win for coach Mike Kryzewski, giving him the most wins in men's NCAA basketball history.
The Blue Devils were led by Andre Dawkins with 26 points and Seth Curry with 20 points. They shot 44% from the field and 50% from the three point line. Dawkins made six three point shots, five coming in the first half as he kept Duke in the game.

Then you see the night that freshman Austin Rivers had. His first game on a big stage did not go the way he planned. He only scored five points. He was 1-7 from the field, 0-2 from the three point line. He also had three assists, but 2 turnovers and four personal fouls.

Rivers was never able to get into the flow of the game. When he was on the court during the first half, he was forcing the issue when he had the ball. He would drive the lane when he did not have a clear path. He would take bad shots instead of looking for teammates. He would drop his head when a call did not go his way.

Duke led 34-33 at halftime.

Coming out of the half, it appeared Rives might get going. He hit his first jump shot of the second half, but that was about it. He missed a three point shot, and then fouled on the following Michigan State possession. That got him on the bench.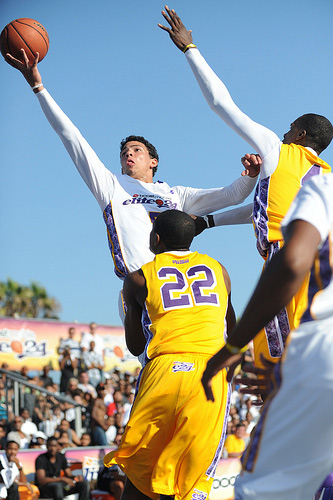 That is when Duke made their run. The Blue Devils took control of the game with Rivers sitting on the bench. Duke looked better without him. The Blue Devils worked the ball into the post and back out. Open shots came from moving the ball within the offense. The lead grew, thanks to the help that Michigan State went cold to start the second half.

This was a tough position for the 2011 high school McDonald's All-American. Rivers was thought by many to be the best prospect coming out of high school prior to this season. He has known nothing but success on the basketball court.

Perhaps going into the game at Madison Square Garden, Rivers thought this could be his big break out game. We have seen freshmen explode onto the college basketball scene at MSG before, the most recent bringing John Wall at Kentucky against Connecticut in 2009.  Wall had 25 points in a Kentucky win and showed the country the hype surrounding him was legit.

It did not go that way for Rivers. Tuesday night should be a wakeup call to Rivers. He still has a lot to work on. He needs to learn that he does not have to get his shots going one on one. If he will be unself and work within the offense, he will have plenty of open shots and chances to score.

That is probably the lesson that Coach K was trying to teach Rivers when he sat him early in the second half. To show him what it looks like when you play team basketball and not try to do it all yourself. Sometimes freshmen take a long time to learn.

Late in the game with Duke leading, Rivers felt he had a mismatch and wanted to take advantage of it. He drove the lane for a layup only to have it blocked by Michigan State's Draymond Green.

Shortly after that, Rivers found himself on the bench again.

There is no doubt that Rivers will have success at Duke, but he needs to learn that success will come from the help of his teammates, not just his own skills.

Fortunately for Rivers he has a pretty good coach to help him learn along the way.


What do you think?
We'd love to hear your comments and/or opinions. If you submit them here, other visitors can read them, rate them and comment on them. An e-mail address is not required.