Athletes and the Law: Preferable Treatment or Justice Served?
Vincent Imhoff is a writer and LA criminal lawyer who acts as a managing partner at Imhoff& Associates, P.C. He earned his law degree at Chicago-Kent College and his undergraduate degree at Lewis University. When he isn't writing or practicing, Vincent finds time to ski on his favorite slopes and get some jogging in.
The advent of athletes running into troubled times with the law is by no means a new occurrence.  From the contemporary case of OJ Simpson to the infamous 1919 Black Sox game throwing fiasco, the sporting world is no stranger to controversy.  In the last decade we have seen athletes offer some great contributions to society but subsequently have also seen more than a fair share fall from their pedestals and be charged with a variety of crimes.

But what do we make of the subsequent punishments that these figures receive for their transgressions?  Highly publicized incidents like Dante Stallworth'sDUI which resulted in a fatality are called to mind as cases where a lighter punishment appeared to be given in favor of "celebrity status".  But are these cases simply fodder for the media to blow out of proportion or do athletes generally receive lighter punishments?  Let's take a look at some recent examples.

Da'Quan Bowers
Defensive end for the Tampa Bay Buccaneers Da' Quan Bowers was arrested at La Guardia Airport on February 13th 2013 for possession of a weapon that was not registered in New York.  Reports have since stated that Bowers voluntarily told the employee at the check-in counter that he had the gun.  Under New York law, a minimum sentence of three years is in order for this kind of crime.  Bowers immediately paid $10,000 in bail charges and was let out.

Bower's is currently awaiting trial but many speculate that he will not even spend a fraction of the required time in prison.  With his contract with the Buccaneers, Bowers is estimated to make upwards of $550,300 a year.

Michael Vick
Perhaps in one of the most notorious cases of athletes behaving badly, Michael Vick, the infamous quarterback for the Philadelphia Eagles was convicted of participating in and hosting multiple dog fights between the years of 2002 and 2007.  Vick ultimately pleaded guilty but it wasn't before some gruesome details of what went on at these fights began to circulate around the net.  In the official court documents Vick stated that he thought it was, "funny to watch his fighting dogs attack and kill other dogs from a local pound".

Vick ended up serving only 19 months of a sentence that should have lasted five years.  Vick has since been released from prison and is again playing for the Eagles where he makes about $10 million dollars a year.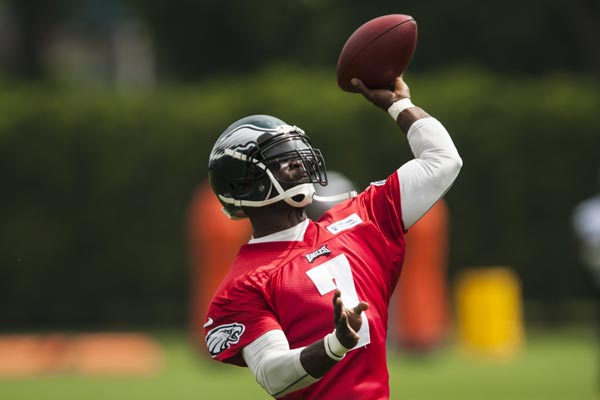 PlaxicoBurress
In 2009 Plaxico accidentally shot himself in the leg during an outing with other members of his team.  The problem arose when the gun turned out to be registered in another state.  In an effort to not spend any additional time in jail, Plaxico struck up a deal that only saw him serve 20 months of what could have been a three to four year sentence.
 
Trouble continues to follow Burress.  On April 2nd a judge ordered an auction on Burress's already liened home for unpaid bills resulting from traffic incident back in 2008.  The judge's orders went on to say that after the 5th ad for sale ran in the local paper the house would be put up on the auction.

Oscar Pistorius
Just a short six months after he famously showed the world that anyone, legs or no legs, can compete in the Olympic games, Oscar Pistorious was arrested in his South African home for the fatal shooting of his girlfriend, TV personality and model ReevaSteenkamp.  Under South African law, Pistorious was immediately charged with murder, a charge which came as a sharp contrast to Pistorious's own statements which said he believed an intruder had entered his home and is what led to him firing the fatal shots which killed his girlfriend.

Pistorious's slate isn't completely clean as word is beginning to pour out about a potential short temper and history of violence. Time will tell what the courts will decide as this gold medal Olympian awaits trial.

In light of all this, perhaps we need to take a step back.  What does this say about the American judicial system as it relates to athletes and other figures that have elevated attention in the public eye?  Is there an unsigned contract that once you hit celebrity status that sentences that would have otherwise been longer for the average citizen are now reduced?  Would Lindsey Lohan's current plight through the court system be as long and drawn out if she held no notoriety behind her name?  Perhaps?

It's a difficult situation.  On one hand our country is deeply rooted in the notion of idolization. From news presenters, singers, models and public figures, there is a certain esteem to which we hold those in the public eye.  But, on the other hand, when is the last time you saw a celebrity in trouble with the law and stopped to tell your friends, "man, I really think the court system gave it to them too hard.  I mean c'mon he really inspired a lot of people.  He shouldn't have spent that much time in prison."


What do you think?
We'd love to hear your comments and/or opinions. If you submit them here, other visitors can read them, rate them and comment on them. An e-mail address is not required.