An Unconventional Look at the James Shields Trade
We take a break from your regularly scheduled football musings to look at a big trade on the baseball front – the Tampa Bay Rays have dealt All-Star pitcher and home grown talent James Shields, along with Wade Davis, to the Kansas City Royals for four prospects from the loaded Kansas City farm system.
Count me as one who was surprised when this first broke – I had read the rumors that Washington and Arizona were kicking the tires on possible Shields trades, but I really wasn't expecting a deal to be made. The Rays missed the playoffs last year, but not by much, finishing just three games behind the Orioles and Rangers for the wildcard slots, while arguably being better than both squads – had the Rays been located in the West or Central, they would have had very good shots at winning their division outright, from the easier schedule and competition. So, why are they selling?
The answer, as it so often is in baseball, is money. The Rays had the lowest attendance in the American League last year, and the sixth smallest payroll, topping out under $65 million. Moreover, they have to stay that low – they don't play in the sort of market that allows them to dole out Yankee-style contracts, or even Blue Jay-style contracts. They've got to win on the cheap, finding maximum value in trades and their farm system to compete with teams with deeper pocket books. The fact that they've been so good despite playing in the Tampa market is one of the amazing success stories of the past decade.
This year, Shields' contract had nearly doubled to $7 million, and it's due to rise up to $9 million in 2013, making him the most expensive player on the entire Rays roster. Add in the contractsfor Davis, scheduled to make$2.8 million in 2013, and the one for David Price, who last year surpassed Shields as the Rays ace, and you're talking more than $20 million of payroll already right there – and the Rays simply can't afford that. Trading Shields and Davis is going to give them significant payroll flexibility, especially since they're getting prospects in return, who they can control cheaply until they accumulate enough major league time for THEM to become top trade prospects. Such is the circle of life for a lower budget team.
So, why did the Royals make the move then? I think it's best summed up by this quote from Royals staff, relayed via tweet by John Perrotto of USA Today: "We need to win NOW. There is no more time for waiting." Ain't that the truth – the Royals haven't a winning season since 2003, or a playoff berth since their 1985 World Series win. Heads are always on the line when you're running a team with that little historical success; heads that they'd prefer to keep, if at all possible. Nothing scares the pink slips away like winning. Furthermore, the Royals farm system, long ranked one of the better ones, has finally begun to bear fruit over the past five years or so – Alex Gordon, Billy Butler, and Mike Moustakas, to name just three, were all Royals draft picks and all contributed significantly last season. One thing they have been lacking, however, is pitching, so this trade helps fill a hole. The timing is right for another reason, too – the AL Central is weak. Yes, the Tigers made the World Series last year, but they were only an 88-win team, the worst record of any division leader in 2012. Going from 72 wins to a divisional title isn't easy, but if you're going to go all out for it, the AL Central is the place you want to operate in.
So, how did the Royals do? Shields is a bit on the older side, as he's about to turn 31 – but he instantly becomes the ace of the Royals staff, a staff that's been looking for an ace since they got rid of Zack Greinke in 2010. If they go through with their plan to put Davis into the starting rotation as well, he'd probably slot towards the bottom of their rotation. A Shields / Ervin Santana / Jeremy Guthrie top 3 is all of a sudden a fairly formidable lineup in a weak division. Shields numbers keep improving, too – don't let his missing this year's all-star game fool you; Shields was still performing at his 2011 level – his ERA increase can be basically summed up by an increase on his BABIP – batting average on balls in play – essentially meaning he was unlucky, or rather, that elements beyond his control were responsible for lowered performance in his traditional stats.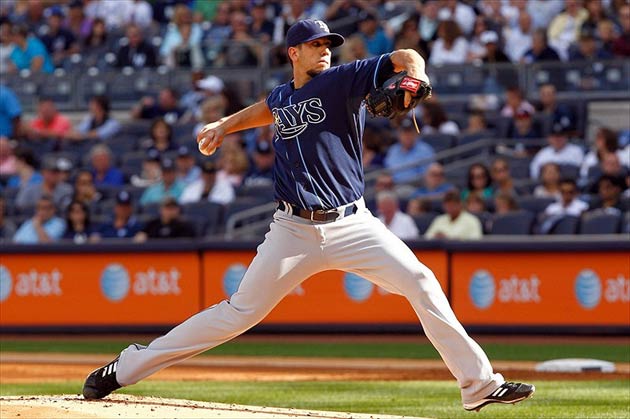 ---
The issue then, is not whether or not they improved their rotation – I think that's fairly obvious. The question is it worth what they gave up to do it. If you can win a division, the answer is almost always yes, no matter how many prospects you give up. The problem is, we're not talking about an 80 win team that's trying to get to 90; we're talking about a team that finished 16 games out of the division, and more out of the wildcard. Shields/Santana/Guthrie is lightyears beyond the Bruce Chen / Luke Hochevar / Jonathan Sanchez team from last year, but the 2013 Royals won't be competing against the 2012 Royals. The Twins and Indians won't put up much of a fight in all likelihood, but the Tigers have a better set of starters in Verlander, Fister, and Scherzer – and the White Sox put out Peavy and Sale. They're not going to slide back significantly – or, at least, I'd bet against both teams doing so – meaning the Royals are going to have to find improvement elsewhere. Eric Hosmer and Jeff Francoeur drug the team down last year offensively, and Francoeur might well have been replaced by one of the prospects Kansas City's just shelled out – more on him in a second. They were vastly below average on offense, and will need to get those numbers up, no matter how good their pitching staff performs, to really compete. I'm not sure they even get to 80 wins – and if they don't, this trade was a disaster.
Why is that? Well, look at who they gave away. Ignore Mike Montgomery and Patrick Leonard for the moment; they're effectively lottery tickets. Instead, look at the two players you might well see in a Rays uniform next season – outfield Wil Myers and pitcher Jake Odorizzi. There's no such thing as a can't-miss prospect, but Wil Myers might well be the closest thing to one. He hit .314 with power at Triple-A Omaha this year, and has consistently been ranked one of the top five prospects in all of baseball. He should have been starting for the Royals last year, 21-year old or not – Jeff Francoeur should have been sent packing. He's a middle of the lineup hitter down the road, once he gets some more experience and plate discipline, and could start this year in centerfield, replacing the departed BJ Upton. Plus, remember, this is the Rays we're talking about – they're always looking for players they can keep cheaply. Myers is under team control through 2018! The Rays could get all six of those years in the big leagues, too – this could be a huge boost to their offense.
And he's not even the only prize. Shields for Myers would have been a fairly even trade, but the Rays got Jake Odorizzi as well. Odorizzi isn't on the same level as Myers, but he's big-league ready too, having made some appearances for the Royals at the end of last year. I don't think he'll be hitting the Rays rotation this year – though I could be wrong – as he still has a tendency to serve up a few too many gopherballs, and his fastball is on the low end of the 90s, albeit with great control. If he learns to keep the ball low, though, he could be a solid, middle of the rotation starter for the Rays down the line. I'd give him some more seasoning, but if the injury bug starts coming hard on the Rays, Odorizzi could see time in the starting lineup in 2013.
The bottom line is that the Royals are too far out of contention to be making this move – they're mortgaging key parts of their future in an attempt to win now, when I think they're just too far out of the race to have a real shot in 2013. The Rays got a treasure trove from a trade they essentially had to do, and will reap the rewards of this one for a long, long time.
---
What do you think?
We'd love to hear your comments and/or opinions. If you submit them here, other visitors can read them, rate them and comment on them. An e-mail address is not required.
---
From An Unconventional Look at the James Shields Trade to MLB Baseball Blog | Sports Blog | NFL Football Blog | NCAA Football Blog | NFL Football Archives | College Football Archives | College Baseball Blog | MLB Baseball Archives | NBA Basketball Blog | NCAA Basketball Blog | NBA Basketball Archives | NCAA Basketball Archives | Fantasy Football | Fantasy Basketball | Fantasy Baseball | Soccer Archives | Olympics Archives | Stupid Athletes Archives | Other Archives | Football Forum | Basketball Forum | Baseball Forum | Sports Trivia Questions | NFL Football Store | NBA Basketball Store | MLB Baseball Store | NCAA Football Store | NCAA Basketball Store | NCAA Baseball Store | Fatheads | NFL Football Tickets | NBA Basketball Tickets | MLB Baseball Tickets | NCAA Football Tickets | NCAA Basketball Tickets | NCAA Baseball Tickets |
---
Home Page
About Us | Contact Us | Site Search | Advertise | Terms of Use |
---