After Reflection, a 49ers Fan's Super Bowl Reaction
Well.  What do you say after a game like that?

No, really, what do you say?  I've been a 49ers fan for most of my life, and I'm just at a loss for words right now.  I guess now I know – it's worse to lose a Super Bowl by 20+ points then it is to lose it by 3.  I certainly felt better post-game than I did trying to sit through that interminable half-hour power outage – New Orleans' final revenge on Roger Goodell.
Absolutely fantastic performance by Joe Flacco.  Is he elite?  That's a moot question.  He was cool and in control all game long – all postseason long, really.  11 touchdowns, and 0 interceptions over an entire postseason?  That's the very definition of cool under pressure.  That's Joe Cool – only Joe Montana had ever put up those numbers in a postseason.  I'm glad he won the MVP rather than giving it to Ray Lewis – often, the quarterback gets credit for MVP simply because they are the quarterback, but in this case, Flacco really deserved it.  Honorable mention to AnquanBoldin, though – 6 receptions, 104 yards, a touchdown, and a couple backbreaking plays when the Ravens needed to get the game back into control.  A couple players on the defense – I'm thinking both cornerbacks, especially – could have qualified, too, in lesser games – but who are we kidding.  Flacco earned himself a bunch of money with this performance.

All credit to the 49ers – they were dead, DOA, when the power went out.  The narrative will be they used the time given by that power outage to get back together, and I'm sure the extra time helped – but that's a bit simplistic, seeing as how they immediately punted after the lights came back on, and it wasn't until they got the ball back again that they were able to do anything.  Full credit to them – and they'll be back.  They always were going to have a longer shelf life than the older Ravens, and perhaps that inexperience hurt them this time – how much would they have liked that timeout Kaepernick had to burn back at the end of the game?  But for a game to be as good as this one turned out to be – and really, it'll go down as one of the classics – you need both teams to show up.

The Ravens just didn't make any of the mistakes the 49ers did – yes, Ray Rice coughed up a huge fumble, but the defense immediately held the 49ers to a field goal.  They built up enough of a first half lead taking advantage of a rookie (LaMichael James) and a 2nd year player (Kaepernick) playing the biggest games of their lives to force turnovers, and turn them directly into points.  They played like they had been there before in the first half – which, of course, they hadn't, as only 8 players combined had ever played in the Super Bowl – while the 49ers seemed off-focused.  Were they starstruck?  Perhaps – but they'd also given up leads in their previous four games, too.  Still, I think it wouldn't be too much of a stretch to say that the enormity of the moment hit them hard.

I was going to do a live-journal type recap of the game, but in between the power outage and the interminable second quarter, that fell by the wayside – so here's a look at the 10 plays I thought were the most influential in Super Bowl XLVII.

1:31, 1st Quarter: 3rd and 7 on the Baltimore 36.  Joe Flacco hits AnquanBoldin for a 30 yard bomb down the right sideline – If you ever, ever question Flacco's arm strength again, look at this play.  Third down in only a 7-3 game, if Flacco is sacked here, the 49ers are right back in this thing.  Ahmad Brooks has a hand on him, Navarro Bowman is right there, and Flacco, on a full sprint, fires the ball down the field, where Boldin has the tiniest of steps on Chris Culliver, who had the worst week of his life, I'm sure.   Look at that pass – it's just a thing of beauty, and Boldin makes a remarkable catch.  The Ravens wouldn't turn this into points, after a big sack later in the drive, but that play could have given the Niners in great field position – and, as we saw, one more scoring drive could have changed the entire game.

12:04, 2nd quarter: 1st and 10 on the Baltimore 24.  LaMichael James fumbles, recovered by Arthur Jones – Still a 7-3 game, and this play looked doomed to start with.  James is trying to run a sweep to the outside, but the Ravens are all over it, pushing him further and further out.  James does a great job trying to make something out of nothing – but he pushes too far, and Upshaw is able to knock that ball loose as Graham holds him up.  Had he just fallen to the floor, the 49ers were already in scoring position – but James was known in college as a big play kinda guy, and was trying to make a highlight in the Super Bowl.  Well, he did – but for the other team.  The Ravens would march right down the field and score, blowing this one open.

4:17, 3rd quarter: 2nd and 7 on the Baltimore 23.  Ray Rice fumbles, recovered by Terrell Brown – The Kaepernick interception, coming when Baltimore was rolling, wasn't as large as either of the two fumbles.  Rice only fumbled once all regular season – making this a huge surprise, as it was his third fumble of the postseason.  The Ravens were on full TILT mode right here – the 49ers had clawed back from down 28-6 to 28-20, and everything seemed to be going their way.   This was post power-outage, but I don't think the darkness made Rice fumble.  I'm still not sure how he fumbled, actually – he seemed to have a decent grip on the ball, and Brown just knocked it right out.  Holding the 49ers to a field goal in this excellent field position was a huge stop by the Ravens D, and the first moment of righting the ship they had.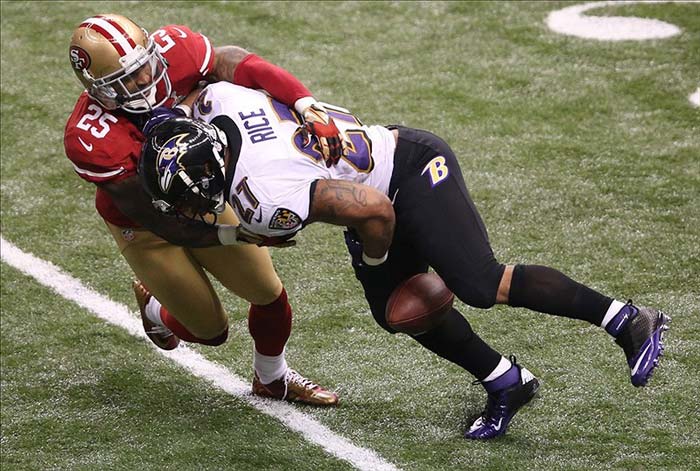 Feb 3, 2013; New Orleans, LA, USA; Baltimore Ravens running back Ray Rice (27) fumbles against San Francisco 49ers cornerback Tarell Brown (25) during the third quarter in Super Bowl XLVII at the Mercedes-Benz Superdome. Photo Courtesy By Crystal LoGiudice-USA TODAY Sports.

12:00, 4th quarter: 2nd and 5 on the San Francisco 29.  Colin Kaepernick hits Randy Moss down the left sideline for 32 yards -- I don't have a highlight on this one, but it was circled and had four exclamation marks in my notes – the Ravens had just kicked a field goal to go up 31 – 23, but the 49ers were on fire.  I really thought Moss would have a bigger impact in this game, on the big stage, but he only had two catches on his six targets.  However, this one was huge as he fought past Ed Reed for the ball – two old titans striving for Super Bowl glory.  This set up Kaepernick's 15 yard TD run, and the failed two-point conversion, to bring the 49ers to within two points.

8:35, 4th quarter: 3rd and 9 on the Baltimore 22.  Chris Culliver commits defensive pass interference for 14 yards – I told you it was the worst week of Culliver's life.  Days after he makes headlines for his anti-gay comments, Culliver commits the single most costly penalty of the Super Bowl, and, thus, the season.  It wasn't necessary, either – he had decent coverage on Torrey Smith, and I don't think he would have caught the ball, anyway.  But he got grabby, and it gave the Ravens a new set of downs.  They'd get a field goal out of the drive but, more importantly, drained an additional four minutes off the clock.

3:25, 4th quarter: 2nd and 10 on the San Francisco 36.  Colin Kaepernick connects with Michael Crabtree down the middle for 24 yards. – This was a play after Vernon Davis nearly made a fingertip grab that would have ranked among the top plays in Super Bowl history – but they bounced right off the canvas and hit Crabtree.  Ray Lewis made the tackle, but he was vulnerable all day on routes over the middle, and this one was no exception.  The 49ers were driving – and at this point, I knew, deep in my heart, that the 49ers were going to do it.  Ah, the NFL can be so cruel sometimes.

2:47, 4th quarter: 1st and 10 on the Baltimore 40.  Frank Gore runs around the left end for 33 yards – The very next play, Frank Gore slip through a seam in the backfield and turns on the afterburners, with Ed Reed making what turns out to be a Super Bowl saving hit, shoving him out of bounds at the seven yard line.  Gore had himself quite a day – you wonder how much longer his battered body will hold up, but considering he never fumbled or threw an interception, you could have named him the 49ers MVP had they held on to win.  Kaepernick would have gotten the nod, of course, but 110 yards, including what would have been the game-winning touchdown?  That would have been an MVP performance in my book.

2:00, 4th quarter: 2nd and goal on the Baltimore 5.  Colin Kaepernick can't get the ball to Michael Crabtree.

1:55, 4th quarter: 3rd and goal on the Baltimore 5.  Colin Kaepernick can't get the ball to Michael Crabtree – I pick the second and third down plays and not the fourth, because the fourth had pushing and shoving on BOTH sides.  I'm fine with the no call in that situation – the only right call would have been offsetting penalties, and neither was quite blatant enough to be an obvious flag – but you could pick any of the three attempts to get Crabtree the ball in the endzone.  Worse, in between, they had to call their second timeout of the half.  That one, you can't blame them for – their best chance of winning was to score right there, even if they could have used that timeout a few moments later – but the first timeout they blew in the third quarter was huge.  Also huge?The Ravens defensive stand.  They weren't the Ravens defense of old this game, but there's something strangely comforting about the Baltimore Ravens closing out a Super Bowl victory with their defense coming up with a huge stop.  The 49ers ran three plays to Crabtree, and couldn't connect on any of them.

0:12, 4th quarter: 4th and 7 on the Baltimore 8.  Sam Koch takes an intentional safety – Brilliant, brilliant, brilliant play call from a former special teams coordinator.  When Phil Simms started talking about whether or not you would take a safety, I said no, of course not – because I was expecting the standard snap over your head, no time off the clock safety, which would have given the 49ers time for a play before setting up a field goal.  Never, ever, ever would I have expected Koch to just hold it and take the safety – or, rather, run out of bounds before getting killed.  Eight seconds ticked off the clock – eight oh-so-valuable seconds.  That meant the 49ers had to try a miracle run back (or a miracle free kick, had the ball been kicked short) rather than having the time to give Kaepernick one last shot.  Fantastic play call, and it sealed them the game.
What do you think?
We'd love to hear your comments and/or opinions. If you submit them here, other visitors can read them, rate them and comment on them. An e-mail address is not required.