A Woman Dunks and I Don't Care
The women's NCAA basketball tournment is going on and all any knows about it is that Candace Parker dunked. I wish they would just talk about that dunk as much as they do who's winning so far. Very very little.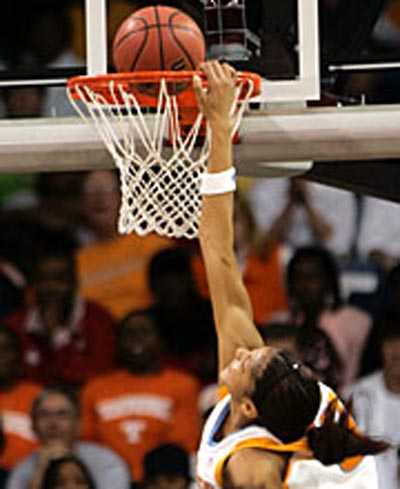 Inside Parker.
---
I'm just annoyed that it's that big of a deal. It wasn't like a quadraplegic dude playing wheelchair basketball jumped out of his chair and dunked it. ESPN had it on the front of it's page. I saw too many highlights of it. It's not the first time a woman has ever dunked. It's the first time in NCAA tournament history which means the same amount of people saw it live than if it was done during the regular season. Pat Summit wasn't impressed because she's seen it a million times during practice she said. So if it's happened "a million times" then why is it so impressive when it's done in a game?
It was a dunk with a microscopic "d". She barely got to the rim. Look at the picture. As she was coming down, as shown in the picture, the ball was still more than half way out of the cylinder. She stretched every joint and muscle just to get up. It was similiar to a homerun 305 yards down left field that gets out in a hurry. Technically it's a homerun but boy is it ugly. It's not a towering Albert Puljos shot. Maybe I'm just not impressed when someone who is 6'4 dunks. Show me a woman do a two handed dunk at least or a 360 and then I'll be slighty impressed.
I'm still scratching my head as to how she won the high school dunk contest a few years ago. If you don't recall her dunks let me explain her reporitoire. She dunked it with one hand. Just went up and dunked it. The whole time. The ball needed some serious gravity to go through the net cause she barely threw it down with authority. Oh one time she dunked it and sort of covered her eyes. She ran and covered her eyes but dunked it with her eyes open. Hey look at me!! I can run with my eyes closed! So everytime she dunked it, the judges gave her 10's and 9's. Guys were doing 360's, windmills, one handed, two handed reverse dunks and all lost.
So if the high school Lebron James was in the dunk contest the same year as Candace Parker, then the it would have been a close contest? No way should it even be close.
So I don't want to hear anymore about women dunking because it's just a dunk. Whop-dee-do.
---
What do you think?
We'd love to hear your comments and/or opinions. If you submit them here, other visitors can read them, rate them and comment on them. An e-mail address is not required.
---
From A Woman Dunks and I Don't Care to NCAA Basketball Archives | Sports Blog | NFL Football Blog | NCAA Football Blog | NFL Football Archives | College Football Archives | MLB Baseball Blog | College Baseball Blog | MLB Baseball Archives | NBA Basketball Blog | NCAA Basketball Blog | NBA Basketball Archives | Fantasy Football | Fantasy Basketball | Fantasy Baseball | Soccer Archives | Olympics Archives | Stupid Athletes Archives | Other Archives | Football Forum | Basketball Forum | Baseball Forum | NFL Football Store | NBA Basketball Store | MLB Baseball Store | NCAA Football Store | NCAA Basketball Store | NCAA Baseball Store | Fatheads | NFL Football Tickets | NBA Basketball Tickets | MLB Baseball Tickets | NCAA Football Tickets | NCAA Basketball Tickets | NCAA Baseball Tickets |
---
Home Page
About Us | Contact Us | Site Search | Advertise | Terms of Use |
---