2013 Louisville Cardinals Meet the 2002 Maryland Terrapins
By Jason Fryer

There's no doubt in my mind, the 2013 Louisville Cardinals resemble a former Champion from 11 years ago… the 2002 Maryland Terrapins. There are two different categories I wanted to break this done into 3 different comparisons: player personal and tournament history.

For player personal, both Maryland and Louisville were led by great leaders from their guards. First the former Champs were led by senior Juan Dixon and junior Steve Blake in the backcourt. Dixon was the heart and soul of the Terripans in addition to leading the team in points (20.4) and steals (2.6) per game. As for the present day NBA savvy veteran Steve Blake, he was considered one of the best collegiate point guards at finding the open man and being the floor general as shown by his 7.9 assists per game. Like Maryland, Louisville also has tremendous veteran and experience backcourt and are also lead by a  junior (Russ Smith) and senior (Peyton Siva). Smith has a number of comparisons to Dixon as like his Maryland counterpart, Smith has also become the leader of the Cardinals in addition to leading them in scoring (18.2) and is tied for the lead in steels (2.2) per game. As for Siva, the senior guard also resembles a former Maryland backcourt member as he leads the Cardinals in assists per game (5.9) while also placing everyone in the correct placement on both the offensive and defensive ends...sounds familiar.
 
If that wasn't enough, both teams also feature (or featured) non-tradition (or small than usual) Small and Power Forwards in their starting lineups. For Maryland, their 3 and 4 players became their key role players in glue guy Byron Mouton (who played in all 72 games during his time at Maryland) and future NBA Player Lonny Baxter who was the Terps best inside presence in addition to being the teams second leading scorer averaging 15.2 ppg. On the other end, the Cardinals feature a pair of sophomore forwards in Wayne Blackshear and ChaneBehanan who have become key undersized players on one of the elite teams in college basketball. At center, both Maryland's Chris Wilcox and Louisville's GorguiDieng were double digit ppg players (Wilcox 12/Dieng 10) in addition to being elite defenders on the inside.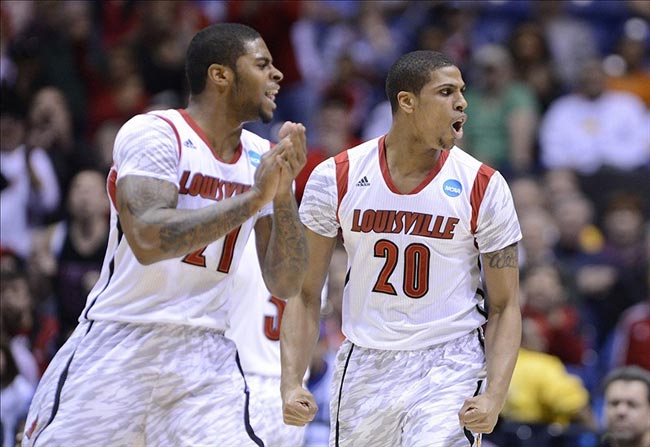 Mar 29, 2013; Indianapolis, IN, USA; Louisville Cardinals guard/forward Wayne Blackshear (20) and forward Chane Behanan (21) react in the first half during the semifinals of the Midwest regional of the 2013 NCAA tournament against the Oregon Ducks at Lucas Oil Stadium. Photo Credit: Jamie Rhodes-USA TODAY Sports.


If the player personal comparison wasn't enough, why don't we look at the tournament history for both the Cards and Terps. The 2000-2001 Terps went into the NCAA Tournament as an unproven 3 seed that could looked to be a difficult out but not ready to get past their inter-conference rival; Duke. Following the schools first Final Four appearance (which ended with a difficult loss to Duke), the Terrapins returned all their starters along with the majority of their key role players, the following season, the now prepared Terps looked as if they were on a mission to win the NCAA Tournament from day one and could not be stooped.

As for Louisville, like Maryland, the Cardinals (a 4 seed) were seen as a possible Sweet 16 team in the 2012 NCAA Tournament, but not ready to reach the Final Four as they wold have to go through Michigan State and Florida to reach the Final Four. We were all wrong as Louisville and Rick Patino (who still hasn't lost a Sweet 16 game) went through the Number 1 seeded Spartans of Michigan State and Florida Gators before losing to their inter-state arch rival; Kentucky WIldcats. Following the 2012 NCAA Tournament, Louisville was able to return all of their starters along with their key role players from their 2012 Final Four team for the following season. Louisville has all the players, focus, experience, and motivation, to bring the National Championship to Louisville, Kentucky for the first time since 1986.
What do you think?
We'd love to hear your comments and/or opinions. If you submit them here, other visitors can read them, rate them and comment on them. An e-mail address is not required.