2012 NFL Wildcard Playoffs Preview
Wild-Card Preview
Pittsburgh Steelers @ Denver Broncos
With Tebow's magic sputtering, some are deeming this Denver team "the worst playoff team ever." After watching them score a measly 21 points in the last two weeks while football's most recognizable man-of-God turned it over 7 times, I'm finding it hard to make a counter-argument. Dick LeBeau's disciplined defense will undoubtedly make quick work of the spread and force Tebow to rely on his mediocre-at-best passing skills.
John Fox's name probably won't be popping up in many Coach of the Year conversations when it's all said and done, but Von Miller has a chance to solidify his bid for the Defensive Rookie of the Year Award. Expect a defensive battle, but in January, experience usually trumps miracles.

Prediction: Steelers 17 - Broncos 9
Cincinnati Bengals @ Houston Texans
The Houston Texans' season can be summed up in one word – "Ouch!" Their down to the inadequate T.J. Yates at QB and the most dynamic scoring threat in the state of Texas, Andre Johnson, is still nursing a nagging hip injury. Houston will also be battling a disadvantage in the momentum category, coming off three consecutive losses to non-playoff teams (including Indianapolis). I like the Bengals' defense to come up with a big performance, committing to the run in order to hold Arian Foster in check while allowing Yates to attempt an assault on one of the league's most talented secondaries.

Prediction: Bengals 21 - Texans 10

Detroit Lions @ New Orleans Saints
After being lit up for 480 yards and 6 scores by Matt Flynn, the city of Detroit may be prepping their shame-clad paper bags for a trip to the Superdome. Matthew Stafford to Megatron has been the hottest hookup of 2011, but a two-man show isn't going to be able to run side-by-side with a Saints' offense that can beat you in more ways than you can count on two hands. Unless the Lions can find a way to defend Sean Payton's elaborate short passing game, this game will be over before it even begins. Detroit's only shot in this one is to utilize the best weapons at their disposal, scoring early and often.

Prediction: Saints 38 - Lions 24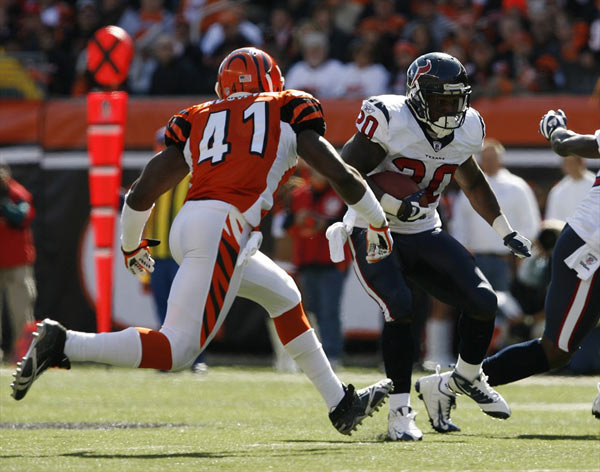 Atlanta Falcons @ New York Giants
The most interesting game of the weekend will pit two run-oriented teams against one-another in a frigid battle of endurance and persistence. Eli Manning's season has been defined by his comments about being an elite quarterback, which he's managed to live up to in pursuit of another ring. Eli may have opened the door for a lot of critics to attack him, but his on-field performance over the course of the season has left them incapable of unzipping their yappy mouths.
The Falcons, on the other hand, have been haunted by their soggy road performances, managing less than 17 points in each of their 4 road losses. I can guarantee we'll see a fair share of two of the NFL's bulkiest backs, Michael Turner and Brandon Jacobs, in a contest where weather will play a decisive roll. The X-factor will be Atlanta's ability to convert on 3rd & long as New York's ferocious pass-rush will give Ryan nightmares in the swirling winds of the New Meadowlands.

Prediction: Giants 20 - Falcons 14


What do you think?
We'd love to hear your comments and/or opinions. If you submit them here, other visitors can read them, rate them and comment on them. An e-mail address is not required.