2012 NFL Divisional Playoff Preview
Divisional Playoff Preview
Denver Broncos @ New England Patriots
The Tebow epidemic was on full display in crunch time last weekend, arousing a drastic spike in Tebow-mania and setting the stage for CBS's dream playoff showdown. Denver's unique and unpredictable game plan combined with Tebow's fiery leadership should provide an amusing offensive competition, but ultimately, it will be up to John Fox to put together a plan worthy of beating the #1 seeded Pats.
I expect Fox to give Tebow the freedom to air it out once more, which could be a serious issue for New England if they have to throw wide receivers into the secondary mix. I hate to be that guy who jumps on Denver right as Tebow blows up the Twitter server, but matchup-wise, I see another major upset in the making.
RESULT: Broncos 27 - Patriots 24
Houston Texans @ Baltimore Ravens
What the Texans have managed to do defensively without the help of the league's most talented pass-rusher is simply remarkable. That being said, J.J. Watt is no Haloti Ngata, Brian Cushing is no Ray Lewis, and Jonathan Joseph is no Ed Reed. This Baltimore defense offers a new danger around every corner, which will ultimately force rookie T.J. Yates into mistakes that simply can't be made. Expect Houston to keep it on the ground as long as possible, but as soon as Baltimore starts to build a lead, you might as well tuck yourself in.

RESULT: Ravens 30 - Texans 10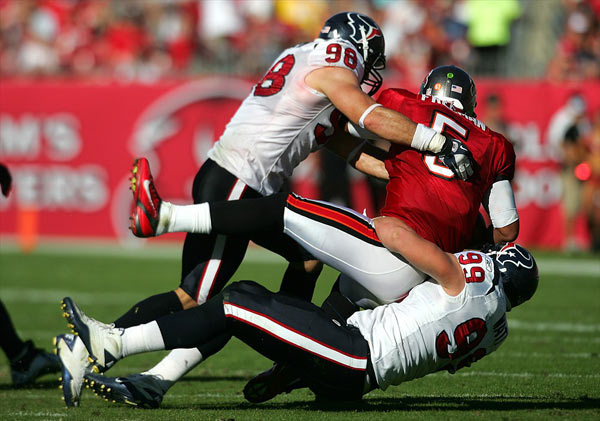 New Orleans Saints @ San Francisco 49ers
This may be the most intriguing match of the weekend if you're down to watch tactical football in all its phases. Frank Gore, the Inconvenient Truth, heads the NFL's most bruising ground attack against a Saints' defense that lacks depth in the front 7. San Fran is going to be aiming to keep this one low-scoring, conducting their usual game plan of ground-and-pound until the opposing defenders can't even walk off the field, mixed in with just a touch of short passing to make things interesting on 3rd-&-whatever.
You can bet that the end result won't be swaying in NO's favor if the 49ers can control the clock and hold this game under 30 total points, but this type of slow and steady game plan usually puts the ball in the opposition's hands for one last heroic attempt at a game-winning drive, and Drew Brees is NOT the guy to give one last drive to.

RESULT: Saints 24 - 49ers 21

New York Giants @ Green Bay Packers
The Giants might have what it takes to knock off the Pack after exposing many weaknesses in their early December meeting, but the key will be maintaining their composure and not getting lost in the bright lights of the big stage. These two ring-bearing quarterbacks and dazzling collections of playmakers should make for another high-powered faceoff with bitter memories of recent years lingering on the minds' of both teams. Green Bay's "bend but don't break" defense may be the ideal thread to tie up this game and punch the Pack's ticket to the NFC Championship, corralling Eli Manning into costly mistakes when precious scoring opportunities are on the line.
If error-prone Eli and the G-Men turn it over 2 or more times, they might as well strip off their pads and head back into the locker room, because Green Bay will be cautious and opportunistic with the football like they've been all season and can generate guaranteed points after the possession change. And don't forget, revenge can be a powerful motivator, especially when you can count on Aaron Rodgers not to make the same errant throws that Favre may have.

Result: Packers 30 - Giants 24

What do you think?
We'd love to hear your comments and/or opinions. If you submit them here, other visitors can read them, rate them and comment on them. An e-mail address is not required.