2012 March Madness Predictions
March Madness 2012
By Jason Fryer
It's almost that time a year let's get ready for the madness to begin. With that said, I have a few bold predictions:
1. Don't have Duke playing UNC at any time in your bracket:
Yes, this the best rivalry in all of college basketball and possibly all of sports but these two teams have never met in the NCAA Tournament. The two teams are rarely placed in the same bracket of the tournament meaning they would only be able to meet in the Final Four or National Championship game. Unfortunately for Blue Devil fans, I don't see them reaching the third weekend of the big tournament this year.
This is a younger Duke team that has great young guard play (Rivers, Curry, Dawkins) and their only dominant big men are the Plumlee brothers and Ryan Kelly. When Duke plays a bigger and experienced team, Duke's going to have a lot of problems. North Carolina on the other hand has a lot of talent and if they come to the tournament prepared (as they did in 2005 and 2009), they might have another banner hanging from the Dean Dome come April.
2. The Big East won't have a team reach the Final 4:
The big east has had 4 different Champions since UConn won their first championship (UConn 1999, 2004, 2011 and Syracuse in 2003). In the years following a Big East winning a National Championship, that same team the next year hasn't gone far in the tournament. The 2000 Huskies lost in the round of 32, the 2004 Orange lost in the sweet 16, and the 2005 Huskies lost in the round of 32. I feel this year Huskies team won't go further than the round of 32 for a few reasons. One is because of the history I mentioned above, two there isn't a dominant upperclassman that can take a game over as previous UConn teams had in the past (1999 had Hamilton, El-Amin, and Voskuhl; 2004 had Gordon and Okafor; 2011 had Walker and Oriakhi).
This year's UConn team has a lot of talent but doesn't have a player that I feel can take a game over and lead the Huskies to a win. Finally, the biggest reason I feel UConn won't repeat as champs this year: Jim Calhoun's health. UConn has shown in the past that they're not nearly the same time without Calhoun as they are with him. As for the other teams in the Big East, they've shown this year they have a lot of deficiencies (as shown in Jim Boeheim's press conference against Georgetown) and the rest of the division has even more problems than UConn and Syracuse.
As for the history of the Big East reaching the Final Four, outside of UConn (who has reached the Final Four twice since 2006), only Georgetown (2007) and Villanova (2009) have reached the final four and UConn was the only team to reach the National Championship game in that span. History shows that the Big East once again won't be a representative come the weekend of the Final Four.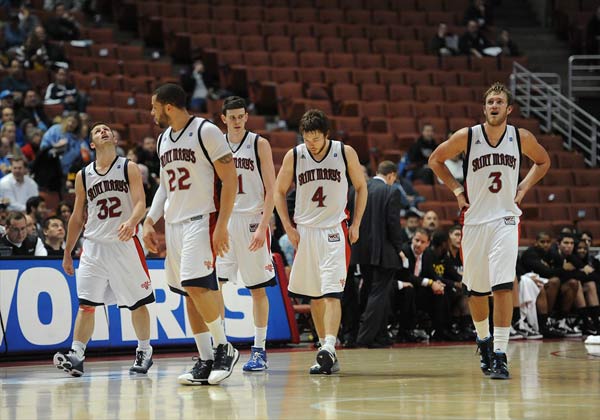 Saint Mary's (32) Mickey McConnell, Saint Mary's (22) Rob Jones, Saint Mary's (11) Clint Steindl, Saint Mary's (4) Matthew Dellavedova and Saint Mary's (3) Mitchell Young during an NCAA basketball game between the Saint Mary's Gaels and the Long Beach State 49ers for the Wooden Classic at the Honda Center in Anaheim, CA. Saint Mary's defeated Long Beach State 82-74.
---
3. The Big 10 teams will join the Big East Teams and be home when the Final Four occurs:
I love the Big Ten (I'm an Illini fan and its been a tough last month), but I'm a realist and feel that the big 10 conference is vastly overrated this year. I feel if the Big 10 was going to have a team as a representative in the Final Four it would have been last year (Ohio State, Purdue, Michigan State, and Wisconsin). Last year those teams were much stronger than they are this year, as there are only two legitimate final four teams this year (Ohio State and Michigan State) and both teams have a great deal of holes in their roster's.
Ohio State has a nice, but small (Sullinger is the only player above 6'9") starting 5, but once again they don't have a lot of depth on their bench. If anyone on Ohio State gets into foul trouble, the Buckeyes would show the lack of depth they have on their roster. After Ohio State, the other teams in the conference feature a lot of youth on their rosters (Indiana, Michigan, Michigan State) and it will be difficult to defeat these teams when March Madness 2013 comes around.
4. A Mid-major (not named Butler) will reach the final four:
The previous two Final Fours have featured at-least one mid major team (Butler twice and VCU last year), which has showed why the Mid Majors are only improving. At the same time, George Mason also reached the final four (2006) and a few other mid-majors have reached the elite 8 in the 21st century (Kent State and Davidson). I feel this streak will continue as many of the powerhouse schools feature unproven young talent and most of the Mid Major Schools have upperclassmen and people who are prepared for the pressures of March Madness. There are many of the great mid-majors this year which include: (Murray State, Wichita State, Gonzaga, Saint Mary's, Harvard, Southern Miss), and I feel at-least one Mid Major will reach the final four.
I'll have one more NCAA Basketball article before the start of the conference tournaments and then one article after Selection Sunday.
Related Readings:
---
What do you think?
We'd love to hear your comments and/or opinions. If you submit them here, other visitors can read them, rate them and comment on them. An e-mail address is not required.
What Other Visitors Have Said
Click below to see contributions from other visitors to this page...

One to watch...... Not rated yet
Something says Wichita State could potentially make some noise if all falls into place.
---
From 2012 March Madness Predictions to NCAA Basketball Blog | Sports Blog | NFL Football Blog | NCAA Football Blog | NFL Football Archives | College Football Archives | Current Sports Scores | NBA Basketball Blog | WNBA Basketball Blog | NBA Basketball Archives | NCAA Basketball Archives | Current Sports Scores | MLB Baseball Blog | College Baseball Blog | MLB Baseball Archives | Fantasy Football | Fantasy Basketball | Fantasy Baseball | The Best Sportswriter Contest | Sports Trivia Questions | Other Sports | Soccer Archives | Olympics Archives | Stupid Athletes Archives | Other Archives | Sports Basics | Top Sports Blogs | Best Sports Pictures | The Best Sports Videos | Best Current Sports News | The Best Sports Blog Podcasts | Football Forum | Basketball Forum | Baseball Forum | NFL Football Store | NBA Basketball Store | MLB Baseball Store | NCAA Football Store | NCAA Basketball Store | NCAA Baseball Store | Fatheads | NFL Football Tickets | NBA Basketball Tickets | MLB Baseball Tickets | NCAA Football Tickets | NCAA Basketball Tickets | NCAA Baseball Tickets | Sports Kindle E-Books | Best Sports Blog Books |
---
About Us | Contact Us | Site Search | Advertise | Terms of Use |
---