2012 All Chicago MLB Roster
Part one of the Cubs-White Sox series is about to get underway, and after examining each player's statistics, I put together a list of who I feel should be apart of the 2012 All-Chicago Baseball Roster. Below is a list of players that I feel should be apart of the All-Chicago Baseball Roster.
Catcher:
A.J. Pierzynski: A.J. got off to a fast start this season, hitting .309 and 4 Home Runs in April from the Catcher position. In addition to putting together a good offensive season, he's once again done a good job handling the White Sox pitching staff as he's put together an All-Star caliber season.
First Baseman:
Brian LaHair: This was the toughest position to choose from as both Brian LaHair and Paul Konerko (I consider Dunn a DH) have put together fantastic starts to their seasons. Konerko (.344 Average, 7 Home Runs, and 20 RBI) has been the most consistent hitter all season long for the White Sox and most other seasons would be listed as the All-Chicago 1st Baseman, but not this season. The Cubs best hitter this year has been Brian LaHair (.352 Average, 10 Home Run, 21 RBI) as he's carried the Cubs throughout the first month of the half of the season. LaHair's hit a few enormous Home Runs for this Cubs and has been the team's most consistent player all season long.
Second Baseman:
Darwin Barney: Both of Chicago's second basemen had difficult starts to their season's, and looked lost at the plate. However, one has started to look more comfortable as the season's progressed on (Darwin Barney) and looks like he's ready to become the player the that the Cubs thought they had. Since his difficult start to his season, Barney's hit .262 on the season while playing good defense (only 1 error) and looks much more comfortable at the plate. As the season goes on, I feel his batting average will only progress upward.
Shortstop:
Starlin Castro: Like Bran LaHair, Starlin Castro has had a great start to his season and once again looks like he'll be apart of MLB's All-Star weekend once July rolls around. Just like last year, Castro has put together another strong season (.331 Average and 22 RBI) while still only being 22 years old. As the season goes on (and the weather warms up), I believe his power numbers will start to go up (he currently has one Home Run on the season) and will finish with at-least 15 Home Runs.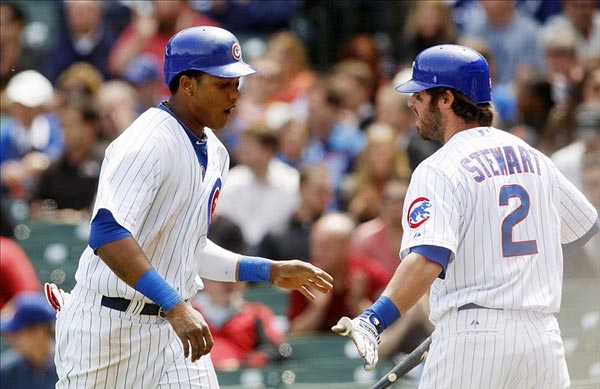 Chicago Cubs shortstop Starlin Castro (left) is congratulated by teammate Ian Stewart (2) after scoring a run during the first inning against the Los Angeles Dodgers at Wrigley Field. Photo Courtesy By: Jerry Lai-US PRESSWIRE.
---
Third base:
Ian Stewart: Both of Chicago's 3rd Basemen (Ian Stewart and Brent Moral) have gotten off to slow starts in 2012, as the two players are below the .210 marker (Stewart at .205 and Morel at .178) but have played excellent defense. The one positive offensive aspect between the two has come from Stewart as his power numbers have started to show up (already has 4 home runs), and I feel he has the capability of hitting at-least 20 Homer Run's on the season.
Outfield:
Alejandro De Aza, David DeJesus, and Alex Rios: De Aza, Rios, and DeJesus have all put together good starts to their season and the three players have made this list in different ways. For De Aza, he was a player that had one major league opportunity (played in 45 games for the 2007 Marlins) and outside of that has never received a true opportunity to be a Starting Outfielder for an MLB team. In the middle of the 2011 season, the White Sox decided to give De Aza a chance to start and rewarded them by posting a .329 Average in 54 games. As for the 2012 season, De Aza has been a productive hitter once again as he currently has a .289 average, along with 7 stolen bases.
As for DeJesus, he decided to sign with the Cubs during the offseason and got off to a difficult start to the season (hitting .250). However, since his difficult start to th 2012 season, he's been a much better offensive player (hitting .308 in May) and has been the Cubs best Outfielder throughout the 2012 season. Like the other two players, Rios went through a lot to be apart of the Chicago's 2012 Baseball Roster. Rios had a difficult 2011 season (.227 Average, 13 Home Runs, and 44 RBI) but has since bounced back and put together a solid start to the 2012 season (.275 Average).
Bench:
Adam Dunn: During the offseason, Adam Dunn predicted that he would win the American League Comeback Player of the Year Award and it looks like he might deliver in the end. Since the start of the 2012 regular season, Dunn has been a completely different player this year already hitting more Home Runs this year (12) than he did all of last year (11) in addition to his average being up from last year (.159 in 2011 to 248 in 2012). If Dunn keeps this pace up, he should the return to his previous statistics (40-100) before the end of the baseball season.
Paul Konerko: Just because Paul Konerko wasn't elected to be the Chicago's 1st Baseman doesn't mean that you should leave him off the entire roster. Konerko has once again put together another strong season (.344 Average, 7 Home Runs, and 20 RBI), as it seems like he only getting better with age. If both Dunn and Konerko can keep their seasons up, then the White Sox will feature one of the best 3-4 left/right combinations in all of baseball.
Tony Campana: Ever since the Cubs decided to trade Marlon Byrd to the Red Sox a few weeks ago, the team has received a great lift from outfielder Tony Campana. Campana is hitting .333 on the season to go along with 9 stolen bases and has brought a new dimension to this Cubs offense.
Starting Pitchers:
Ryan Dempster: Last year, Ryan Dempster had one of his worst months of his career as he posted a 9.58 ERA throughout the month of April. As for 2012, it's been a completely different story as he posted a 1.33 ERA throughout the month of April and currently has a 1.74 ERA (2nd best in baseball) even though he hasn't recorded a win on the season (not his fault). If the All-Star Game was today, Dempster would be at the top of the list to start the Mid-Summer classic.
Jake Peavy: Since being acquired by the White Sox in 2009, Jake Peavy has had a few positive moments, but unfortunately the majority have been negative, while playing in Chicago. Before the start of the 2012 season, (1.5 years since he had surgery to repair his torn right latissimusdorsi tendon) the White Sox were unsure of what to expect from the former NL CY-Young Award winner. Fortunately for Peavy and the White Sox, he got off to his best start since he was a San Diego Padre and he hasn't looked back (4-1 record, a 2.65 ERA and 48 strikeouts on the season).
Matt Garza: Ever since the Cubs acquired Matt Garza from the Rays during the 2010 offseason, he's been nothing short of great and has become one of the best pitchers in all of baseball. Garza's once again off to another great start (2-1 to go along with a 2.56 ERA) and has a chance to make his first ever All-Star Game.
Gavin Floyd: In years past, Gavin Floyd was a pitcher that would have difficult starts to his season's (between 2009 and 2011 season's he had ERA's of 5.06 in April and 5.33 in May), but was able to bounce back and have successful June's (2.86 ERA) and July's (2.67 ERA). As for this season, Floyd's off to his best start since he was acquired by the White Sox 5 years ago (3-4 with a 3.44 ERA) and June and July haven't arrived yet.
Jeff Samardzija: The Cubs weren't sure of what to expect from Jeff Samardzija this year, but so far he's been a fantastic surprise. Between the 2008 and 2011 season's he was taken back-and-forth between starting and relieving for the Cubs. During this time-frame, Samardzija recorded a few highs as on two different occasions recorded ERA's under 3 (2008 had a 2.28 ERA and 2011 had a 2.97 ERA), but also had a few downs seasons. During the Cubs 2012 Spring Training, they decided to make Samardzija a full-time Starting Pitching and he's rewarded them by going 4-1 to go along with a 2.89 ERA.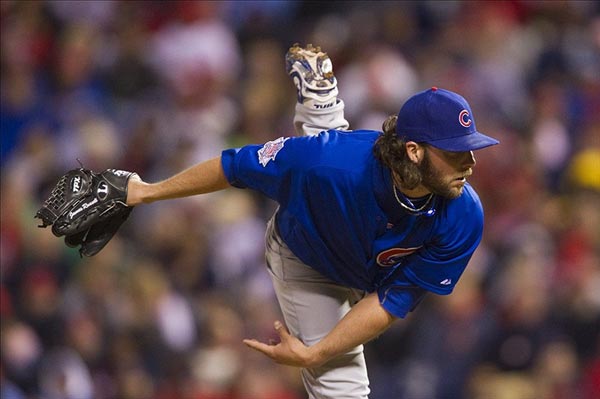 Chicago Cubs pitcher James Russell (40) delivers to the plate during the seventh inning against the Philadelphia Phillies at Citizens Bank Park. The Cubs defeated the Phillies 5-1. Photo Courtesy By: Howard Smith-US PRESSWIRE.
---
Relief Pitchers:
James Russell: The Cubs have had their shares of up's and down's from the bullpen this year, but one of the brightest spots has come from lefty James Russell as in 16 appearances he's recorded a 1.17 ERA. With Russell still young (26 years old), it seems like the Cubs might have just found their future lefty specialist.
Rafael Dolis: The other reliever that's been consistent for the Cubs all season has been Rafael Dolis as he's recorded a 3.52 ERA on the season and when the Cubs needed to fill the closer spot he was there to fill the position. Since taking over a few weeks ago, Dolis has recorded 4 saves and it looks like the Cubs might have found another quality reliever.
Nate Jones: The White Sox have a lot of veterans relievers (Crain and Thornton) to go along with a few young relievers who were expected to come in and have a significant effect on their bullpen (Stewart, Reed, and Santiago. The one player they weren't counting on was Nate Jones whose been the team's best reliever (recording a 1.59 ERA) all season long. Jones has been a very pleasant surprise out of the White Sox bullpen and has the capability of becoming a reliable reliever in the future.
Addison Reed: When you look at his ERA, it seems like Addison Reed's had a pretty bad season (4.76 ERA), but if you look closer, he's actually been the Sox best pitcher all season long. He hasn't allowed a run in 14 of his 15 appearances and it seems like he'll be the Sox future closer.
---
What do you think?
We'd love to hear your comments and/or opinions. If you submit them here, other visitors can read them, rate them and comment on them. An e-mail address is not required.
---
From 2012 All Chicago MLB Roster to MLB Baseball Blog | Sports Blog | NFL Football Blog | NCAA Football Blog | NFL Football Archives | College Football Archives | College Baseball Blog | MLB Baseball Archives | NBA Basketball Blog | NCAA Basketball Blog | NBA Basketball Archives | NCAA Basketball Archives | Fantasy Football | Fantasy Basketball | Fantasy Baseball | Soccer Archives | Olympics Archives | Stupid Athletes Archives | Other Archives | Football Forum | Basketball Forum | Baseball Forum | NFL Football Store | NBA Basketball Store | MLB Baseball Store | NCAA Football Store | NCAA Basketball Store | NCAA Baseball Store | Fatheads | NFL Football Tickets | NBA Basketball Tickets | MLB Baseball Tickets | NCAA Football Tickets | NCAA Basketball Tickets | NCAA Baseball Tickets |
---
Home Page
About Us | Contact Us | Site Search | Advertise | Terms of Use |
---