2011 MLB Winter Meetings Preview
By Paul Grossinger
Baseball's Winter Meetings, the traditional height of MLB Free Agency, are coming this week. It's a very interesting free agency class with lots of potential signings coming up, so there should be some good intrigue on that front. There are also a lot of top shelf players on the trade block. So, let's take a look at some of the hot baseball topics that might be sorted at the Winter Meetings:
Matt Garza: The rumors are rampant: Garza is as good as gone. Cub's management wants to invest in low cost, high reward signings and restock the club's farm system. Signing David DeJesus, an underrated fielder with a high on-base-percentage who came cheap after a bad year, was the first step in that direction. Garza is the Cub's best player but, at 28, his prime will come during a rebuilding period and the team badly needs the prospects that will come back in a trade. The rumors have him going to the Yankees, Red Sox, or Rangers. Two out of the box ideas: Trade him to the Reds for 1B Yonder Alonso and C YasmaniGrandal. It's painful to trade to a division rival but the Cubs need young, big bats and, while the price is steep, both of the top Reds prospects are blocked by better players within the organization (Joey Votto and Devin Morasico). Or, getting even more creative: send him to the Yankees AND agree to take back A.J. Burnett (who the Yankees hate but have to play right now) in exchange for prospects Jesus Montero and Manny Banuelos. That is a steep price for the Yankees but, to solve their top shelf pitching problem and get rid of their biggest headache at the same time, I think they would pull the trigger.
Albert Pujols: Recent history's greatest player is dogged by signs of early decline and concerns that he is actually older than 31. If that is true, signing him for 9 years and over 200 million would be suicidal, which explains the tepid market for his services. Expect him to return to St. Louis: no one will pay the 250 million dollar premium needed to steal him from the Cardinals.
Prince Fielder: Four (or more) years younger than Pujols, Fielder is getting all the love from those teams who want peak production. At 27, Fielder will get his eight year deal from someone. Despite interest from many quarters, the Cubs are the only big market team with the resources and positional hole to sign him. But, he is likely to end up with the Nationals who think (with good reason I should add) that they are a top pitcher and big left-handed bat away from years of contention and a potential dynasty. Indeed, the thought of a Fielder-Harper-Zimmerman combination in the lineup is very scary for every other National League team.
Mark Buerhle: As a native Chicagoan, the idea of Buerhle's departure is very strange - but it's happening. He won't take the PR hit and go to the Cubs (too much of a class act) and the Sox won't pay him (inexplicable, even if you are rebuilding you keep the soul of your team to prevent a fan exodus). Most experts think he ends up a Miami Marlin but I just don't see it, I think he will likely end up a Washington National. The Nationals are ready to contend (with a few additions, Buerhle among them), willing to spend, and loaded with superstar talent.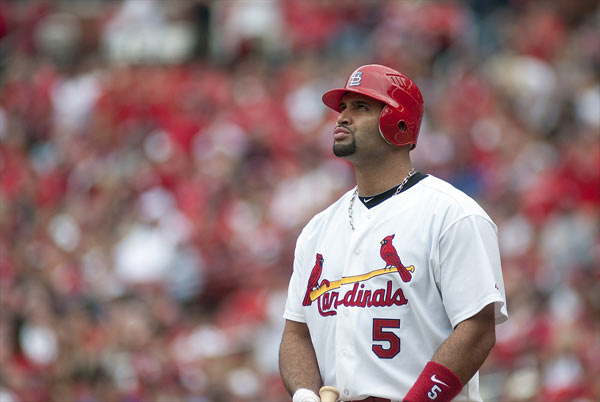 2011 St. Louis Cardinals first baseman Albert Pujols (5) coming up to bat. The St. Louis Cardinals defeated the Chicago Cubs 3-2 in the final game of a three-game series on Sunday September 25, 2011 at Busch Stadium in downtown St. Louis. It was also the final regular season home game for the Cardinals, and possibly the last game that first baseman Albert Pujols will play as a Cardinal.
---
Jose Reyes: He is the most complete hitter on the free agent market but interest is tepid. Primarily, that is due to his injury history and Alfonso Soriano's bad contract in 2006; there is a lot of interest at 5 years and 90 million but few teams are willing to guarantee six years and 100+ million. The Giants and Braves are his best fits but they are penny pinching. Chances are, he ends up with the Mets when they match a 5 year; 90 million offer from the Marlins to keep their franchise player.
Yu Darvish: The enigmatic Japanese sensation is not likely to be posted until after the winter meetings.
YoenisCespedes: Baseball's newest Cuban defector, the talented, five-tool outfielder, is still working out residency issues in the Dominican Republic. When he sorts those out, many teams will clamor for his services but the Yankees, who need another young bat alongside Cano, Montero, and Granderson, will likely outbid others and sign him. If that does not happen, teams like the Tigers (always the free agency wild card), Blue Jays (money to spend and an eye for talent), and Marlins (they need talent and have a large Cuban fan base) could get involved.
Top Relievers: They will all get paid. Now that teams don't forfeit picks to sign closers, the game is on and every one of them will get a decent contract. Expect Francisco Cordero to end up in Boston (just a hunch) and Ryan Madsen to go to Toronto.
---
What do you think?
We'd love to hear your comments and/or opinions. If you submit them here, other visitors can read them, rate them and comment on them. An e-mail address is not required.
---
From 2011 MLB Winter Meetings Preview to MLB Baseball Blog | Sports Blog | NFL Football Blog | NCAA Football Blog | NFL Football Archives | College Football Archives | College Baseball Blog | MLB Baseball Archives | NBA Basketball Blog | NCAA Basketball Blog | NBA Basketball Archives | NCAA Basketball Archives | Fantasy Football | Fantasy Basketball | Fantasy Baseball | Soccer Archives | Olympics Archives | Stupid Athletes Archives | Other Archives | Football Forum | Basketball Forum | Baseball Forum | NFL Football Store | NBA Basketball Store | MLB Baseball Store | NCAA Football Store | NCAA Basketball Store | NCAA Baseball Store | Fatheads | NFL Football Tickets | NBA Basketball Tickets | MLB Baseball Tickets | NCAA Football Tickets | NCAA Basketball Tickets | NCAA Baseball Tickets |
---
Home Page
About Us | Contact Us | Site Search | Advertise | Terms of Use |
---