Ladies and gentlemen, baseball free agency is upon us. The last true free for all in American sports, baseball's free agency presents an excellent opportunity for teams near contention (and sometimes a bit further away) to grab a player who can help them get over the hump. Below is a list of the top free agents by position, some bargains at each position, and which teams would be advised to take a look at each player. Also please note that there are a number of players who are technically free agents including SS Jose Reyes, SS Jimmy Rollins, 3B Aramis Ramirez, and DH Vladimir Guerrero whose names did not make this list because their 2011 options are guaranteed to be picked up. So, without further ado….
Buy This Allposters.com
Derrek Lee, Braves: Lee turned in an excellent year in 2009 but slumped terribly last season and, at 35, that is a bad sign. However, he still plays good defense and hits so, if he approaches his 2009 numbers, he would be a great pickup.
Second Basemen:
The Best of the Bunch:
Jose Lopez, Mariners: Lopez could rebound to his numbers from a few years ago and be a solid player at the position. Look for Seattle to retain him or another team to take a chance on him for a relatively small deal.
Potential Bargains:
Orlando Hudson, Twins: Hudson would serve as a decent stopgap for most teams on a one year deal….and that's about it. This is one of the weakest markets for second basemen in recent memory.
Shortstops:
The Best of the Bunch:
Derek Jeter, Yankees: The Yankees icon is one of the most complicated free agency cases ever. Jeter is one of the top five Yankees ever, has won five titles in pinstripes including a couple as team captain, and is a surefire hall of famer who serves as the soul of the team. However, he has limited value on the field and, by metric terms, will need to be well overpaid. Nonetheless, expect the Yankees to resign him on a shorter deal for good money….maybe 2 years; 30 million….to see him through the end of his career.
Alex Gonzalez, Braves: Gonzales is an ageing journeyman but he still hits for decent average and power and is an above average fielder. He will serve as a good pickup for a contending team in need of a shortstop. Expect the Braves to retain him or, if the Yankees lose Jeter, expect to see him in pinstripes.
Potential Bargains:
Orlando Cabrera, Reds: The consummate professional, Cabrera is always underrated and under-pursued. Expect him to be retained by the Reds or signed by a savvy team needing a veteran leader at the position in order to contend.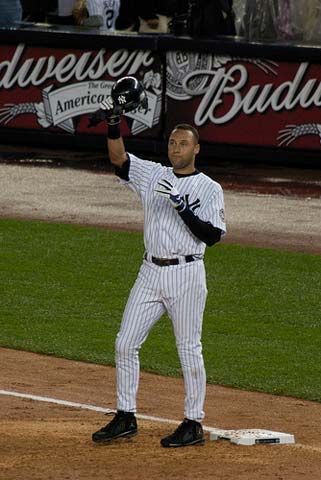 Derek Jeter saluting the crowd after becoming the all-time Yankees hits leader.
Thanks to chris.ptacek at flickr.com for this photo.
---
Third Basemen:
The Best of the Bunch:
Adrian Beltre, Red Sox: Beltre had the second MVP caliber season of his career and it is no coincidence that the first came before he landed his massive deal with Seattle in 2005. However, while his offense has been inconsistent the last few years, Beltre's fielding is the best in the game at his position. The Red Sox will try and retain him for the right price, but teams with hitters' parks should all look at Beltre. The Rangers, Angels (who have a spacious park but desperately need a first baseman), and Dodgers should all look at him. Don't sleep on the Cubs either: Chicago's underachievers could look at Beltre for the right price because Wrigley is a top hitters park and move the oft injured Aramis Ramirez to first base; a move that would improve their infield defense and possibly add to their offensive firepower as well. Beltre is also the only decent player available at the hot corner position, so he will get his money.
Potential Bargains:
Brandon Inge, Tigers: A useful rotation player who can stopgap at either third base or catcher and will come at a low price.
Jorge Cantu, Rangers: Cantu is a good rotation player who hits for decent power and average. Expect the Rangers to retain him for a fair price.
Catchers:
The Best of the Bunch:
Victor Martinez, Red Sox: Martinez is one of the top hitting catchers in the business but his actual catching leaves much to be desired. Nonetheless, he is a difference maker in a lineup and the Red Sox will look to keep him as a catcher and designated hitter. If Boston lets him go, expect the Angels or possibly the Rangers to pounce on him.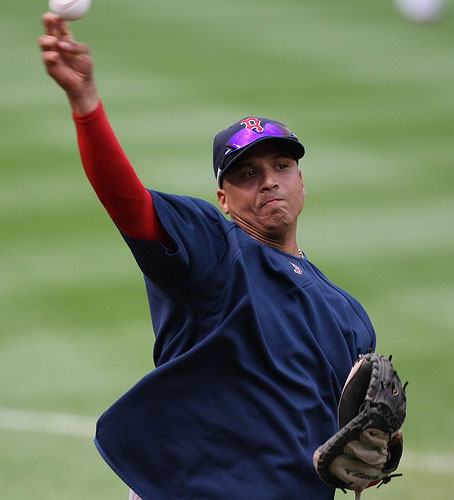 Victor Martinez.
Thanks to Keith Allison at flickr.com for this photo.
---
Potential Bargains:
A.J. Pierzynski, White Sox: The Sox catcher is old and had a terrible season but he is always a good player to have in the clubhouse and he could turn in a good 2011 year if he hits a decent average. Look for teams without a catcher to see him as a useful stopgap.
Ramon Hernandez, Reds: His best days are behind him but Hernandez could still be a useful stopgap for a good team in need of a catcher. He will have a lot of suitors if the price stays low.
Outfielders:
The Best of the Bunch:
Carl Crawford, Rays: Crawford's inevitable departure will hurt the Rays but they have Desmond Jennings waiting in line to replace him. Crawford will be pursued heavily by teams in both leagues because he is a gold glove defender in center field but teams would be wary of paying out huge free agent dollars to a speedster who will be in his late 30s at the end of the contract. Nonetheless Crawford's versatility at the plate and defense make him a better bet that most. Expect the Yankees, Red Sox, and Angels to lead the bidding and one of them will sign him.
Jayson Werth, Phillies: The 31 year old Werth is the ideal consolation prize to the power trio member that misses out on Crawford. He hits for average, power, and has both speed and defense; but his age and injury concerns will constrain his payday. Expect the Yankees and Red Sox to take a long look at him, but my bet is that he ends up in an Angels uniform patrolling right field.
Brad Hawpe, Rockies: Hawpe is an underrated player who flies under the radar. His power, average, and defense are all at least decent so expect the Rockies to try and retain him but a lot of teams have needs in the outfield. He will be the guy that everyone at ESPN forgets to mention but actually gets a great deal.
Potential Bargains:
Andruw Jones, White Sox: He had a great start to the year but looked washed up after June. Still, he could surprise: the gold glove defender is still there somewhere since he is only 32.
Scott Podsednik, Dodgers: An ageing but still effective speedster who can hit at the top of an order. Look for a bad team to pick him up, like the Royals did, to instill some professionalism in their roster.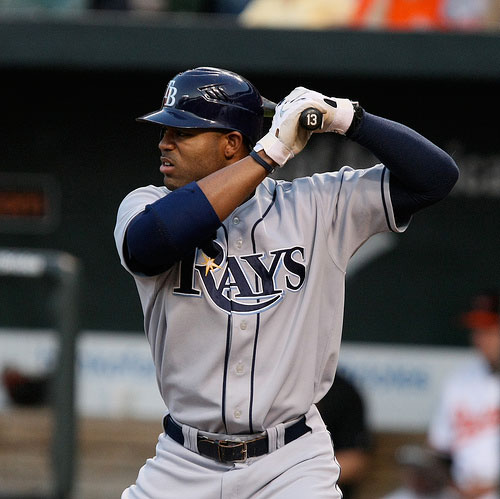 Carl Crawford.
Thanks to Keith Allison at flickr.com for this photo.
---
Starting Pitchers:
The Best of the Bunch:
Cliff Lee, Rangers: The best starting pitcher in the class, he is still the ace of a staff at 32 and one of the best postseason pitchers in history. Signing him to a massive and long deal is risky because he is older and has an injury history but he has proven to be a difference maker for both the Phillies and Rangers. The Yankees should be his primary suitors because they are a top pitcher away from being the best team in baseball but the Angels and Rangers should pursue him as well.
Brandon Webb, Diamondbacks: Webb is the forgotten man: he has not pitched in a major league game in almost two seasons and has been getting little press in the lead-up to free agency. However, Webb was the best pitcher in the NL as recently as 2008 and, after two years rehabbing, should be fully recovered from his injuries. He is a risky but very strong investment because he will come at a much lower price than Lee and could provide a similar return. His list of suitors should also be large: the Yankees would be advised to lead the bidding for him as well (pairing him with Lee and Sabathia would be the best pitching group in the league) but the Angels, Red Sox, Rangers, Dodgers, and Cubs (who could use a leader on the pitching staff) should vie for his services as well.
Jorge De la Rosa, Rockies: The hard throwing Colorado product is still young and a good addition to the middle of any rotation. He will likely command a multi-year deal around ten million and a large portion of the league will be interested.
Potential Bargain Returns:
Carl Pavano, Twins: Pavano loves the Twins and had an excellent year in Minnesota after having a horrible Yankees tenure. Pavano will likely return to Minnesota for a fair price since it is the one place he has enjoyed great success.
Jake Westbrook, Cardinals: Westbrook is a capable end of the rotation starter who can round out a pitching group. Expect a lot of the leagues' teams to be interested if the price is right; especially because the Cardinals are strapped for cash.
Ben Sheets, Athletics: Sheets has the potential to be dominant on any given night and, one more year removed from surgery, the bet is that he will prove very effective. However, he is also one of the most injury prone players in the sport so teams will temper their expectations….and their offers.
Relief Pitchers:
Best of the Bunch:
Mariano Rivera, Yankees: Rivera is the best closer of all time and a Yankees icon. Expect him to be resigned since, unlike Jeter, he remains extremely effective.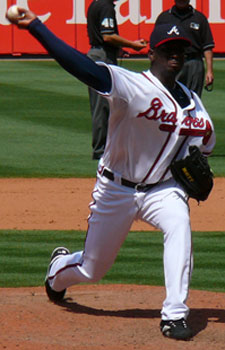 Rafael Soriano pitching for the Braves. Thanks to
Chrisjnelson at wikipedia.org for this photo.
Rafael Soriano, Rays: Soriano is the best closer who is really on the open market and the Rays are unlikely to be able to afford him. He has injury concerns but expect teams to make a strong push and the money is on the Angels to land him to replace the inconsistent Fernando Rodney.
Matt Thornton, White Sox: One of the top setup man in the sport, Thornton might be retained but, if he is not, look for the Yankees, Angels, Red Sox, and Rangers to bid over him. The Cubs might also take a look: he would be a great long term investment next to Carlos Marmol.
Brian Fuentes, Twins: Fuentes had a rocky tenure in Anaheim and Colorado, but he was excellent for the Twins and remains a capable closer. Expect clubs who lose out on Soriano to fight over him.
Potential Bargains:
Frank Francisco, Rangers: Francisco lost the closer job to Neftali Felix in Texas but he remains a capable and experienced 9th inning starter.
Chad Qualls, Rays: Qualls is young but he had an absolutely horrible season. He is a risk but will come at a bargain price.
J.J. Putz, White Sox: Putz had a great year for the White Sox but he is ageing and memories of his big money Mets deal a couple years ago will give teams pause.
Kevin Gregg, Blue Jays: Gregg is a useful stopgap as a closer and really a setup relief man and will be paid as such.
Kerry Wood, Yankees: The biggest risk/reward player at the position, Wood is a shutdown pitcher when he is healthy….but his healthy moments are few and far between.
---
---
What do you think?
We'd love to hear your comments and/or opinions. If you submit them here, other visitors can read them, rate them and comment on them. An e-mail address is not required.
What Other Visitors Have Said
Click below to see contributions from other visitors to this page...

Adrian Beltre Not rated yet
I think that the way Adrian Beltre is conducting himself during free agency is putrid. Twice in two years Beltre has used the Oakland Athletics for leverage …
---
From 2011 MLB Free Agency to MLB Baseball Blog | Sports Blog | NFL Football Blog | NCAA Football Blog | College Baseball Blog | NBA Basketball Blog | NCAA Basketball Blog |
---
Home Page
About Us | Contact Us | Site Search | Advertise | Terms of Use |
---