2011 March Madness Round of 32 Recap
Well it was a wild and thrilling weekend of March Madness. Upsets abounded and top teams made exits across the bracket. Of course, with those upsets came a price: my bracket was completely destroyed. Everyone, please raise your hands if your bracket was also destroyed! A lot of hands in a lot of living rooms across America just launched skyward.
Still, that is the beauty of March Madness. Even when you use high level statistical rankings, category performance comparisons, matchup analysis, and more, you can't have a perfect bracket. Sometimes that stuff hurts you: no matchup predictor I saw put VCU past Purdue or Marquette past Syracuse. Indeed, one of my best brackets ever was my first: I was twelve years old, had no idea what I was doing, and filled out a bracket for a gym class activity. Since I had no clue what I was doing, I, "nailed a lot of upsets" (to use my coaches' phraseology) and won the class pool.
But, even with my bracket destroyed, I'm still excited to watch the rest of March Madness. The brackets are fun but, really, it's still about the games. Knowing that, here is a brief recap of the weekend's Round of 32 and a look at some of the potential matchups to come next week:
Kansas (1) def. Illinois (9) 73-59: Illinois did well to win its first round matchup for the first time in four years but the Illini were simply outclassed here and it showed.
Richmond (12) def. Morehead State (13) 65-48: The battle between the under-seeded first round upset kings proved to be pretty underwhelming.
VCU (11) def. Purdue (3) 94-76: This was the most surprising, strangest game of the tournament. Purdue was supposed to outclass and outmuscle little VCU but the opposite was true: not only did VCU come out on top, it wasn't even close. Purdue will have to lick its wounds and try to come back next year but this defeat should leave a bitter taste in the mouths of Purdue fans everywhere.
Florida State (10) def. Notre Dame (2) 71-57: If VCU hadn't smacked Purdue, this would have been the tournament's biggest upset by far. But there were at least some hints that this might happen: Florida State has the nation's tenth best defense (statistically-in the real world its probably top five) and has played outstanding ball so far in the tournament. For all their strengths, Notre Dame was a defense-averse offensive team and this was a very bad matchup for them. Still, no one can claim this result is anything but surprising.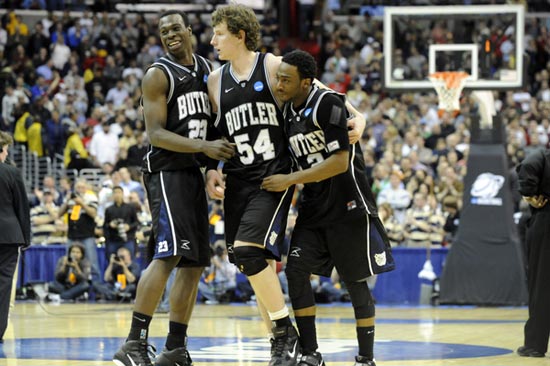 19 March 2011: Butler Bulldogs forward Khyle Marshall (23), forward Matt Howard (54) and guard Shawn Vanzant (2) celebrate
after the Butler Bulldogs defeated the Pittsburgh Panthers 71-70 at the Verizon Center in Washington, DC.
---
Butler (8) def. Pittsburg (1) 71-70: Last year's Cinderella seems to be at it again. This was another spectacular upset, which shows the general weakness of the collective tourney field. Of course, Pittsburg was not blown out and embarrassed like Notre Dame and Purdue; if they hadn't committed one poor foul at the end of the game then Pitt would likely have advanced.
Wisconsin (4) def. Kansas State (5) 70-65: Wisconsin's prolific offense continues to roll along in this tournament….and be punctuated by some good defense as well. That is a very dangerous combination.
BYU (3) def. Gonzaga (11) 89-71: This was not exactly a surprise but BYU looks awfully good for a team without a post presence….could they be good enough to win this whole tournament?
Florida (2) def. UCLA (7) 73-65: Now UCLA and Michigan State have both been eliminated. Please go home, lick your wounds, and get better for the sake of the sport. Meanwhile, Florida continues to be my sleeper team.
Ohio State (1) def. George Mason (8) 98-66: Absolutely dominant.
Kentucky (4) def. West Virginia 71-63: A very solid win punctuated by an electric performance from Brandon Knight. But can they really get past an Ohio State team that has made its first two opponents look like middle school squads?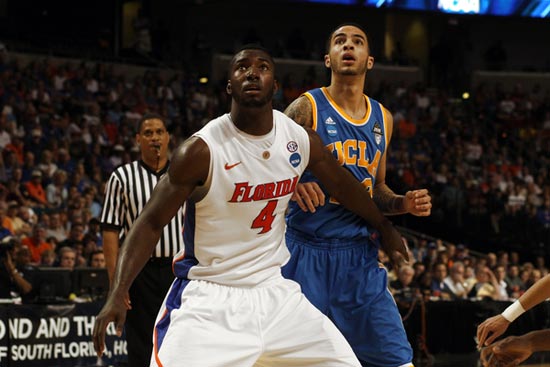 19 March 2011: Forward/Center Patric Young (4) of the Florida Gators boxes out UCLA (23) Tyler Honeycutt at the
St Pete Times Forum in Tampa, FL.
---
Marquette (11) def. Syracuse (3) 66-62: The only major upset in the bracket. This should make things easier for North Carolina…..but Marquette is a notorious wild card.
North Carolina (2) def. Washington (7) 86-83: A statistical rankings sleeper, Washington gave North Carolina all it could handle. But North Carolina and its phenomenon freshman Harrison Barnes are peaking at the right time.
Duke (1) def. Michigan (8) 73-71: I was really cheering on my beloved Wolverines….and they almost won. This was too close for comfort for a Duke team expected to dominate.
Arizona (5) def. Texas (4) 70-69: This was technically an upset, but are you really surprised? Rick Barnes and Texas have a terrible tournament record and they could never overcome an atrocious start to this game.
UConn (3) def. Cincy (6) 69-58: Expected. UConn is now the tournament's hottest team.
SDSU (2) def. Temple (7) 71-64: This was a LOT closer than the final score indicates. SDSU barely survived two OTs and now they get red-hot UConn.
That's all folks. Check back for my Sweet Sixteen recaps next week-it should be a very exciting rest of the tournament!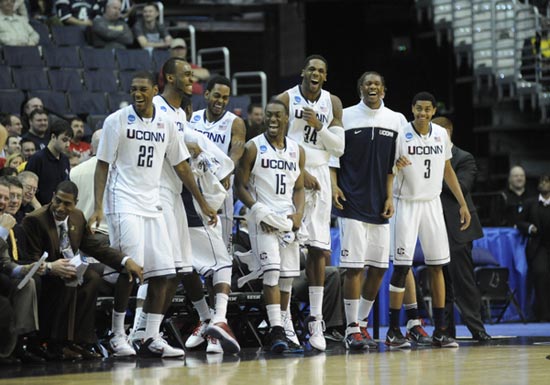 UConn celebrates the win during in their second round game of the NCAA Division I Men's Basketball Championship
at the Verizon Center in Washington, DC.
---
---
What do you think?
We'd love to hear your comments and/or opinions. If you submit them here, other visitors can read them, rate them and comment on them. An e-mail address is not required.
---
From 2011 March Madness Round of 32 Recap to NCAA Basketball Blog | Sports Blog | NFL Football Blog | NCAA Football Blog | NFL Football Archives | College Football Archives | MLB Baseball Blog | College Baseball Blog | MLB Baseball Archives | NBA Basketball Blog | NBA Basketball Archives | NCAA Basketball Archives | Fantasy Football | Fantasy Basketball | Fantasy Baseball | Soccer Archives | Olympics Archives | Stupid Athletes Archives | Other Archives | Football Forum | Basketball Forum | Baseball Forum | NFL Football Store | NBA Basketball Store | MLB Baseball Store | NCAA Football Store | NCAA Basketball Store | NCAA Baseball Store | Fatheads | NFL Football Tickets | NBA Basketball Tickets | MLB Baseball Tickets | NCAA Football Tickets | NCAA Basketball Tickets | NCAA Baseball Tickets |
---
Home Page
About Us | Contact Us | Site Search | Advertise | Terms of Use |
---