2011 March Madness First Round Review
It may be one of the least talented tourneys in recent memory but March Madness 2011 is also one of the most surprising and exciting. Anyone tuning into the plethora of games was likely to witness at least one upset special. There were some truly great keynote moments-tearjerkers for those inclined towards watery eyes-when Morehead State eked by powerhouse Louisville at the buzzer and Richmond took out Vanderbilt. At the same time, upset enthusiasts hoping that Princeton would shock Kentucky or Utah State would exceed expectations were sorely disappointed. All in all, it was a topsy-turvy, surprising, and ultra-fun addition of America's favorite tournament. Let's take a quick look at the results and what they each mean for the rest of the tournament. Of course, many games proceeded just as expected so interesting results and true upsets are bolded for easy readability:
Kansas (1) def. Boston University (16) 72-53: No shocker there.
Richmond (12) def. Vanderbilt (5) 69-66: This was a true upset. However, many people, myself included, called this one for a few different reasons. First, 12 seeds have historically fared surprisingly well against 5 seeds, which is a result of what each respective seeding means: there is often little difference between a 5 seed and a 7 or 8 whereas 12 seeds often feel disrespected for one reason or another. In this case, Richmond was a tough mid-major with an excellent record and Vanderbilt was over-seeded by the Selection Committee. Looking forward, Richmond will face Morehead State (more on that in a second) in the Round of 13.
Morehead State (13) def. Louisville (4) 62-61: This was a true shocker. Not a single person I knew predicted it (though I'm sure there is someone out there who made that crazy bracket call.) Nonetheless, it was a lot of fun to watch and you have to give a lot of credit to Morehead State for hanging in there and defeating the local powerhouse program. Of course, they will have to face fellow upset special winner Richmond in the next round (something of a pity really) and Kansas will likely await in the Sweet Sixteen.
Purdue (3) def. St. Peters (14) 65-43: As expected.
Florida State (10) def. Texas A&M 57-50: Technically, this was an upset based on seeding but it shouldn't have been a surprise. Florida State has the tenth best defense in the nation, statistically speaking. Of course, their offense is awful but that's why the final score was 57-50. Either way, FSU is unlikely to make it past Notre Dame in the next round.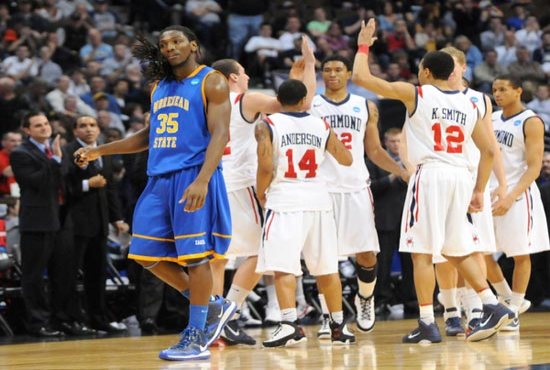 19 March 2011: Richmond players celebrate during the Richmond Spiders beat Morehead State 65-48 to advance to the Sweet 16 in their third round game at the Pepsi Center in Denver, Colorado.
---
Notre Dame (2) def. Akron (15) 69-56: No surprises here. Onward, Irishmen onward!
Pittsburg (1) def. UNC Ashville (16) 74-51: A bit of a scare for Pitt at first but, like the Ancient Gauls would say, 'the sky hasn't fallen on our heads yet.' Sorry, my inner geek is showing.

Butler (8) def. Old Dominion (9) 60-58: I had ODU but this one was a tossup from the beginning. Is more Butler magic on the way?
Kansas State (5) def. Utah State (12) 73-68: This one could have been bolded as an upset special but Kansas State held on till the final buzzer.
Wisconsin (4) def. Belmont (13) 72-58: Not exactly shocking.
VCU (11) def. Georgetown (6) 74-56: Well, it's tough to call this one an upset when VCU just trashed Georgetown. It was not even close. Georgetown was over-seeded to begin with but going out this way against VCU was pretty embarrassing. It's time to re-assess in the nation's capitol….and not just the nation's budget.
Illinois (9) def. UNLV 73-64: Bruce Webber's Illini were the more experienced and veteran team. But, even though they won this round, they don't have much of a shot against Kansas this weekend.
Gonzaga (11) def. St. Johns (6) 86-71: Everyone was excited to see the St. Johns program resuscitated this year and that may have led to over-seeding. They were highly streaky whereas Gonzaga was rock solid, underseeded as an 11, and quite experienced. Looking forward, 'Zaga has a decent shot against a BYU team that remains weak inside after center Brandon Davies' removal from the team.

BYU (3) def. Wofford (14) 74-66: A bit close for comfort.
UCLA (7) def. Michigan State (10) 78-76: A battle between two heavyweight programs going through very poor years. I actually thought it was very exciting to watch and I expect the Michigan State Spartans to be back with a vengeance next season.
Florida (2) def. UCSB (15): 79-51: Are you shocked?
Syracuse (3) def. Indiana State (14) 77-60: Another snoozer.
Washington (7) def. Georgia (10) 68-65: These two teams were well matched and it came down to the wire but, in the end, the better team won. Interestingly, Washington is a top 15 team nationally according to a number of statistical metrics, so we will see how well they perform against North Carolina this weekend.

Ohio State (1) def. UTSA (16) 75-46: Refreshingly dominant.
George Mason (8) def. Villanova (9): 61-57: A lot of people see George Mason making another run and busting plenty of brackets. But do they really have enough firepower to challenge Ohio State in the next round?
West Virginia (5) def. Clemson (12) 84-76: Not very surprising.
Kentucky (4) def. Princeton (13) 59-57: A lot of people were rooting for the Princeton Preppies to take out the Kentucky Ineligibles (wait, I said that out loud?) But it was not to be. Kentucky looked horrible but give credit to Brandon Knight: he played an awful game until the final minute then went to the hoop and sealed the deal. Cold as ice and, if you're an NBA GM, you have to like what you see. But if Kentucky plays like that they will have no chance against Ohio State in a potential Sweet Sixteen matchup.
Marquette (11) def. Xavier (6) 66-55: Marquette is always a dangerous wildcard. Remember the team Dwayne Wade led on a roll back in 2003?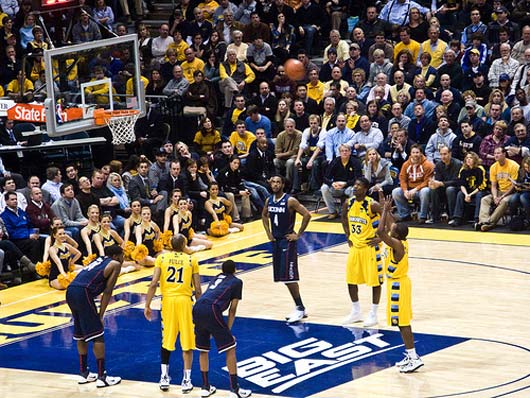 Thanks to Eyton Z from Flikr.com for this great picture of Marquette basketball.
---
North Carolina (2) def. LIU-Brook (15) 102-87: Is it a concern that they let LIU-Brook score 87 points?
Duke (1) def. Hampton (16) 87-45: Absolutely dominant.
Michigan (8) def. Tennessee (9) 75-45: A surprisingly dominant win. Are we going to call this group the new Fab Five? Just kidding…but who knows. Its March Madness after all; anything can happen.
Arizona (5) def. Memphis (12) 77-75: Not a surprising win but Memphis hung tough. After John Calipari's exit and sanctions, it looks like Memphis is on the verge of a return to March contention beginning next season. In the meantime, Arizona earned a match against defensive powerhouse Texas.
Texas (4) def. Oakland (13) 85-81: That was a bit close for comfort.
Cincy (6) def. Missouri (11) 78-63: Not a surprise.
Connecticut (3) def. Bucknell (14) 81-52: I love this Connecticut team. They are red hot and could go on a deep run in this tournament. Watch out.
Temple (7) def. Penn State (10) 66-64: Not a surprise.

San Diego State (2) def. North Colorado (15) 68-50: I love this SDSU team too. They are a very intriguing matchup against UConn in the Sweet Sixteen if both teams make it that far.
That's the whole list. Look back for a recap of the next round in a couple days time….it'll be up on the site. Until then, enjoy the Madness!!
---
What do you think?
We'd love to hear your comments and/or opinions. If you submit them here, other visitors can read them, rate them and comment on them. An e-mail address is not required.
---
From 2011 March Madness First Round Review to NCAA Basketball Blog | Sports Blog | NFL Football Blog | NCAA Football Blog | NFL Football Archives | College Football Archives | MLB Baseball Blog | College Baseball Blog | MLB Baseball Archives | NBA Basketball Blog | NBA Basketball Archives | NCAA Basketball Archives | Fantasy Football | Fantasy Basketball | Fantasy Baseball | Soccer Archives | Olympics Archives | Stupid Athletes Archives | Other Archives | Football Forum | Basketball Forum | Baseball Forum | NFL Football Store | NBA Basketball Store | MLB Baseball Store | NCAA Football Store | NCAA Basketball Store | NCAA Baseball Store | Fatheads | NFL Football Tickets | NBA Basketball Tickets | MLB Baseball Tickets | NCAA Football Tickets | NCAA Basketball Tickets | NCAA Baseball Tickets |
---
Home Page
About Us | Contact Us | Site Search | Advertise | Terms of Use |
---