2011 March Madness Elite Eight Review
It would sound trite to say that "this round was full of upsets" because every round of this tournament has brought very surprising results. The 2011 NCAA Tournament has been the most unpredictable in recent memory. These upsets were foreshadowed by the parity exposed at conference tournaments, the Selection Committee's difficulty seeding similar teams, and the presence of dangerous mid-majors in a weak tourney field. That said, absolutely no one expected these types of massive upsets in each and every round. Let's take a closer look at the results from this year's NCAA Elite Eight:
VCU (11) def. Kansas (1) 71-61:
VCU's shocking upset instantly ranks as the biggest surprise of the 2011 tournament. But what was most surprising was their ease of victory: VCU led the entire game and never seemed in danger of losing the contest. Not once. Every time Kansas cut into the lead, VCU ferociously struck back and extended it again. By the end, the Kansas Jayhawks were eliminated 71-61 and VCU was into the NCAA Final Four. They defeated the Jayhawks so thoroughly with a lethal combination of speed, offensive firepower, and an uncanny ability to get defensive stops when they mattered. By denying Kansas any momentum all game, VCU prevented the Jayhawks' stars from getting into a rhythm and ran away with the victory.
Butler (8) def. Florida (2) 74-71:
Although still a massive upset, this matchup proved much closer than Kansas' loss to VCU. Florida brought their 3-2 offensive attack and patented defensive zone to the game and seemed in control all the way through half of the second period. However, Butler began to chip away at Florida's lead midway through the final period and, seeing their lead grow smaller, the Gator's tightened up. This allowed Butler's stars Shelvin Mack and Matt Howard to get very involved and eventually Butler took the lead. After a Matt Howard steal with less than a minute remaining, Butler sealed the deal. Back in the final four, Butler can look forward to a matchup with fellow upset kings VCU.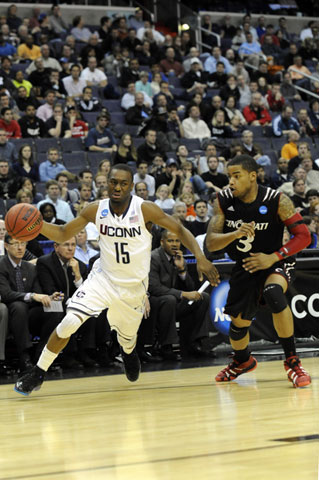 Connecticut Huskies guard Kemba Walker (15) in action against Cincinnati Bearcats guard Dion Dixon (3) at the Verizon Center in Washington, DC.
---
Connecticut (3) def. Arizona (5) 65-63:
Amidst all of the shocking upsets that have wracked my bracket this year, I can take solace in one of my picks: I picked Connecticut to make the NCAA Final Four. Connecticut was the hottest team in college basketball when the tournament began and, four games later, they are still the hottest team in the tournament. Against Arizona, star guard Kemba Walker played forty minutes and was a critical reason for the school's victory but Connecticut also got contributions from across the roster. Arizona also played well but missed Derrick Williams due to foul trouble and was ultimately unable to defeat the Huskies. Looking forward, Connecticut has a good shot to continue winning and take home another NCAA National Title.
Kentucky (4) def. North Carolina (3) 76-69:
We knew it going in: Kentucky was the most talented team in the 2011 NCAA Tournament. Lethal scoring guard Brandon Knight, guard Doron Lamb, and forward Terrence Jones all have the natural ability to play-and maybe even star-at the professional level. However, if Kentucky was the most talented team in the NCAA tournament, North Carolina was a close second. Star forward Harrison Barnes is considered the best player in this year's NBA draft and center Tyler Zeller and forward John Henson also have a professional future. All of that made for a very intriguing matchup.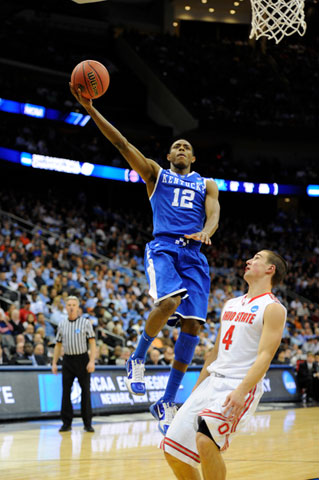 March 25, 2011: Guard (12) Brandon Knight of the Kentucky Wildcats goes up for the layup versus Ohio during Sweet Sixteen game at the Prudential Center in Newark, NJ.
---
Thankfully, this one was not a blowout….though it was not as close as fans might have hoped for. Kentucky guard Brandon Knight again proved himself to be a lethal scorer. His twenty two points, seven rebounds, four assists, and three steals looks impressive on paper but it was far, far more interesting to watch. North Carolina never figured out how to isolate and guard Knight effectively and he destroyed them throughout the game. Down eleven points with only a few minutes to go, North Carolina briefly showed signs of life but then Knight sank another jumper and the Tar Heels ran out of gas. In that moment, Kentucky clinched its first NCAA Final Four appearance in 13 years, which shows both how far college basketball's most storied program had fallen and how far back it has come.
---
What do you think?
We'd love to hear your comments and/or opinions. If you submit them here, other visitors can read them, rate them and comment on them. An e-mail address is not required.
---
From 2011 March Madness Elite Eight Review to NCAA Basketball Blog | Sports Blog | NFL Football Blog | NCAA Football Blog | NFL Football Archives | College Football Archives | MLB Baseball Blog | College Baseball Blog | MLB Baseball Archives | NBA Basketball Blog | NBA Basketball Archives | NCAA Basketball Archives | Fantasy Football | Fantasy Basketball | Fantasy Baseball | Soccer Archives | Olympics Archives | Stupid Athletes Archives | Other Archives | Football Forum | Basketball Forum | Baseball Forum | NFL Football Store | NBA Basketball Store | MLB Baseball Store | NCAA Football Store | NCAA Basketball Store | NCAA Baseball Store | Fatheads | NFL Football Tickets | NBA Basketball Tickets | MLB Baseball Tickets | NCAA Football Tickets | NCAA Basketball Tickets | NCAA Baseball Tickets |
---
Home Page
About Us | Contact Us | Site Search | Advertise | Terms of Use |
---