10 College Basketball Non-conference Games Not to Miss
By Dennis Berry

Every year people like to complain that there are no good early season matchups to get excited about. Perhaps to the non-college basketball fan, that is true. For true college basketball fans there are plenty of great non-conference games to look forward to.

Here are 10 games that you should not miss this year:
San Diego State at UCLA – December 1
Right now this game being a Top 10 must-see game is in jeopardy. The NCAA is still looking into UCLA's Kyle Anderson and Shabazz Muhammad and have not cleared them to play for the Bruins. If they are not a part of this game, it loses some shine. Let's go under the belief that they will be able to play, this is a big time test for a young Bruins team. The Aztecs will bring one of the best backcourt's in the nation with Jamaal Franklin and Chase Tapley. San Diego State will come into the game proving that while UCLA made headlines with their recruiting haul this summer, the Aztecs are the best team in California.

Florida at Arizona – December 15
This is a Top 15 matchup in which both teams will want to prove a point. If Arizona wants to prove that this year they are serious contenders in the PAC-12, they will get their first chance when they host Florida. The Gators want to show that they still have what it takes to make a deep run in Match. This will be a rematch from last season when the Gators won 78-72 in overtime in Gainesville. Both teams are loaded with front court players, but the Gators have the edge in experience with Patrick Young and Erik Murphy.

Kansas at Ohio State – December 22
Another Top 10 rematch from last year will take place in Columbus. Last year Kansas handed Ohio State its first loss of the season. This time around a very young Kansas team will be making its first road trip of the year to Columbus. How will the young Jayhawks – 7 true freshmen, 2 redshirt freshmen, 2 sophomores, with 6 upperclassmen – handle their first true road game after playing six games in Lawerence and four more at neutral sites? While the Buckeyes lost key players, they still have Aaron Craft and DeShaun Thomas to lead them.

Louisville at Memphis – December 15
With Memphis set to join the Big East, these old rivals will face off as non-conference opponents – that is until Louisville bolts for another conference. This time both teams are ranked in the Top 20 in the Coaches Preseason Poll – Louisville second, Memphis 176h. There are plenty of matchups to get excited about in this one: Shaq Goodwin battling Chane Behanan or Adonis Thomas versus Gorgui Dieng in the paint. The best though will be at guard with Joe Jackson going against Peyton Siva.

North Carolina State at Michigan – November 27
There is plenty of hype surrounding both North Carolina State and Michigan this season. Both teams are ranked in the Top 10 of most people's preseason polls – Michigan is 5th and NC State 6th in the coaches. The Wolfpack were voted to win the ACC this year, while the Wolverines are expected to challenge Ohio State for the Big Ten title. This matchup will be a great early season test for N.C. State as they travel to Ann Arbor in their fourth game of the season. Both teams have returning key players and great incoming freshmen that will make this matchup a great early season showdown.

Ohio State at Duke – November 28
This is rematch from last season's ACC/Big Ten Challenge. Last year the Blue Devils were no match for the Buckeyes losing 85-63 in Columbus. It would be a surprise if the Buckeyes are able to repeat their dominating performance in Cameron Indoor Stadium this time around. The Blue Devils and Cameron Crazies will be out for revenge this time around. The matchup to watch will be at point guard as Duke's Quinn Cook will go up against Ohio State's Aaron Craft.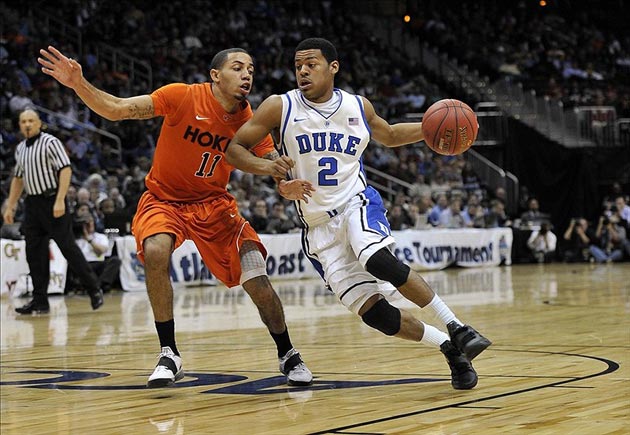 Kansas v Michigan State – (Champions Classic) November 13
While it may be considered the warm-up in the Champions Classic, the Kansas-Michigan State game is a matchup of college basketball powers. Kansas is coming off a run to the National Championship game last year in New Orleans, while Michigan State made it to the Sweet 16. This year both are ranked in the Top 15 in the Coaches' Preseason Poll – Kansas 7th, Michigan State 14th – and both are expected to compete for conference titles. Both teams are looking to replace key pieces from last season and both have national championship coaches–Bill Self and Tom Izzo –leading the way.

Kentucky v Duke – (Champions Classic) November 13
When you think Duke versus Kentucky, many think back to March 28, 1992 and Christian Leattner's game-winning shot to give Duke a 104-103 victory over Kentucky in the greatest basketball game ever played. Kentucky fans still feel that pain every time they see that shot replayed on television. They also look forward to a Kentucky-Duke matchup – and they have been rare since that game. Thanks to the Champions Classic, we get that Top 10 matchup this year in Atlanta. The highlight game of the Champions Classic pits the Blue Devils and Wildcats against each other for just the fourth time since that Elite Eight game in 1992.

North Carolina at Indiana – November 27
This game will have two of the all-time best basketball programs in the country. The Hoosiers are considered the favorites to win the 2013 NCAA title. Their first big test will come when they host the Tar Heels as part of the ACC/Big Ten challenge. The Hoosiers return all their key players from last season's Sweet 16 team. The Tar Heels have all their key pieces from last season's Elite Eight team, but don't count out the Tar Heels. The key players to watch will be Indiana's Cody Zeller and North Carolina's James McAdoo.

Kentucky at Louisville – December 29
This is one of the best rivalries in all of college basketball. Both teams are preseason Top 3 teams – Louisville is second, Kentucky third – and are expected to make another deep run in March. Each team is expected to win their conferences – Louisville in the Big East and Kentucky in the SEC. Plus this will be a rematch from last season's Final Four. Louisville will have revenge on their mind when Kentucky comes to town at the end of the calendar year. Louisville will have the experience edge – returning most of their key players from last year – and Kentucky will depend on another top recruiting class to lead them. Don't forget that two of the best coaches in the game – Rick Pitino and John Calipari – will be on the sidelines.


What do you think?
We'd love to hear your comments and/or opinions. If you submit them here, other visitors can read them, rate them and comment on them. An e-mail address is not required.