10 Bubble Teams to Watch As We Head Towards March Madness
By Dennis Berry

As we head towards the end of February that means that March Madness is right around the corner. We are just over a week away from the first conference tournaments starting and then the major conference right after that. There is still plenty of basketball left to play before we decide what teams will get into the "Big Dance."
 
With that in mind, here are 10 teams that are currently sitting on the bubble. The next two weeks will determine if they get a shot at a national championship in the NCAA Tournament or trying to get themselves up for the NIT.
Kentucky Wildcats
There was plenty of hype surrounding the Wildcats this season. Coming off the 2012 national championship, another top ranked recruiting class came into Lexington looking to continue their success. The season has not gone the way John Calipari had hoped, but there is still time to get it together. After losing Nerlens Noel to a torn ACL at Florida the Wildcats had to make their NCAA case with the rest of their remaining games. It started poorly with a 30 point loss at Tennessee, but they have rebounded to win their last two games over Vanderbilt and a good resume win against Missouri. Now Kentucky has to keep winning and hope that no major upsets happen to push them out.

Iowa State Cyclones
Iowa State missed a golden chance to take a huge step to securing a NCAA Tournament spot when they let Kansas come back and win Monday night in Ames. Now the Cyclones are right back on the bubble. They are currently 19-9 and their RPI is 50. They missed some chances at some big road wins and are currently 3-7 on the road. So what does Iowa State have to do to make the tournament? It's simple: win. Their biggest remaining game is at home against Oklahoma State. If they can win that game and not drop a game to Oklahoma or West Virginia then they should be ok come Selection Sunday.

UCLA Bruins
If the NCAA Tournament started today then UCLA would probably be in. They are currently 20-7 on the season and their RPI is in the Top 50 (42). They have some very good wins on their resume. They beat then number seven Missouri in December. They have a win against then number six Arizona. Recently UCLA is only 5-4 in their last nine games, though. That includes losses to Arizona State and California. The Bruins cannot afford any more slip ups with the rest of their games. They don't need to win out, but they cannot afford a loss to Arizona State again or either Washington or Washington State.

North Carolina Tar Heels
At one time it looked like the Tar Heels would miss out on the NCAA Tournament. Right now, however, it looks like North Carolina will be in the Big Dance this year. Now they don't really have a "blow you away" resume, but they have done enough. They have a RPI in the Top 30 (22) and their strength of schedule is in the Top 20. They got a good win in their last game against NC State to go along with a win against then #20 UNLV. If they want to feel safe on Selection Sunday, they better extend their current winning streak and make some noise in the ACC Tournament.

Villanova Wildcats
Monday night's loss to Seton Hall was a big blow to the Wildcat's NCAA Tournament hopes. It is not the end of the world for Villanova fans, though. They still have a huge chance to increase their odds for a NCAA bid. They have two games remaining on their schedule: one at Pittsburgh and at home against Georgetown. If they can find a way to win one of those games, it will erase that Seton Hall loss. If they can win both, you have to think that would lock up an at large bid.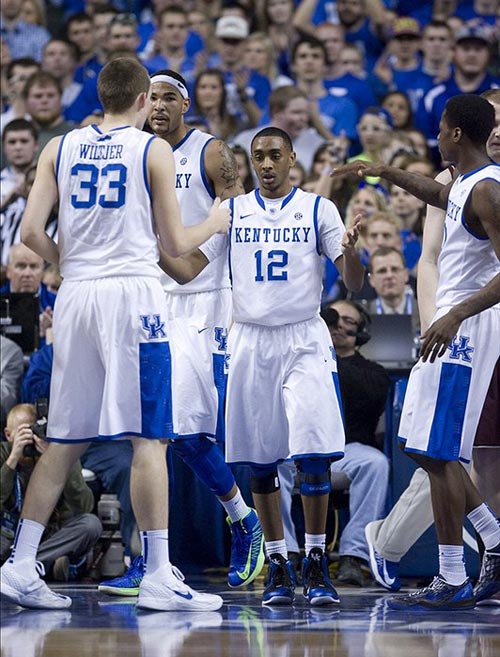 UNLV Runnin' Rebels
A win this past Saturday at Wyoming was huge as it ended a four game losing streak on the road. UNLV is one of those teams;  that is, if the tournament started today they would be in. Right now, though, they cannot afford a slip up to end the season. They have three games remaining in the regular season and cannot afford have a losing record in those final games. If they take care of business to end the season and get a win in the Mountain West tournament then they should be NCAA bound.

VCU Rams
If you look at VCU's current resume you may be asking yourself why they are on this list. They don't have a bad loss and when you watch them play, they look like a NCAA Tournament team. They still have to be careful. They have three games remaining: Butler and Richmond at home and Temple on the road. They need to take care of business at home and that Temple game shouldn't affect them that much. Lose all three and then get knocked out early in the A-10 Tournament... and it could be enough to keep them out.

Memphis Tigers
Again you are asking yourself why Memphis is on this list. They are undefeated in Conference USA and are on an 18 game winning streak going into Tuesday's night game against Xavier. So why are they here? Well Memphis is still in Conference USA and that league will likely only get one bid. So Memphis needs to keep winning. If they lose in the Conference USA Tournament and do not get that automatic bid, they might not get an at large bid either.

Missouri Tigers
Entering the season the Tigers were a trendy pick to win the SEC in their first season. That has not happened but the Tigers have done some good things in the SEC. They beat Florida last week, but turned around and lost in overtime to Kentucky. They are now 1-7 on the road this season. In their last 11 games they are 6-5. They have some bad losses at Texas A&M and at LSU. So the Tigers need to make sure they finish out the season on a winning streak and advance in the SEC Tournament.

Ohio State Buckeyes
The Buckeyes did a lot for their NCAA Tournament chances when they beat Michigan State over the weekend. It was a much needed win at a time when they were struggling. Before that they were just 2-3 in their last five games. Now Ohio State is in a great spot to make the tournament. A win against number one Indiana would almost certainly lock up a bid. But a loss will not hurt them. The only game that could hurt them would be a loss to Northwestern. A win against them and Illinois and then advancing in the Big Ten Tournament should have the Buckeyes dancing.


What do you think?
We'd love to hear your comments and/or opinions. If you submit them here, other visitors can read them, rate them and comment on them. An e-mail address is not required.